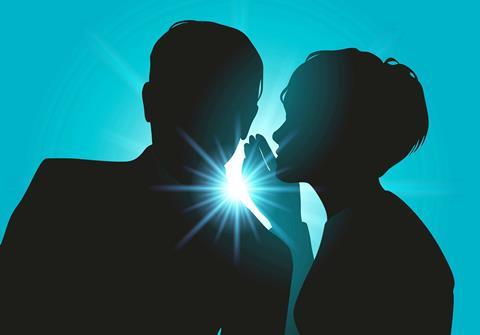 Producer 1, female, Bafta and Ampas voter
It's no small feat to host a ceremony virtually and I felt Bafta did a great job. I cheered loudest for Bukky Bakray's win for Rising Star and when her mother joined her, I sobbed. There's a special place in my heart for those in our industry who have the humility and wisdom to bring their elders into the frame, and to give them the stage. I loved that so many filmmakers joined virtually with their young families in tow, echoing the same sentiment.
It was also a very strong year for shorts, and I was delighted to see Farah Nabulsi's The Present awarded. It's a film that also points back to the same humility Bukky Bakray emanates – knowing the shoulders you stand on and how a new generation might contribute to the same ongoing fight with new tools.
I was so happy to see Chloe Zhao awarded – richly deserved – and delighted for Remi Weekes and the team behind His House celebrated and celebrating (little people in tow!).
And I really did love Youn Yuh-jung's speech – telling it like it is!
Executive, male, Bafta and Ampas voter
I don't want to criticise Bafta, it was such a difficult year to do it in, with the lack of audience and lack of live attendees. They did the best they could with the circumstances. It sounded like canned applause although I read afterwards that it was live people Zooming in. It's a shame because it just didn't feel authentic. It would have been better to show a shot of 100 people on Zoom laughing and clapping – without that, it felt canned.
It's a shame Anthony Hopkins and Frances McDormand didn't accept their awards – the two biggest acting prize-winners were not there. I was surprised people couldn't make the effort on Zoom. If it's live, and you can't make it from LA, that's different.
On the positives, I thought it was a very good and diverse range of winners. A lot of the wins were close to my own picks, including Nomadland and Another Round.
Casting director, female, Bafta and Ampas voter
I wish it had been one show rather than spread over two nights. I felt on the first night we didn't get to know anything really about the nominees and everyone was skipped over quite quickly.
On the second night I found the laughter a bit distracting. I understand it was the virtual audience, but it just seemed to create a slightly off tone. Again, I also wanted to see more of the nominees, they were on the screen but it might have been a nice idea to show a clip of their work and them talking about it before the winner was announced.
Happy about a few of the wins, but really wanted Rocks to win outstanding British film. It's the most current, perfect example of collaborative, progressive filmmaking that feels properly inclusive. That should be celebrated!
Executive, female, Bafta voter
I'm really happy for Nomadland and Chloe Zhao, who just seems every inch the authentic, human, compassionate, sublime storyteller and visually-gifted filmmaker.
Producer 2, female, Bafta voter
Nomadland's win was well-deserved and no surprise. Same for Promising Young Woman though I'd have loved to see a more British-feeling film like Saint Maud or Calm With Horses win that category.
I'm delighted that His House won outstanding debut – an original, bold and disturbingly real take on the 'historical trauma horror' genre.
Rocks' casting was an impressive feat so I'm glad that was recognised and Bukky Bakray deserved the newcomer award and looked so glam on the night. The start of an impressive career, I'm sure.
My Octopus Teacher is such a gorgeous story. Hopefully its win means lots of people will now seek it out and have their hearts warmed.
Commissioning executive, male, Bafta and Ampas voter
After all the thought, effort and ingenuity that went into creating an exciting and diverse raft of nominations, I'm afraid the awards show itself was a bit 'ho-hum'. Starting with a music video that felt weird and out of place, but turned out to be one of the few examples of 'out-of-the-box' thinking into how to make a virtual awards ceremony into a piece of entertainment. Shiny and polished as the show was, it was frustrating that something more exciting couldn't have been conjured up.
The opening of the envelopes on the whole yielded very few surprises. The best of these by far was Bukky Bakray's reaction to winning the Rising Star award which was made that much more delicious by the fact that her friends and family realised she had won a few seconds before she did, which resulted in a wonderful and much-needed spontaneous moment.
As always, I was deeply moved by the obituary tribute section which seemed even more poignant as I imagined it playing out to a cavernously empty Albert Hall.