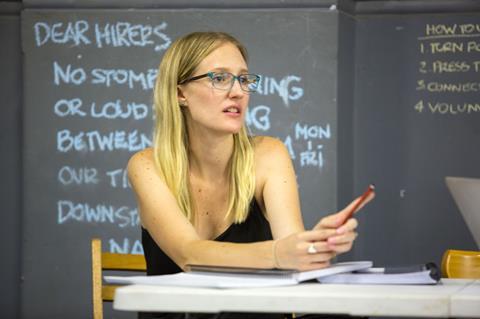 Shannon Murphy, an established theatre and TV director in her native Australia, is at Venice Film Festival this year for the world premiere of her debut feature Babyteeth, a bittersweet comedy based on Rita Kalnejais' play of the same name about a young girl who falls for a small-town drug dealer.
The film was a surprise inclusion in Venice's main competition, but its selection was greeted with enthusiasm as one of only two competition titles directed by a woman, the other being Haifaa Al-Mansour's The Perfect Candidate.
Murphy isn't worried about the extra spotlight coming her way due to the lack of other female directors in Venice. "I've never done festivals before so every step of the way has been a surprise to me," she reflects, speaking to Screen from Sicily, where she was spending time with her family before travelling on to Venice. "I didn't know how rare it was [for a debut to be selected in Venice Competition] but I do understand that now and I'm absolutely over the moon."
"Most of my career has been being the only female, like in a theatre season. It's something that's been constant in my life. So I'm not surprised at all," she continues. "There is definitely change occurring. In Australia, we are very focused on gender parity at the moment, we are constantly endeavouring to have 50/50 male and female heads of department, and it's making a big difference."
However, Murphy is keen that the attention on gender doesn't overshadow the reception of her film, which premieres on Wednesday (Sept 4). "I don't want the gender of the director to override the actual work. Yes I'm a female, yes that's not normal in the industry, but it should be," she comments. "It's important for me to not feel like I'm in a festival because I'm a woman. I work just as hard as all those male directors."
Murphy also points out that the press has had its own failings when covering the gender discussion in recent years.
"We [women] get bombarded with these questions all the time and we're used to it. But I wonder if it's worth turning it on the men because we might get a better understanding of it," she proposes. "It would be an interesting conversation to ask the male directors why they think there's less women."
During Venice, Murphy will take part in a panel focused on gender equality in the business, hosted by Women in Film Television and Media Italy, alongside her producer Jan Chapman. Murphy says she's happy to keep the conversation going, but thinks these efforts are sometimes misguided. "We need to hold the right people accountable," she comments.
Babyteeth history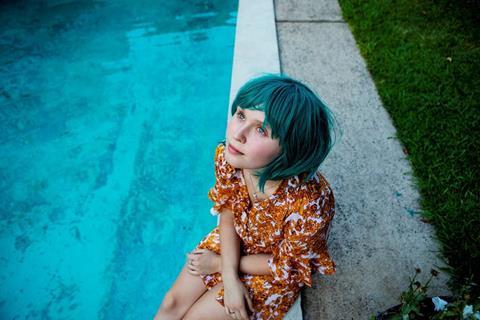 Kalnejais' play was first staged in Sydney in 2012. Chapman, the Oscar-winning producer of The Piano, was scouting for new material at the time and identified the play as ripe for film adaptation, calling up fellow producer Alex White at Whitefalk Films to suggest it (the pair work together closely).
The pair brought on Kalnejais to write the screenplay and spoke to a number of other directors before eventually identifying Murphy as a candidate.
"When you walk into Jan Chapman's office you see the piano from The Piano. I wanted to vomit I was so nervous – I'd taken three beta blockers," recalls Murphy of the initial meeting.
The producers were looking for a first-time director, says Murphy, on one hand to find some "fresh energy", but also because of Australian public funding models, which are weighted to support debutants. Murphy had also directed five shorts as well as several episodes of television.
Although she hadn't seen the play, Murphy responded to Kalnejais' script. "I loved the unsentimental humour that Rita had put in there. At the end of the reading I couldn't stop crying, mainly because I was sad to be leaving these four characters."
After giving the screenplay a final pass alongside Kalnejais, the project was fast-tracked with Murphy attached. Financing came from Screen Australia, Create Nsw, Spectrum Films, Weiranderson.Com, Jan Chapman Films and Whitefalk Films.
Australian actress Essie Davis (The Babadook) was already attached to the project when Murphy joined. Babyteeth's two young leads Eliza Scanlen and Toby Wallace were found through a traditional casting process. As well as a key role in HBO series Sharp Objects, Scanlen will be seen in Greta Gerwig's upcoming Little Women, while Wallace is known in Australia for local series Romper Stomper.
The fourth key role is played by Ben Mendelsohn, who came via a less conventional route. While the Australian actor has regularly featured in US blockbusters like The Dark Knight Rises and Rogue One: A Star Wars Story, it was seeing him dancing on stage to Australian singer Sia's 'Breathe Me' during a 2016 concert that won over Murphy.
"It's a moving performance. I saw him dancing to her singing and I was so affected by it that I wrote him a letter asking if he'd do Babyteeth," she recalls. "We've seen him doing comedies in Australia but he's not done that in his bigger roles overseas. I thought it would be great if he could come back and show his comedic chops."
The feature shot in Sydney, mainly in the suburb of St Ives, in early 2019, and the director only finished the edit recently. "It was a tight timeline because we're a low-budget film, we didn't have the luxury of dragging it out," says Murphy, who will go straight from Venice onto the UK shoot of series three of BBC America drama Killing Eve, for which she is directing two episodes.
The team have been keeping news of the Venice premiere under wraps for some time, having been informed several months before the announcement.
"One of the Venice programmers came to Australia to watch some work. When he was out there, he did an interview with ABC Radio where he talked about a film that he'd just seen that he was pretty excited by. For weeks we were saying, 'Oh god, I hope that's us.'"