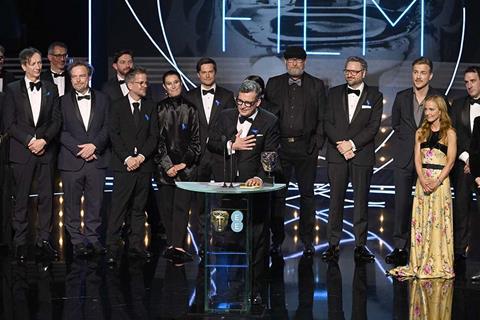 This year's coverage of the Bafta Film Awards was intended to "broaden and bring a different audience to the awards show" but it almost hit the headlines for the wrong reasons, according to the producer behind it.
Renowned royal specialist Spun Gold introduced a number of innovations to last night's ceremony but at one point the new live transmission segment added to the show was threatened by technical difficulties.
Chief executive of Spun Gold Nick Bullen told Screen's sister publication Broadcast that the truck which was preparing the highlights reel of the night - which was playing throughout the live transmission - suffered technical problems, with AVID crashing before the tape was finished.
"The team were incredible and managed to get it together with about ten seconds to spare," he revealed. "But on the night, it all played seamlessly."
The ceremony played out to an overnight audience of 2.6m (16.6%) on Sunday evening, marginally up on last year's performance of 2.5m.
In October last year it was revealed that Spun Gold had won the tender to produce the coverage for this year's Bafta Film Awards. Having been awarded the contract for its 'creative, ambitious and innovative thinking and extensive industry experience,' the producer of last year's Platinum Jubilee Celebrations for ITV set out to "reinvent" the TV show of the ceremony.
The company's ambition, says Bullen, was to produce a show that would invite audiences at home to feel as though they were part of the prestige, as well as broadening the traditional Bafta audience to bring in younger viewers. "We had some changes in mind that we felt could broaden and bring a different audience to the awards show," said Bullen. This included TV presenter and host Alison Hammond having her own "back stage room" alongside host Richard E Grant, with winners of awards joining her backstage to discuss their wins.
It also included performances from Little Sims and Ariana DeBose.
"We wanted this big glitzy opener with Ariana, she's a multi-award winning, queer young woman of colour opening the show with renditions of classic songs that can appeal to a more traditional viewer," he said.
DeBose performed covers of Eurythmics' Sisters Are Doin' It For Themselves and Sister Sledge's We Are Family.
What was also crucial in Spun Gold's "reinvention" was an eagerness to move away from what Bullen described as "traditional roasting and beration."
"We really wanted to bring warmth and joy," Bullen explained. "Richard E Grant and Alison Hammond were perfect choices for that, their charm emanated in the room…We're living during a very difficult time at the moment and we wanted to ensure that this was a refreshing and joyful celebration to better capture what the nation needs."
The produuction team, which also includes executive producers Lee Connolly and Moira Ross alongside Bullen, had several contingency plans. "There wasn't just a plan B, we went to C,D,E, F and G," laughed Bullen. "We were producing three if not four shows in one."
This consisted of the pre-recorded show, which was prepared for television with about an hour delay, as well as the live portion of the show which broadcast four awards being given out live on BBC1.
There was also what Bullen referred to as' the bridge show', which was the moment where the room of nominees would switch from the pre-recorded coverage to the live show, whilst still providing entertainment for those present.
"The room is full of some of the world's biggest stars, it's a long night and it has to be entertaining throughout. All these shows and their moving parts have to be knitted together in one smooth show."