Dir/scr. Rachel Ward. Aust. 2009. 101 mins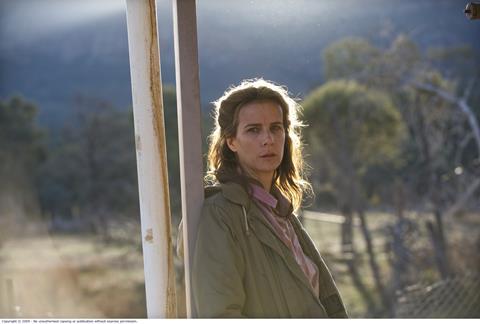 Actress Rachel Ward's debut feature is a handsome and intense love story, a gothic tale of buried guilt and family dysfunction set in Australia's outback. With lashings of sex played out amidst long-buried secrets, Beautiful Kate is awash with Ward's own spiky, brittle dialogue, delivered with relish by her cast.
It's a big step forward for Ward, whose previous short films - especially The Big House (2002) and Martha's New Coat (2003) – have won local awards and notched up TV sales. The presence of husband Bryan Brown as co-producer and actor is a bonus, as is Rachel Griffiths, returning to Australian movies in a surprisingly minor, though highly effective, role. The strong language, sex scenes and morally questionable relationships will naturally limit audiences when Beautiful Kate opens in Australia on August 6 (following a world premiere at Sydney Film Festival), but a buzz will surely grow for the younger players, especially newcomer Sophie Lowe as the eponymous Kate; international interest seems assured.
Much of the movie's considerable dramatic tension comes from the steady revelation of past misdeeds, horrors and fiercely guarded secrets.
The screenplay is based on an American novel written by Newton Thornburg in 1982 and set on a once-thriving farm absorbed into the Chicago sprawl. Ward successfully re-imagines the Kendall family's remote farm - once rich and green, now arid and broke - in the spectacular Flinders Ranges of South Australia. Cinematographer Commis, also making his feature debut, makes the most of this scenic elegance with some classy framing and crafted night-work.
Writer Ned Kendall (Mendolsohn) drives "halfway across the continent" to be with his dying father Bruce (Brown). With wannabe-actress Toni (Dermody) in tow, he is greeted by his long-suffering sister Sally (Griffiths) at the isolated, drought-ravaged farm where they grew up in thrall to their bullying patriarch. Three members of the family are already dead – the shadowy mother, never seen in flashbacks; Ned's elder brother Cliff (O'Donnell); and his twin sister, the beautiful Kate (Lowe). Much of the movie's considerable dramatic tension comes from the steady revelation of past misdeeds, horrors and fiercely guarded secrets.
Ward follows two parallel stories – Ned's present-day rage at Bruce's bad-tempered dying; and scenes that show the unhealthy family dynamic of adolescent Ned, Cliff and restless, experimenting Kate. It's a tricky intermingling of youthful zest, middle-aged angst and dying despair: and Ward brings it off with a dry wit and a gothic lyricism – much moonlit love-making, owls and weirdly focussed dreamscapes.
Mendelsohn is bleakly arrogant as the haunted, damaged writer, a potentially unsympathetic role. Brown, though perhaps too young and healthy-looking, clearly shows the selfish cruelty that has warped his family. Griffiths brings compassion and wisdom to her few scenes. Maeve Dermody, as the ditzy fish out of water, and the dazzling, contained Sophie Lowe bring much-needed lightness to the gathering tragedy.
Ward has chosen some excellent country songs for her soundtrack — the emotional climax comes at a dance - and the original guitar-based incidental music by Tex Perkins and Murray Paterson is discreet and moving.
Production companies
New Town Films
New Doll Productions
Screen Australia
Showtime Australia
NSW Film and Television Office
South Australian Film Corporation
International sales
The Works International
+ 44 (0) 207 612 1080
Producers
Bryan Brown
Leah Churchill-Brown
Based on the novel Beautiful Kate by Newton Thornburg
Cinematography
Andrew Commis
Production Designer
Ian Jobson
Editor
Veronika Jenet
Main cast
Ben Mendelsohn
Bryan Brown
Rachel Griffiths
Sophie Lowe
Maeve Dermody
Scott O'Donnell