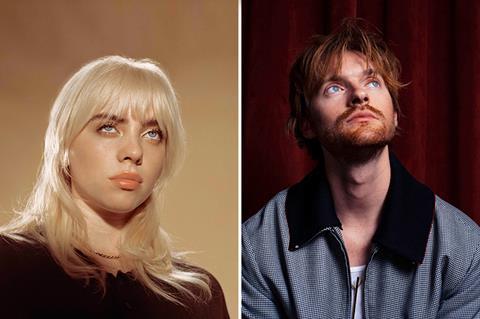 Billie Eilish and her brother Finneas O'Connell are no strangers to awards attention. Despite still being only 20 and 24 respectively, the songwriting siblings have already won a clutch of Grammys, with Eilish the youngest to sweep the big four categories (best new artist, record, song and album), in 2020. However, when they heard they'd been nominated for an Oscar – for their James Bond theme song 'No Time To Die' – they couldn't quite believe it.
"It's very shocking to think about," says Eilish. "We're musicians, we are not in that world, and that alone makes it feel so incredible. It's trippy. It feels like the biggest thing ever."
As detailed in last year's deep-dive AppleTV+ documentary The World's A Little Blurry, she and O'Connell have been making music together for most of their lives, recording in O'Connell's Los Angeles bedroom. Their dark-electro-pop style first hit big with the single 'Ocean Eyes', released when Eilish was just 13. But rather than representing a sudden pivot, writing a Bond song, she says, was "something we've always wanted to do". Both being fans of the franchise, she and her brother often discussed it. "We made a lot of jokes about how it would be a dream for us to do. So when we heard we were being thought of to pitch a song, it felt so cool and scary and intimidating."
It's rare to find a reference to 'No Time To Die' that doesn't mention Eilish as the youngest-ever singer to write and perform a Bond song; she had yet to turn 18 when she and O'Connell first recorded the demo in their tour bus in October 2019, about a month after they'd met with Bond producer Barbara Broccoli. So it's not unfair to wonder how challenging the pair found it to musically channel a middle-aged British spy from a 60-year-old film series.
"I think for people who only make music in an autobiographical way, it would be more challenging than it was for us," says O'Connell, who points out their songs often contain fictitious elements. "Especially when we started out. I mean, Billie was 13 and we'd write lyrics about driving a car or whatever," he laughs.
"The cool thing about this project was that once we were acquainted with the first 20 pages of the script, which was what we were allowed access to for writing it, it felt like we were writing something that was autobiographical, if we suspended our disbelief. Even though it's Billie singing, we chose to really embody the character. You get to pretend you're a 40-year-old spy who's had his heart broken. What a thrill to write from that perspective!"
However, the project did take them out of their comfort zone in other senses. "Normally our creative process is very insular," O'Connell says. "It's just the two of us." Here, they needed to collaborate with composer Hans Zimmer, producer Stephen Lipson and former Smiths guitarist Johnny Marr. "It was our first time being involved in a supergroup, and so fun to work with these living legends and have them make our song so much better."
It also required Eilish to expand her vocal range. During The World's A Little Blurry we witness her agonising over the idea of belting, for the song's impassioned climax. "I hate this. Why do people belt? I'm gonna get made fun of on the Internet if I do it," she half-jokes on screen.
"I was kind of scared, because I'd spent so long listening to the Internet say, 'She has a quiet voice. She whispers,'" Eilish admits. "I thought, 'Maybe they're right. I don't know if I have any power in my voice at all.' But Finneas said, 'Yes, you do. Just try it.' And I did. Honestly, I have 'No Time To Die' and Finneas to thank for opening up these doors to ranges in my voice that I never would have tried. I thought the movie deserved a big moment, so I was going to give them what I thought it needed. I was proud of myself."
Recently, Eilish and O'Connell stretched some very different songwriting muscles, composing three tunes as fictional noughties boy band 4*Town, with O'Connell among the five male vocalists, for Pixar's 2002-set Turning Red. "Billie and I grew up loving Spice Girls, NSYNC and Backstreet Boys, so it was a treat living in that world for a little bit," says O'Connell. "There's record scratches, chimes, crappy piano sounds and five-part harmonies and stuff. It's been a blast!"
Even so, neither he nor Eilish appear in a rush to continue their film-related work. "We're busy enough with our touring and making our own albums," he says. "We try not to be reckless and just sign on to things for the sake of it."
"It's also important to like what you are doing," adds Eilish. "Bond only worked so well because we were such big fans of the franchise. A couple of weeks ago, somebody asked Finneas if he had any advice for the next person to make a Bond song. He said: 'Just like it. And if you don't like it, don't do it.' I think that's true of our whole future in film. When things connect to you, you've gotta go along with them."