With Anchorman 2 about to start its international roll-out, Ian Sandwell looks at the performance of comedies at the box office in 2013 and examines the prospects for Ron Burgundy's return.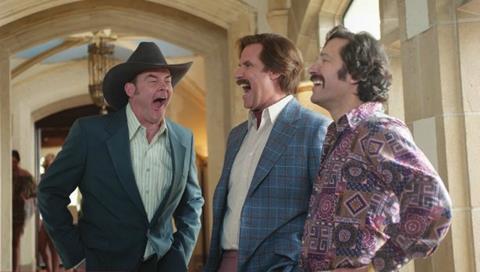 It is kind of a big deal, to paraphrase Ron Burgundy. Over nine years since Burgundy and the Channel 4 News Team last reported, Anchorman 2: The Legend Continues begins its international roll-out in the UK and Ireland on December 18, two days before the US on December 20.
Despite not making an impact overseas on its release in 2004, Anchorman: The Legend Of Ron Burgundy has developed into a huge cult hit, with the sequel almost as eagerly anticipated as December's other notable sequel in the form of The Hobbit: The Desolation Of Smaug.
Overseas box office has been a mixed bag for American comedies in 2013, even when they have been hits domestically. For every international success such as We're The Millers ($118.8m), there have been the likes of Identity Thief ($39.4m) and This Is The End ($24.4m). Even existing franchises have seen varying degrees of success. Grown Ups 2 managed to top the $109.4m international performance of Grown Ups with $113.4m, but The Hangover Part III fell from The Hangover Part II's $332.3m overseas to $238.8m.
For Paramount, the goal with Anchorman 2 is clear. "Our objective is to bring fans of the first film, some of whom caught the film on DVD following its initial release, as well as new audiences to the movie," says Nic Crawley, president, international theatrical marketing, Paramount. "With a sequel, we want to assure fans the movie has what they are looking for, but we also want to make sure those new to the film understand they don't need any prior knowledge to come on board."
'All our stars - in front of and behind the camera - are a big part of the campaign'

Nic Crawley, Paramount
That new audience will prove crucial to Anchorman 2's success. While its cult status will ensure the sequel will surpass Anchorman's $5.3m international performance, Anchorman 2 will have to make an impact in territories where the first film either didn't release theatrically or didn't gross much.
Paul Dergarabedian, senior media analyst, Rentrak, doesn't believe this will be an issue. "Sequels often fare better with international audiences," he says. "Although it certainly helps if a film has done well in a specific territory, press coverage and the reviews of a movie may be enough to make a sequel a hit in a country that may not have had a release of the original instalment."
Interestingly, one of the elements in Anchorman 2's favour could be the long gap between instalments. Not only has it allowed the original to build up its formidable cult status, but also has increased the anticipation for the sequel. One example of the potential of this anticipation is Men In Black 3: after a 10-year gap from Men In Black II, the third feature became one of the most successful live-action comedies of all time internationally at $445m.
Of course, the Men In Black franchise had the added bonus of the star power and worldwide recognition of Will Smith. This is something that the later instalments of The Hangover benefited from with Bradley Cooper, but Rentrak's Dergarabedian offers another reason that the first instalment of The Hangover — which grossed $190m internationally, terrific for an original concept comedy — succeeded.
"The concept of being hungover is pretty universal and the film benefited from this globally shared activity so to speak," says Dergarabedian. "And then familiarity with a movie franchise helps overseas. For example, the first Hang-over film garnered its greatest percentage of box office from the US, but the sequels derived the lion's share of their box-office revenue from the international arena."

Crossing cultures
Warner Bros also had an original comedy outing this year benefit internationally from R-rated humour like The Hangover.
"We knew We're The Millers was a special film that could cross cultural boundaries because it's both outrageously funny and driven by characters that you come to care about," says Sue Kroll, Warner Bros president of worldwide marketing and international distribution. "There's clearly an appetite out there for humour that pushes boundaries, so in our marketing, we embraced the film's edgy and outrageous moments to get people talking and wanting to experience it. Word-of-mouth helped create real buzz overseas and fuel number-one openings that grew interest and gave us such terrific holds."
Anchorman 2 could benefit from all of these factors. "All our stars — in front of and behind the camera — are a big part of the campaign," says Paramount's Crawley. "We also will be showcasing, as the film does, the relatable comedy in an arena we all know quite well — the 24-hour news. We have found that audiences everywhere can appreciate the comedic premise of the movie, in addition to the talents of our stars."
However, just because a comedy sequel has these elements, it doesn't immediately ensure increased success at the international box office. In 2013 alone, action comedy Red 2 shot its way to $101.6m overseas (as of December 1), down on Red's $109m, while Scary Movie 5 posted the worst return of the franchise overseas at $44.2m.
'There's clearly an appetite out there for humour that pushes boundaries'

Sue Kroll, Warner Bros
Paramount's Crawley even believes comedies based on original concepts have their own positive points when rolling out internationally. "In marketing a comedy to a global audience, it is our objective to understand what is funny in different markets and also what translates," explains Crawley. "With an original movie, there is flexibility in finding the funny for each territory on its own terms."
While international success for a comedy — either original or based on existing franchises — is still difficult to predict, what is clear is that the overall trend for comedies worldwide is changing; where once comedies were seen as only able to have success in their home territories, the booming international market has altered this.
"Comedy is a genre that has long had the reputation as the one genre that does not travel well and is culturally and regionally biased," expands Rentrak's Dergarabedian. "However, the international marketplace for American movies has become a predominant source of box office and has often transformed many a modest performer in the US into a major hit worldwide.
"This phenomenon has spread US culture across the globe and we have seen this translate into bigger international returns for US comedies. Conversely, there are also many comedies from other cultures that have played strongly in the US due to this cross—cultural acceptance."
Evidence of this in 2013 comes from strong territory performances from the likes of The Heat — $13m in Australia and $11m in the UK — and We're The Millers in Germany ($13m) and Russia ($18m). On the other side, Eugenio Derbez's Instructions Not Included took $44.4m in the US, almost on a par with its $46m result in its home territory of Mexico, while Olivier Nakache and Eric Toledano's The Intouchables grossed an excellent $10.2m in the US last year to go with its outstanding international run of over $400m.
Dergarabedian admits that while comedies in general will still have the greatest appeal in their country of origin, this guideline "changes every time a comedy from one culture finds popularity with another".
Ultimately though, the overseas success of American comedies could come down to a very straightforward element, according to Paramount's Crawley. "In the case of Anchorman 2, we have the good fortune of having a movie that stands on its own as a great movie."