Festival veterans weigh in on the state of the market, press screenings and the TIFF/Venice threat.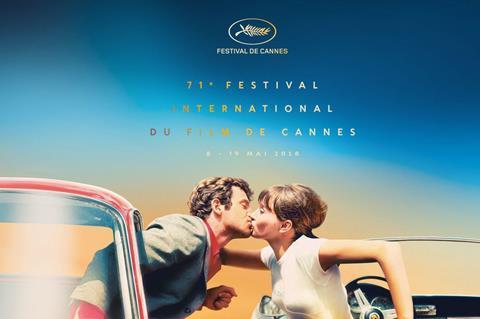 Years from now, the 71st edition of the Cannes Film Festival will appear as eventful as any of its previous editions to film historians perusing the archives.
The Official Selection was broadly applauded with a number of prize winners, including Spike Lee's Grand Prix title BlacKkKlansman and Nadine Labaki's Jury Prize winner Capernaum, now also being tipped as prime 2018/2019 awards-season contenders.
There was drama as a legal decision over whether Terry Gilliam's The Man Who Killed Don Quixote could screen as the closing night film went up to the wire and controversy as Lars von Triers's return to the Cannes fold with serial killer drama The House That Jack Built prompted walkouts for its portrayal of violence against women.
And as per Cannes tradition, there was plenty of politics with topical issues such as sexual harassment, gender equality, the Israel-Palestine conflict and racism spilling onto the red carpet, with women taking the spotlight at every turn in the post-MeToo era.
But in the backdrop, it was also a sea change year as media and industry professionals adapted to a new screening schedule amid anecdotal chatter, not yet confirmed by statistics, that Cannes was emptier, with the traditional frenzy along the Croisette only hitting fever pitch on the first Saturday to tail off rapidly by the end of play on Sunday.
This, in turn, prompted the US trades and some local media to speculate that the festival is in decline, or at the very least needs a reboot.
As the dust settles on the 71st edition, Screen touched base with a number of Cannes regulars for their views on some of the hot industry topics dominating the conversation up and down the Croisette.
Strong market?
While Cannes veterans swapped tales on how easy it was to secure a table at a favourite restaurant, some festival observers interpreted the apparent downturn in attendees as a sign that the market was also lacklustre. But was this really the case?
The Marche du Film will unveil final attendance figures next week but executive director Jerome Paillard tells Screen he is expecting the number of participants to be on par with 2017, if not slightly higher.
Sales agents, in the meantime, are reporting a stable to busy Cannes, albeit against the backdrop of a generally softer market for arthouse, non-English-language titles.
"We did great business. Cannes continues to give prime exposure to non-English-language fare," said Celluloid Dreams president Hengameh Panahi, whose company was handling Jafar Panahi's Palme d'Or contender 3 Faces, alongside a slew of upcoming titles.
"Our experience with 3 Faces was very positive with extensive sales and great turn-out for our market as well as the festival screenings. In fact, the market screenings for all our movies, both foreign language and English, enjoyed increased attendance this year," said Panahi.
Vincent Maraval, co-chief at Wild Bunch, which was selling six festival titles, including Hirokazu Kore-eda's Palme d'Or winner Shoplifters as well as Capernaum and Jean-Luc Godard's The Image Book, echoed these sentiments.
"This was our biggest market in years because it was both intense and well spread on all films. The buzz on Capernaum was so strong that we had to cool it down. It sold for $6m which is double what we achieved for The Artist," he said.
Kore-eda and Godard's films, as well as Gaspar Noé's Directors' Fortnight title Climax, also stacked up deals generating some of the best sales results for their work to date, Maraval added.
"When my sales team, exhausted after 10 days of the market, got the critics' feedback on Bi Gan's film, they almost collapsed thinking, This is all going to start again," he said, referring to Un Certain Regard title Long Day's Journey Into Night which screened in the second week.
Vanessa Saal, managing director, sales and distribution at UK outfit Protagonist Pictures, also reported strong business. "The amount of meetings we had, the amount of people who came to see promos, that didn't feel any different to previous years. We had a few available territories for Cold War and those were very competitive. We also had The Education Of Fredrick Fitzell which sold really well on script."
There was equal enthusiasm on the side of the buyers and programmers.
"There seemed plenty of buzz amongst industry folk when it came to festival screenings. Early hot titles like Cold War and Border set things off well and there was a lot of respect for the main sections," said Edinburgh International Film Festival artistic director Mark Adams.
The attention was not just on Cannes titles. The big guns from the US – FilmNation, Sierra/Affinity, Stuart Ford's new AGC Studios, Lionsgate, Millennium Media, Bloom and Voltage – are all reported to have done well this year.
"It's the second, very active market in a row for FilmNation Entertainment. There's truly been some stabilisation in the independent international marketplace but it's not as boisterous as say five years ago. However, we've been doing a better job of addressing what can work in today's environment. We've improved in identifying the type of film, the elements and what valuation to give," said FilmNation Entertainment CEO Glen Basner.
"We are thrilled that 355 and Ironbark, both hot titles going into Cannes, have sold out worldwide. We also had very strong business with Pedro Almodovar's Dolor y Gloria and Sean Durkin's The Nest," he added.
Lawrence Atkinson, CEO at PR agency DDA, seconded these comments: "From DDA's perspective we experienced a very busy and vibrant market; our presentations in the Marché for the likes of Bloom, FilmNation, Lakeshore, Lionsgate and Sierra/Affinity saw bidding wars for projects such as 355, suggesting there is still a demand for high-end and sizeably budgeted films to fill the release slates of the major independent distributors."
But beyond the generally buzzy market, there was no denying that it seemed a lot quieter.
French sales agent Nicholas Brigaud-Robert, co-founding chief of Paris-based Playtime, suggested that the festival's decision to open one day earlier on Tuesday, with the market following suit, had an impact on the length of time professionals spent in Cannes.
"I was discussing with buyers: Why are you leaving Sunday? Why are you leaving Monday morning? You used to stay at least until the Wednesday or the Thursday and you're actually cutting it by one or two days," he said.
"I think a lot of people were thrown off by that single day. I think that the buyers who arrived for Tuesday felt that by Sunday, they had covered a whole week of festival, whereas when they previously came on Wednesday, leaving on Sunday felt a little too short. But did this translate into less business for us? There was nothing radically different from the last edition and this edition in terms of sales."
New screening schedule
One factor undoubtedly contributing to the sense that things were quieter was the new screening schedule, axing advance press previews ahead of public red carpet premieres.
The consensus was that it made for considerably less buzz and a slow start to the festival due to the resulting lag in media coverage. But many professionals still welcomed the fact that the excitement was re-focused on the gala premieres.
"It gave back the premiere to the public. There was more excitement and it gave the critics more time to do a proper job as there was no longer that race to be the first out," said Maraval, a long-time, vocal campaigner for a rethink of the screening schedule.
Playtime's Brigaud Robert was also positive about the new schedule but questioned whether the festival's attempts to prevent pre-premiere media coverage would work in the long run.
"I have to admit, I loved going into screening not being prejudiced," he said. "But at the same time, I wonder how workable it is in the long-run in the age of social media. The more constraints you put on the official press, the more you will encourage the 'grey press' who don't care whether they have a badge or not and leaks will be inevitable."
Celluloid Dreams' Panahi is among sellers advocating for a return to the old schedule.
"I preferred the old system as it created more immediate buzz around each film," she said. "The new system dilutes the creation of an event for the film for the day and spreads it over two days, delays the reviews and the word of mouth, and for what? To 'prevent' the bad buzz. Unfortunately, you don't prevent but delay it at best."
"As sales agents, we need the media and the exposure to be as immediate and as strong as possible. This year's Cannes buzz was much softer than ever while the films were solid. I believe much of this lack of buzz came from the new screening schedule."
Press agents were also mixed in their responses.
DDA's Atkinson, whose agency was handling nine festival titles across all sections including BlacKkKlansman, Under The Silver Lake and The Man Who Killed Don Quixote, said the new system had complicated logistics and dampened immediate buzz but that overall coverage had remained intact.
"The new schedule was workable rather than 100% worked. It presented a series of challenges for us that ranged from having to manage simultaneous press and official screenings through to the late appearance of press reviews and reactions, which are always a key part of any Cannes presentation, in particular for movies trying to drive sales," he said.
"In terms of mitigating against advance reviews and social media opinions affecting the tone of a premiere, it worked, but more as a stay of execution rather than a get-out-of-jail-free card."

Another drawback was having to fly talent into Cannes early without the possibility of conducting interviews because films had not screened to press.
Veteran press attaché Richard Lormand, whose Cannes line-up included Camera d'Or winner Girl as well as Competition titles 3 Faces and Happy As Lazzaro, which shared the best screenplay award, also felt there was less buzz.
"I don't think that any films suffered from the new programming, but it perhaps watered down the buzz. Before, there was a strong 'Films of the Day' feeling. This year, with press screenings, photo calls and press conferences on the day after, the buzz was split," he said.
Liz Miller at Premier PR, which was handling seven festival titles including opening film Everybody Knows and The House That Jack Built, suggested the schedule changes had alienated the media.
"Many critics were manifestly antagonised by the new press-screening policy. This could be put down to teething problems but there was also the impression that the decision had been taken without considering their needs, such as, for example, sleep," she said.
"The failure to confirm embargoes and outline precisely how the new policy would affect critics before the festival started was perceived as a slight by many – again, perhaps it was only down to newness but many seemed to regard it as an indifference to their collaboration with the festival and no one wants to feel that way. The hint that it is a 'privilege' for the press to be there at all was greeted by many as hubris."
Miller agreed, however, that the new schedule made for a more enjoyable experience for the filmmakers and talent but questioned whether this was justified given the resulting lack of buzz.
"Critics do get out the long knives for the Competition films and sometimes a filmmaker is flayed alive and still expected to put on a good face for the red carpet. It's probably much nicer to receive the customary standing ovation from an appreciative audience in a glorious big auditorium like the Lumière before being beaten senseless in print. However, from the point of view of promoting a film, the new late press-screening policy means that the press conference where they might defend themselves is also postponed until the following day – there's no news," she said.
"From our perspective, the traditional press junkets that justify the vast expense of bringing a film to Cannes are curtailed under the new edict – we can't begin interviews until the afternoon following the press conference and the old strategy of according the official day to the French press and the following day to the international press is thrown out with the bath water. Again, this means reduced news coverage."
Premier PR CEO Jonathan Rutter echoed her sentiments: "While critics are used to writing reviews at unsociable hours, I did think that this year's schedule pushed that too far. Critics were emerging from the Lars von Trier at 1am and then had to go back to their rooms to write a review. That's not good for them or for the filmmakers."
He was among a number of PRs and media professionals continuing to advocate for a Berlin-style system of embargoes.
"I don't understand why Cannes can't just follow the Berlin pattern – morning press screening with reviews embargoed until 30 minutes after the start of the red carpet. Cannes could introduce a points system for press who break embargoes, and when you hit a certain level your badge is downgraded. It's almost as if they didn't want to be seen to be following what Berlin had already established, so introduced their own nonsensical system," he said.
French PR Florence Alexandre at Paris-based firm Anyways said her experiences with Palme d'Or contender Leto, which premiered in a 10pm gala, were largely positive.
"Me and my team were able to attend the gala screening, enjoy it and also be present the day after for the press screening and welcome the journalists," she added. "Teams are always anxious on D-Day but I must say it is better and more relaxed to do interviews with talents who have seen the film and had their premiere before answering questions about the film."
Among the journalists quizzed there was a mixed response too, but it was clear the impact was felt most acutely by journalists on tight daily schedules.
Cannes veteran Stephanie Bunbury said the new schedules caused her to drop a couple of junkets because it was impossible to see the film beforehand but added that the changes did not have a big impact on her work, partly because she had a coveted white badge, giving her entry to the 10pm screenings, and partly because she files to Australia.
"The people who really suffered were European newspaper critics whose reviews either had to be filed at midnight or were delayed by a day. I did speak to a couple of colleagues from European dailies who said they were going through hell. I write for Australia which is the other end of the clock of course, so it made no difference to me," she said.
Screening films to press pre-festival may become more of a regular event, commented one sales agent, who showed their Competition title to key press the week before Cannes and set an embargo to coincide with the festival premiere. "I have a feeling a lot of people did that," they said.
TIFF/Venice threat
This quieter atmosphere also fuelled the theory that producers with awards-season aspirations are increasingly holding back their films for Telluride, Venice and Toronto, which are seen as better launchpads for an awards-season campaign.
One industry delegate confided to Screen that he had been told Venice chief Alberto Barbera could have made a line-up announcement during Cannes if he had wanted because he had received so many impressive submissions.
While festival circuit regulars agreed that Venice had been boosted by awards-season positioning, few felt the festival would ever eclipse Cannes.
"It would be massively presumptuous to say Cannes is in decline. That seems like a knee-jerk response based on gossip rather than content. Everything is about timing. The Venice/TIFF axis works well for awards films but there is always plenty of room both side of that August-September date to profile films," said Edinburgh's Adams.
"The most ludicrous analysis of the year for me is questioning the future of the Cannes Film Festival and its relevance. I don't see the reason behind that," said Lormand.
"If I don't like an event, I don't go. But just because I don't go doesn't mean the event isn't relevant anymore to others. I've repped hugely successful films that won numerous prizes. I don't think any of my filmmakers, their sales agents or their distributors are questioning the relevance of the Cannes Film Festival," he added.
Playtime's Brigaud-Robert said plenty of awards-season hopefuls would continue to begin their journey in Cannes.
"For the US studios, it could be that a Venice-Toronto combo seems on paper a better kick-off than Cannes. However, to counterbalance that, we're not selling studio movies, we're selling arthouse foreign-language titles and they sell in Cannes," he said.
"I am certain that a lot of movies in Cannes this year will be shortlisted on the Oscar run," he added, citing Labaki's Capernaum, which was picked up by awards-season champions Sony Pictures Classics, as one example.
"Everyone who has seen the movie, including myself, can tell you that it has a strong shot for an Oscar and it was picked up in Cannes."
Wild Bunch's Maraval said Venice would never replace Cannes as the major market of the year for international sales.
"Venice stopped being a market years ago. If you want to do an honest report, count buyers in Venice compared to Cannes. Toronto is the second biggest market after Cannes but for very few titles. Last year, Three Billboards, The Shape Of Water and Greta Gerwig's film [Lady Bird] were not accessible to indie buyers and there were very few deals done outside of the US buyers."
"Cannes is also a very strong pre-sale market like Berlin while Toronto is not. For a company like Wild Bunch, Berlin represents 25% of our sales, Cannes 50%, except this year where it could be 75%, and Venice almost nothing, Toronto 10% and AFM 15%. Sundance is nothing for us."
US industry veteran Jason Resnick noted that US distributors were unlikely to start heading to Venice over Cannes.
"For US distribs, it is really about Telluride and Toronto. Venice has more impact for Europe than the US," he said.
In the arthouse space, the hierarchy of festivals is cyclical, commented Protagonist's Vanessa Saal. "It goes in waves, which festival is the most important one for the prestige arthouse world," she said. "At Cannes there is a struggle between wanting to remain pure and traditional, while also figuring out how to adapt with the times. But that's more of an industry question – what are the times?"
Celluloid's Panahi was one of the few festival circuit veterans suggesting that Cannes needed to sit up and pay attention to Venice's growing popularity, especially for English-language fare.
"Cannes is still Cannes and remains many directors' dream. But Cannes has to get its act together and prioritise to keep its rank and class. The festival should end wars with media and players, build new ideas to embrace the changes and never forget to keep the main focus on the cinematic quality of the films they select," she said.
"Venice has taken this approach and the results justify their growing success over Cannes and Berlin. Being the last festival of the year, previously a handicap, has become a major asset as it's the closest to the Oscar-campaign season. But that timing issue would not have come into play had Cannes selected stronger American movies and had Venice not been so astute in their curation. So, it all depends on the right choice of the right films."
Tom Grater and Jeremy Kay contributed to this report.