Liz Shackleton explores why the Chinese government continues to restrict overseas investment.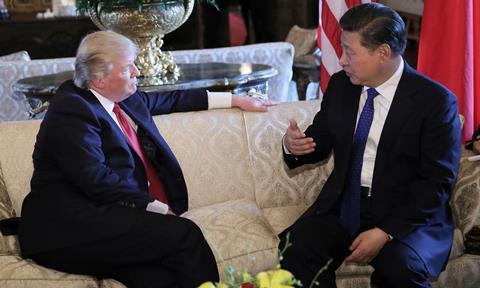 The fast-blossoming romance between the Chinese and US film industries has cooled a little recently, with both countries' governments in full protectionist mode. But those on both sides of the Pacific are expected to overcome political and economic obstacles to continue working together.
When Chinese president Xi Jinping visited US president Donald Trump at his Mar-a-Lago estate in early April, film industry executives on both sides of the Pacific were watching with bated breath. Thanks to the anti-China rhetoric espoused by Trump and figures in his administration, there was every reason to believe a misplaced word or gesture could derail the deepening relationship between the world's two biggest film markets.
Both sides were aware the fallout from that kind of political rupture could hit the US movie business hard. In recent years, Hollywood and the larger US independents have become increasingly dependent on Chinese financing, and China has become a key overseas market for the studios' films. But that doesn't sit easily with everyone. Last September, a group of US Congressmen called for closer scrutiny of Chinese investment in US entertainment assets, while others have noted China has not reciprocated by opening its own film production and distribution sectors to foreign investment.
And yet it became clear at the beginning of this year that it's not just the US that is acting like a disapproving parent towards the blossoming Sino-Hollywood romance. Starting late last year with the collapse of Anhui Xinke's proposed $345m acquisition of Voltage Pictures, Chinese authorities appear to have stepped in and scuppered several high-profile US-China deals.
Over the past few months, deals that have either been delayed or aborted - seemingly because of Chinese regulatory restrictions - include Wanda Group's $1bn acquisition of Golden Globes producer Dick Clark Productions; Shanghai Film Group (SFG) and Huahua Media's $1bn slate financing deal with Paramount Pictures; and LeEco's $2bn acquisition of US smart TV maker Vizio.
Capital concerns
The reason most often cited for the slowdown in deals is the Chinese government's concerns over the large volumes of capital that are leaving the country and driving down the value of the yuan. In 2016, China's outbound investment jumped 44% to reach $170bn, prompting the government to rein in cross-border activity across many sectors, with the potentially sensitive entertainment, media and sports industries an easy target.
But some of the Chinese companies that had deals blocked already had substantial amounts of currency overseas, which suggests other factors are at play. "It's about more than foreign exchange controls," says Stephen Scharf of US law firm O'Melveny & Myers. "While the government is concerned about capital leaving China, they may also be trying to protect Chinese companies from making deals that just aren't very good."
Indeed, some of the proposed deals didn't appear to make much sense — especially those in which Chinese companies were overpaying or acquiring assets way outside their existing business activities — raising qualms these deals were driven more by the need to move capital offshore, boost stock market valuations or pursue a new stock market listing back in China than any genuine desire to enter the Hollywood movie business.
The Chinese government certainly appears to harbour these suspicions. In March, China's commerce minister Zhong Shan said officials would be clamping down on "blind and irrational investments", while central bank governor Zhou Xiaochuan said he was concerned some recent deals "didn't bring much benefit to China and caused some complaints overseas".
As it turned out, Trump and Xi seemed to hit it off at Mar-a-Lago — presumably both world leaders had too much to lose to be antagonistic — and they had much bigger issues to discuss than Wanda's acquisition of Hollywood baubles or the number of US films allowed into China each year.
Holding pattern
But while the US and China may not currently be at loggerheads, there is no reason to believe the Chinese government will loosen up restrictions on overseas investment any time soon.
Tom Ara of law firm Greenberg Traurig explains the slowdown in deal flow is also linked, in part, to the fact China's National Development and Reform Commission (NDRC) has been given oversight of outbound investments, which is all part of Xi's overhaul and streamlining of government agencies and consolidation of power.
"Xi is streamlining the government because China needs to undertake massive economic reforms in the next few years to enable the economy to continue growing without taking on unsustainable levels of debt," Ara explains.
China's debt reportedly rose to 277% of gross domestic product (GDP) in 2016, thanks to a debt-fuelled spending binge that helped prop up GDP growth to just under 7%, but which economists believe could lead to systemic crisis if allowed to continue. Ara believes there won't be any loosening of outbound monetary restrictions until after the National Congress of the Chinese Communist Party (CCP), scheduled for autumn 2017, an event that takes place once every five years and determines leadership transitions in the CCP.
After that key event, at which Xi is expected to strengthen his grip over the Party, it may take a little longer to see how the relationship between the US and Chinese administrations shakes out. Yet Ara, who also serves as a trustee on the board of the Capitol Hill-based US-Asia Institute and recently returned from taking a Congressional delegation to meet Chinese government ministries, agencies and state-owned enterprises, is optimistic about the relationship: "The first thing everyone talked about was what a great meeting Xi and Trump had," he says.
Whatever happens on a macro-economic or political level, it's unlikely the US and Chinese film industries will stop trying to do business with one another. Deals are still being negotiated and there is no shortage of Chinese companies interested in investing in the US film business.
"While the [Chinese] government is giving these deals more careful scrutiny, they're not being shut off entirely," says Lindsay Conner of law firm Manatt, Phelps & Phillips. "Chinese companies with a track record in entertainment will find it much easier to get deals through than companies who are investing in this area for the first time."
Scharf adds: "Deals in which the Chinese side is securing Chinese distribution rights, or there's some synergy with or logical expansion of their existing business activities, seem to be easier to get done."
Conner also believes SFG and Huahua's deal with Paramount may simply have been postponed, rather than aborted. Indeed, Paramount's new chairman, Jim Gianopulos, was recently in Beijing, where it is understood he tried to resurrect the agreement. "People have written that deal off and I don't think it should be," says Conner. "It could be a case of intelligent business people hitting the pause button when the entire leadership of the studio has changed."
One factor that will keep both sides talking is the fact several existing deals appear to have proved that Chinese companies can be trustworthy partners. Whether or not they worked out financially for both sides, happy marriages are thought to include Huayi Brothers' partnership with STX Entertainment, Perfect World's slate financing deal with Universal and Bona Film Group's deal with Chip Seelig's TSG Entertainment and Fox. Wanda's acquisition of AMC Entertainment is cited as a success story, and while its $3.5bn acquisition of Legendary Entertainment may not look quite so shrewd at present, all of Wanda's deals are part of a much broader strategic plan.
There are also deals that industry observers say may not have worked out financially, such as Hunan TV's $375m financing pact with Lionsgate, due to the performance of the films they backed, although both sides fulfilled their obligations. Then there are a couple of highly publicised partnerships — including Studio 8 with Fosun International and Dick Cook Studios with CITIC Guoan — that have not yet yielded many films, but are still technically in progress. "The truth is that these are challenging deals regardless of the nationality of companies involved," says Conner. "No matter where you're from, if you invest in films that are less successful, the results are the same. There's nothing cultural about that."
Meanwhile, Chinese studios that have been active internationally, including Wanda, Huayi Brothers and Bona Film Group, have all gone on record to say they are keen to continue working with foreign partners. "Huayi Brothers has been following and will continue to extend its 'going global' strategy by working with international film professionals and simultaneously representing Chinese film culture to the world," says Huayi Brothers Media Corp CEO James Wang, speaking exclusively to Screen International.
China's objectives
But Wang echoes wider industry sentiments when he describes China as "the most important market for Huayi Brothers" and explains the end goal of global partnerships is to strengthen the domestic Chinese industry. China's film industry is still young and, despite the country's rapid box-office growth, is not bulletproof. In 2016, several companies, including Huayi Brothers, saw a big drop in profits because of a slowdown in box office and the vicious battle among online ticketing sites to secure market share. Some deep-pocketed recent entrants, including Alibaba and Tencent, appear to be pulling back from domestic production to focus on investing in other people's films.
Moving forward, it's likely both the old guard and newer players, such as the tech giants, will be looking for deals that somehow benefit Chinese domestic infrastructure, content creation and film-related technology. "Apart from investment returns, Huayi Brothers wishes to learn, integrate and grow with our foreign partners," says Wang. "We want to learn about well-developed entertainment systems and successful business models in the West."
Ara believes that rather than Chinese companies investing offshore into Hollywood, there are likely to be more deals along the lines of China Media Capital (CMC)'s joint venture with Warner Bros, Flagship Entertainment, and recently forged partnership with CAA. "There will be opportunities, not for money coming into Hollywood necessarily, but for money coming into Hollywood-type opportunities on a local level in China — joint ventures or other partnerships that focus on developing the China media market," Ara says.
Most of CMC's investments so far have focused on Chinese-language production or the development of local infrastructure. Beijing-based Flagship Entertainment is producing a slate of Chinese- and English-language films for global markets, including Jon Turteltaub's shark thriller Meg and Stephen Fung's The Adventurers. Under its partnership with CAA, CMC has made a "minority strategic investment" in the US agency and is expanding its 12-year-old operations in Beijing.
Perhaps the biggest challenge for Western companies hoping to work with China is that there are still not that many cash-rich companies with entertainment experience — and the ones the Chinese government is comfortable about unleashing overseas already have multiple US partners. But there are too many reasons for the US and Chinese film industries to work together for either side to give up.
"China still needs the US to build out its industry and wants us to film there, whether at Qingdao or studios in Beijing," says Ara. "The pause button on outbound investments has been hit for a variety of political reasons, but the situation should become clearer in the coming months."