As CineEurope (June 22-25) enters its fourth year in Barcelona, Nikki Baughan looks at the evolution of Europe's largest exhibition and distribution showcase.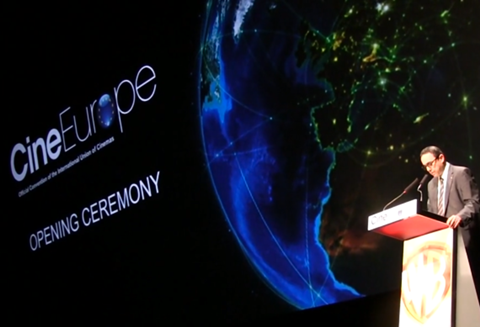 In the three decades since its inception, CineEurope (rebranded from CineExpo in 2011) has become the largest cinema trade show in Europe, and an essential date in the calendar for European exhibition and distribution outfits. As the official convention of the International Union of Cinemas (UNIC), which recently entered a long-term partnership with Prometheus Global Media (PGM) to jointly manage the event after collaborating for the past five years, its annual schedule of seminars, panel discussions and screenings is a valuable platform for international, regional and independent exhibitors to meet, discuss and plan for the future.
"The industry is changing. The main theme at CineEurope this year is partnerships."

Robert Sunshine, CineEurope
"CineEurope was established to create an educational forum for the European market," says co-managing director Robert Sunshine. "Primarily it was a vehicle to showcase American features and products but, with UNIC's input, the show began to focus equally on European films and issues facing European exhibitors. Another major change has been the integration of small independent studios and inviting them to showcase their products and films."
Sunshine cites the participation this year of StudioCanal, Unifrance, MisterSmith Entertainment and EuropaCorp as signs of this ongoing evolution.
For Phil Clapp, CEO of the UK Cinema Association and current president of UNIC, this increased participation of independents is the key to continued growth. "Many of the independent distributors were concerned they would be marginalised in the show but that is absolutely not the case," says Clapp. "Slate presentations by these companies have been hugely well received and have become a key element of the show which, we hope, will lead us to attract an even broader range of cinema operators. The US studios have gone out of their way to welcome this development, recognising that it presents a truer reflection of the rich diversity of the European cinema sector."
During Clapp's involvement with the conference, he has seen it develop not just in size and outlook, but also in the diversity of both its attendees and the issues it addresses - driven directly by the changing demands of the exhibition community. "We are seeing many more delegates from central and eastern Europe, but also those representing companies outside of what might be seen to be the traditional cinema footprint," he says. "For example, there are more digital marketing agencies and people working in social media."
Indeed, the issue that remains of paramount importance to everyone is the digital revolution. "While digitisation of the European cinema sector was a huge challenge, in truth it only formed the foundation of a revolution in the way cinemas operate," says Clapp. "The ability to programme a broader range of content means a fundamental reappraisal of how cinemas engage with and understand their audience. That requires an understanding of the way the public now wants to receive its information, and a steady supply of content that speaks to an increasingly diverse and demanding audience. Tentpole films from US studios are still a key building block, but European audiences also want to see the reality of their lives reflected on screen."
"The industry is changing," agrees Sunshine. "The main theme at CineEurope this year is partnerships - between exhibition and distribution, between the equipment companies and exhibitors and now our full partnership with UNIC."
The programme will focus on innovations in cinema marketing, engaging the youth audience, cinema's position in the experience economy and, as always, new technologies.
One session will look at using digital technology to better engage an audience, and another on data's importance. Both reflect the shifting audience behaviour that is transforming the face of exhibition.
"There's a big revolution going on outside of the cinema space in terms of viewing habits," says Clapp. "CineEurope has not covered this to the extent it might, but it's definitely on our agenda in the future. That process of change is one we welcome."