Based on Shakespeare's Titus Andronicus, The Hungry was developed by Film London's Microwave International.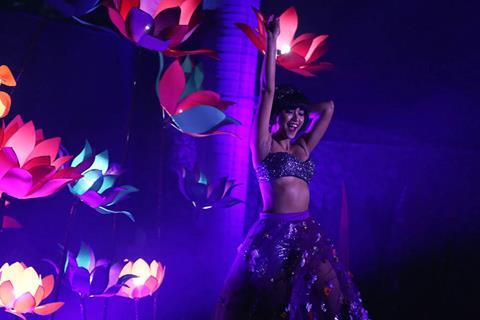 India-based filmmaker Bornila Chatterjee brings her second feature The Hungry, loosely based on Shakespeare's revenge thriller Titus Andronicus, to the Toronto International Film Festival with the first public screening scheduled for Thursday (September 14).
Centered around two wealthy families who spiral into a rampage of deceit and murder, The Hungry emerged from Film London's Microwave International: Shakespeare India scheme pairing scripts and producers from India and the UK. The partnership was co-created with Cinestaan Film Company, and launched in 2015 at Film Bazaar in honour of the playwright's 400th anniversary.
While Shakespeare was not high on Chatterjee's filmmaking wish-list, a mentor convinced her to enter a submission with the idea to treat it like "a modernised play". Together with her writing partner Tanaji Dasgupta, the script was developed over the course of a year and shot over 24 days in a historic old fortress three hours north of Delhi. Cast and crew include high-profile Indian actors Naseeruddin Shah and Tisca Chopra, along with up-and-coming UK-based DoP Nick Cooke (Butterfly Kisses), whose vibrant, colourful lighting gives the film a distinctive tone.
The Los Angeles-born filmmaker spoke to Screen ahead of her film's TIFF premiere.
How did you get involved in the Microwave International: Shakespeare India scheme?
I found out about it at Film Bazaar where I was trying to pitch another project. I was hesitant to apply but my mentor encouraged me, with the notion to use Shakespeare as a base but to explore and move away from the original material. I chose Titus Andronicus because I figured no one else would choose it. After applying, there ended up being six filmmaking teams in total, like arranged marriages in a London bootcamp-workshop. We were not guaranteed to get the money, but our script was greenlit and here we are.
You have high-calibre talent involved. How did you secure your cast and crew, and what it was like working together?
It's not a fun, happy film but making it was wonderful. We are all from everywhere around India, but we lived under this one roof for the entire production and it felt like a family. For the cast, Naseeruddin Shah and Tisca Chopra were our first choices, and when they agreed to do this, we knew we had something special. It also made getting other people on board easier. Everyone on set helped each other out, which was integral when filming an Indian wedding on a £300K budget.
How did you find the adaptation process?
The first draft took just a month because that was the deadline. Then we spent a year on the script attempting to capture the grief and vengeance. For us, it was all about the lead female character's journey. She does things like a crazy villain but the whole thing started because her son was killed. Shakespeare luckily gave us good material to work from, we just leaned on the existing gruesomeness. We tried to create a macabre fairytale.
Some have compared The Hungry to Peter Greenaway's The Cook, The Thief, His Wife & Her Lover. Was that film an inspiration?
Someone I thought about when making this was Todd Haynes because I think he is a master of melodrama, where the characters and conflict don't become overly melodramatic. The Cook, The Thief, His Wife & Her Lover is much more intense than this.
What are the challenges for female filmmakers in India?
Making independent films is challenging wherever you are, and India is no different. It would be nice to see more films as 50/50 men and women, not just the filmmakers but the cast and crew as well. And I'd like to see more movies about women – I think that is what is going to change things. In India last year, there was a lot of controversy around the film Lipstick Under My Burkha because the [Central Board of Film Certification] said it showed inappropriate female desire. When the censor was appealed, it ended up doing very well at the box office. I think that says a lot about what audiences want to see.
The film has a very vibrant look and feel. How was that achieved?
It was an Indian-UK co-production so it was important to get artistic talent from both countries. We had a British editor, composer and cinematographer, and top Indian crew members including the gaffer and production designer. We all worked together to give it this wintry and moody atmosphere, like Macbeth in Scotland. Nick [Cooke] worked hand in hand with our gaffer Ganesh Hegde in lighting the film, and then we upped the existing colours in the grade.
What are you working on next?
The film is screening next at the London Film Festival and the Mumbai Film Festival, which I am excited about. As for my next project, my writing partner and I are working on a film that is set in Calcutta. I want to make something in my hometown. It's very different to The Hungry, it's about a messed-up ménage a trois that crumbles.