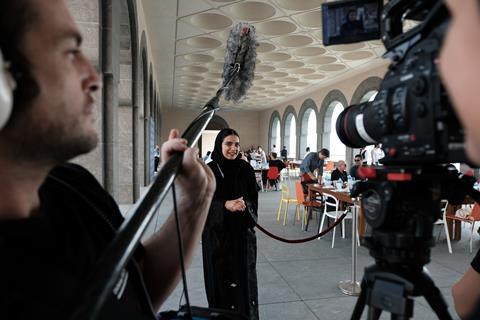 International filmmakers Talal Derki, Tala Hadid and Annemarie Jacir are among the lead mentors at this year's edition of the Doha Film Institute's talent and project incubator Qumra, running online March 18 to 25.
They reveal their own career breakthrough moments and the lessons learned that they now pass onto a new generation of filmmakers.
Syrian documentarian Talal Derki
What got you into film?
I belong to the generation that grew up with film as an art and way of giving a story meaning for eternity within an arc of 90,100 minutes. In the 1980s, I was watching everything I could get hold of on VHS, classic films, Westerns.
There was no film school in Damascus where I grew up but my father set some money aside for me in a house, which I sold and went to Greece to study cinema. I didn't study documentary but when I went into a documentary, it meant I had had all this teaching about narrative and how to tell a story in different ways in the background.
What was your breakthrough moment?
Making Return To Homs. This is something that happens once in a lifetime. It was about bringing this personal experience into this global situation. It's difficult for me to watch it now. It's a museum of death. Everyone in front of the camera got killed but it marked a turning point for me.
At the beginning of the uprising, I didn't know what to do. I had a short film in the Thessaloniki Documentary Film Festival about Kurdish refugees in Europe. The Kurdish language was forbidden in Syrian media at the time and I was wondering whether it was safe to return but when protestors were shot and killed, I cried a lot and made the decision that I had to be there to show what was happening.
Did you have any mentors in the early stage of your career and if yes who and how did they help you?
I have a Tunisian actor friend Fethi Haddaoui who I talk to a lot. Hans Robert Eisenhauer who was the producer on Return to Homs was very supportive. We would talk a lot and discuss a lot of things. It helped a lot.
What's your advice for emerging filmmakers?
Don't lose hope. Give yourself and your film time. This career is not about age. It's not like sport. You may graduate and years might pass before you get to make the film you want to do. But it will come if you have a target that this is what you want to do in your life.
What's going on around you in terms of who's getting financed and who's not is not an indication of what's good or bad. For years in Syria, I was watching other filmmakers get support and finance. Sometimes this made me doubt myself but you need self-belief and to keep watching and learning and the time will come.
What are you working on now?
I am completing the last film in my trilogy on the Syrian war, A Song For Summer And Winter. I've been working on it since 2020 and the aim is for it to premiere in early 2023, hopefully in Sundance. It explores the violence against women and the situation for women in Syria has worsened during the war. It's about the violence going on in homes that nobody talks about. I've also just produced my wife Heba Khaled's first feature, Azel. It's a psychological horror fully financed by the Middle East platform OSN. I am also producing a documentary about what is going on in Afghanistan which is under wraps for now.
Moroccan filmmaker Tala Hadid
What first got you into film?
I was bewitched by the moving image for as long as I can remember. I had a small toy when I was a child, a sort of Magic Lantern, which I played with constantly, spellbound by the flickering images, which was probably was the first step of enchantment down the path to filmmaking. That and of course watching films.
What was your big break?
I don't really see it as a "big break", but on a much deeper level, the first and ineluctable step into cinema and making films, and this was my first film on Pier Paolo Pasolini [Sacred Poet}. It was a love affair if you will. I was 19 and it was a deep plunge into another filmmaker's life and work and being surrounded and supported by his surviving colleagues and collaborators, such as Bernardo Bertolucci and Laura Betti.
Did you have any mentors in the early stage of your career and if yes who and how did they help you?
Laura Betti. She was Pasolini's muse, an actress and "provocateur" in post-world war Italian cinema, a towering and fearless figure in the Rome cultural and cinema scene. She scared a lot of people, but I found her absolutely wonderful. She took me under her wing when I was making my first film, and a friendship was born.
She taught me what courage meant, how important it was to give oneself entirely to a project, what it meant to think lucidly and with conviction. To work with rigour. She also kindly introduced me to different writers, film technicians and poets that were still around from that golden era of Italian Cinema. I'll never forget those days, of learning and inspiration.
What's your most important piece of advice for emerging filmmakers?
Brush aside all the fog and keep your eyes on the ball. Keep your vision clear, your resolution steadfast and your heart open. Remember that you are only a conduit and that the film you are making must stay true to the world in which we live.

What are you working on now?
I'm working on returning to the source via work on a fiction film as well as a documentary project, and a long-term photography project. Work that brings much sustenance to the mind and soul, especially in these trying times.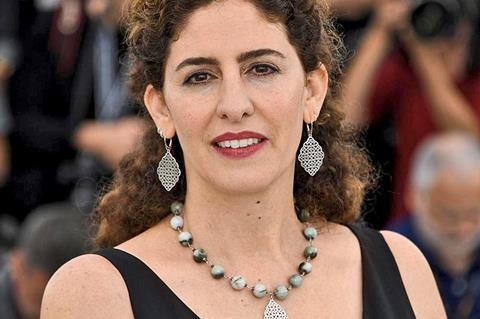 Palestinian director Annemarie Jacir
What got you into film?
I came to film through screenwriting and editing. I used to edit so I was playing with images and writing has always been very important to me. Those two things merged and I realised that what I loved most was directing. It joined everything I love together: writing, editing, working with actors, visualising, telling stories through pictures
What was your first big break?
Probably my short film Like Twenty Impossibles which I shot during the Second Intifada in 2001. I was eventually able to finish it in 2003 and it then premiered in Cannes.
Did you have any mentors in the early stage of your career and if yes who and how did they help you?
No, I didn't have any mentors in the early stages which is the main reason why I founded Philistine Films to create something I felt from my personal experience was lacking, to become involved in mentoring and working with other filmmakers at various stages and getting these projects supported and off the ground. A big part of Philistine Films was to create a crew in Palestine and Jordan, but especially Palestine because that was very much lacking when I started.
It's also why I am involved in the Doha Film Institute as a mentor for Qumra as well as its Hezayah Screenwriting Lab and I have also taught in many other places in Palestine, in refugee camps over the last 15 to 20 years, as well as being part of other labs internationally.