The US filmmaker talks to Kaleem Aftab about how the food industry reacted to his award-winning doc Super Size Me.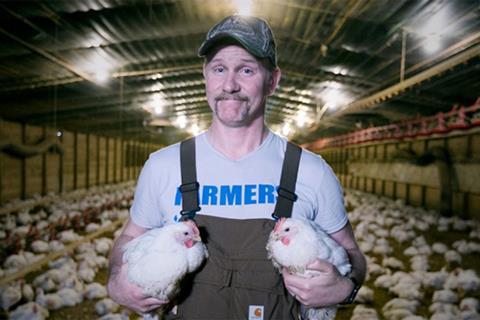 Super Size Me 2: Holy Chicken! sees Morgan Spurlock return to fast food restaurants. This time he's not eating McDonalds every day for a month but has decided that if you can't beat them, join them, and the film sees the food activist create his own "healthy" fast food store called Holy Chicken! Naturally, nothing is what it seems.
Spurlock argues that since making Super Size Me in 2004, "There was a huge green washing that happened in the food industry where suddenly they said we have got "better" but they were never going to do that by spending the money on more high-quality ingredients. The better way of doing that is to sell the same things in a much more unique and appealing way."
If Super Size Me is told from the consumer perspective, the sequel is more about how the corporations handle regulations. "I think in America we have done a fantastic job of letting the corporations define the regulations which has made everything work much more in the corporations favour than our favour."
Spurlock says he's worried that Britain may lower food standards post Brexit, with President Trump's administration already suggesting that Britain would have to accept America's chlorinated chicken in any post US-UK relationship. "I think Europe has done a pretty good job controlling that, we'll see what happens post-Brexit."
The filmmaker also says that his pop-up restaurant Holy Chicken! may reappear in some guise given the global interest when he opened his first pop-up restaurant in Ohio in November 2016. "As you read at the end of the film, on day four of the pop-up we get called by the franchise company, which is when we thought wow, maybe there is a business here. Fight now we are going to focus on the movie and then see what happens." So Spurlock the restaurant owner may still happen.
The next stop will be Sundance and then Berlin Film Festival. "We were blown away by the response and when we premiered at the Toronto Food Festival we had a Holy Chicken! Food truck and we are likely to see another pop-up at Sundance."
Spurlock is currently working on a documentary on human intelligence and brain implant technology. "The age of Blade Runner is very much here," he says. "When I made Rats last year, we cut and scored it like a horror film and it turned out infinitely cooler than we hoped. This one will be shot like a sci-fi movie.'
And at some point in 2018, Spurlock is hoping to start work on his first fictional film as director. "We got a couple of projects in our pipeline. One is a book that has been the adapted and the other is an original script not written by me."