As the latest in a line of esteemed actresses to play Queen Elizabeth II, Foy has risen to the challenge of playing HRH as a young woman.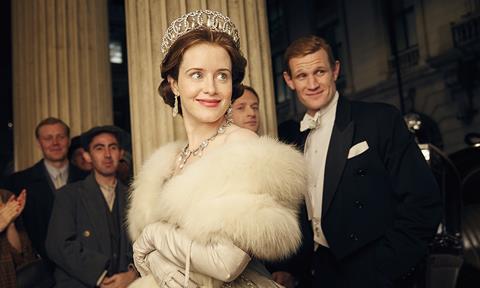 There is something about playing Queen Elizabeth II that brings out the best in thespians.
Helen Mirren won her Oscar in 2007 for depicting the UK's reigning monarch in Stephen Frears' The Queen, while Kristin Scott Thomas received rave reviews for her West End portrayal in Peter Morgan's The Audience (a role also played by Mirren on Broadway).
Now, The Crown star Claire Foy is threatening to sweep the board and become the first UK actress — and only the fourth in history — to win the triple of Golden Globe, Screen Actors Guild and Emmy awards in the same year.
The Crown is Netflix's first big foray into the realm of period costume drama with its original programming. The streaming giant is thought to have paid $100m for the first season of the show, which is a chronological exploration of the reign of Queen Elizabeth II written by Morgan, and executive produced by Left Bank Pictures' Andy Harries and Stephen Daldry.
Morgan has become something of a royal chronicler of our age, and the focus of all his creations has always been the actress playing the head of state. That could have been a heavy burden to bear for Foy, but she believes she has it easier than her predecessors.
"I felt that the pressure was probably more intense for Helen and Kristin in the sense that they were playing the Queen at a period of her life when everybody remembers what she was like at that time," Foy says. "We are showing the Queen at a time when there wasn't much footage of her, and people didn't necessarily think of her as a young woman."
In season one, the Queen is seen employing a tutor to get her up to speed on world events and, for Foy, learning royal etiquette and the events of history was a major part of her preparation.
"You know, it's very difficult to get a first-hand account of her," Foy says. "She's a professional person, and everyone has a good account of her. It's not like someone will say, 'I met her on an off day,' — and her staff are very respectful."
In addition to taking on the weight of history, Foy also found herself the star of Netflix's biggest gamble to date. "It was very new for Netflix to make an original drama, and it felt like an unknown entity," she says.
"But with the calibre of the team, you just trust that they know what they're doing. You can't think about why they've chosen you too much, or you would go a bit doolally."
International appeal
Before The Crown, Foy was best known for starring in BBC-made period dramas such as the Charles Dickens adaptation Little Dorrit (2008), the updated Upstairs Downstairs (2010-12) and Wolf Hall (2015), in which she played Anne Boleyn. While these roles raised her profile in the UK, the 33-year-old could still venture to the US and remain anonymous. Not anymore.
"In the US, especially Los Angeles, when something goes down well, then everyone is talking about it," she says of The Crown's success. "When we went to the SAGs and Globes, it was like, 'Oh My God.' It was a different kettle of fish; you could feel the difference. It has definitely changed the jobs that I go up for and get seen for."
This new-found profile has also made the actress more choosy about the types of role she is willing to accept. "Before The Crown, I thought I had an open playing field in the sense that I could take whatever risks I wanted, or could just take a role because I needed to pay the tax bill and not worry about the consequences," she says. "It does feel that now I have a bit more responsibility over those decisions, as more people want to know about it."
Keep the audience guessing
This also matters because her time as Queen Elizabeth II is coming to an end. From the start of production, Foy knew she would only star in two seasons of The Crown as the producers did not want to use make-up to age the actors.
While there is a definite sense that Mirren has been earmarked to reprise the role in seasons five and six, Foy claims not to know who will replace her in season three, adding that the current cast has been trying to guess who will take over the royal roles as much as the audience.
To the actress who ends up as her royal successor, the Stockport-born Foy has this advice: "Just crack on. [The role] requires a certain amount of technical work — the accent and stuff — but you have to forget that you're playing a real person. I will mourn the loss of her, but I can't wait to watch the show as a viewer. I think it's dead exciting."
With the nine-and-a-half month shoot of season two at an end, and broadcast due for late 2017, Foy has started to think about her next role. In the break between seasons, she made Breathe, a love story between her character and a dying Andrew Garfield, directed by Andy Serkis, which is in post-production. But, she says, it is more likely we will see her back on the small screen.
"I really have this sort of actor fear where I can't imagine doing anything else [but play the Queen]," Foy quips. "You get so used to playing the part, so it's probably good that you have to get out there. But I'm not sure I can suddenly go to eight-week [feature] shoots after having done this for so long."
Such a view is also a sign of the times, where Hollywood studios have become more focused on special-effects orientated blockbusters. "I think television provides you with the time, and that is where the creative freedom and the ability to take risks is," Foy states. "I think that's why all the filmmakers are going to television. But I'll go where the work is."