Luc Besson's EuropaCorp is gearing up to make serious headway in the US with the launch of RED. Melanie Goodfellow reports on the company's game-changing developments.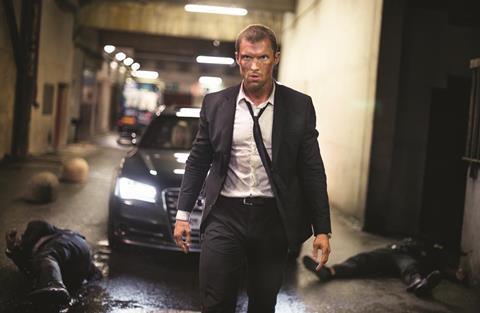 French mini-major EuropaCorp will be out in force at CineEurope for its first ever product presentation at the international exhibition conference, an invitation that comes at a decisive moment in the company's history. The Paris-based outfit is gearing up for the hugely significant release of action thriller The Transporter Refueled, and the premiere of the film's anticipated second trailer will be at the heart of its CineEurope presentation. Additionally, a handful of output-deal partners may get a sneak preview of the entire film at a private screening.
"EuropaCorp is the only non-US company in the world that has managed to become an active distributor in the US."

Christophe Lambert, EuropaCorp
Much is riding on this fourth instalment of the rebooted Transporter franchise, which is to hit screens seven years after Transporter 3 grossed $109m worldwide. Crucially, it remains to be seen whether global audiences will take to Game Of Thrones star Ed Skrein, who replaces the much-loved Jason Statham in the lead role of high-risk courier Frank Martin.
More significantly, however, the US release on September 4 will mark the operational debut of Relativity EuropaCorp Distribution (RED), EuropaCorp's fledgling joint US distribution arm with Relativity Media created after it purchased a 50%, $130m stake in its long-time collaborator. "What's been achieved here is pretty unique," says EuropaCorp CEO Christophe Lambert. "EuropaCorp is the only non-US company in the world that has managed to become an active distributor in the US." In addition, and for the first time, EuropaCorp will oversee the simultaneous release of the title in 78 global territories without the support of a US major, something it has enjoyed for most of its previous global blockbusters, including Lucy (Universal) and Taken 3 (20th Century Fox).
International focus
Last year's creation of RED is just one pole in a strategic plan launched by Lambert in 2011, intended to bring the company back from the brink of financial ruin after consecutive years of losses from 2009-11. At the heart of Lambert's restructuring package is a move away from French-language fare, which could only guarantee recoupment in a handful of Francophone territories, in favour of English-language, commercial productions with global appeal.
"It really triggered some very quick changes in terms of the proportion of the movies that were made in English," says the company's marketing manager Fabrice Denizot. "EuropaCorp's line-up used to contain two to three international titles a year. Now it's seven."
"We've gone from selling seven French movies a year into a dozen markets, to selling seven English-language movies a year into 70 markets,"

Marie-Laure Montironoi, EuropaCorp
So far this strategy has paid off, with a string of global hits led by Besson's sci-fi thriller Lucy, which had a budget of $55m and grossed $462m worldwide, and Taken 3, which has taken $328m worldwide since its release in January. The reality behind these figures, however, is that US majors handled much of the international release of these films, so the lion's share of revenues went to them. In the case of Lucy, which was filmed mainly in France, a hefty 75% of the film's profits went to Universal, which handled the release in most of the key international territories including Taiwan, the UK, Germany and the US. "With the launch of RED, we'll get 100% of the outcomes," says Denizot.
Beyond this, the creation of RED allows EuropaCorp to guarantee a wide US release for its English-language titles - an essential precursor for international sales. Most of Relativity Media's former distribution team has been rolled into the new entity, headed by distribution veteran Kyle Davies as president of worldwide distribution alongside longtime collaborators Greg Forston, Jennifer Huber, Zach Beebee and Kelly Haney.
They are gearing up to release The Transporter Refueled on at least 2,500 screens in the US.
"The biggest challenge is not the screen count but rather finding the best release date," says Davies. "Exhibitors are excited to have EuropaCorp releasing in the US. They know the great reputation of the brand and they know we're launching EuropaCorp movies with big marketing and distribution campaigns. But the landscape is crowded so it's all about finding the weekend with the best opportunity."
The launch of RED and move towards English-language fare has led to the scaling up of EuropaCorp's activities across the board. "We've gone from selling seven French movies a year into a dozen markets, to selling seven English-language movies a year into 70 markets," comments Marie-Laure Montironi, the company's head of sales.
Another pole of the restructuring plan has been the signing of several output deals to reinforce pre-financing plans. "We've expanded that policy to make sure we have some faithful partners around the world," says Montironi. "Knowing we already have at least 10 territories on a pre-financing plan makes our lives a lot easier."
Current output partners include Belga Films in Belgium, Universum Film in Germany, Gulf Film in the Middle East and the recent addition of South Africa's Times Media Films, the country's biggest independent distributor.
EuropaCorp is also in talks with potential partners in the UK and Italy, but has ditched a previously announced search for a Russian output partner due to the weakness of the rouble amid the ongoing conflict in eastern Ukraine.
Courting China
Perhaps EuropaCorp's most significant output deal, however, is with China's Fundamental Films. The two companies announced the extension of their existing three-year deal for a further five years at Cannes Film Festival in May. That wasn't a surprise, since Fundamental's market clout combined with Besson's star status in China have positioned EuropaCorp as one of the few European companies to make serious inroads into the Chinese box office.
Under the first three-year deal, Fundamental released Lucy, which stormed the Chinese box-office chart on its release in the country last October taking $45m, Taken 3 and dystopian Detroit drama Brick Mansions.
"If we want to beat the pirates, it's crucial to be able to release the movie simultaneously with the US,"

Fabrice Denizot, EuropaCorp
Fundamental is key to EuropaCorp's China strategy because it is one of the rare Chinese companies that can guarantee the release of at least four titles per year within the country's strict quota system for foreign films. "It's a big relief for us because we know at least four of our films can really perform in China," Montironi says.
In addition to making these quota films, the partners are also co-producing together. They have already combined forces on Matthias Hoene's martial-arts adventure
The Warrior's Gate, and the new deal includes a $50m investment in Besson's upcoming Valerian And The City Of A Thousand Planets, an adaptation of the first volume in Pierre Christin and Jean-Claude Mézieres' sci-fi comic-book series. Both of these films will be considered local titles in China, and so can be released outside of the quota system.
A number of lessons were learned during the first three years of the collaboration. EuropaCorp, for example, has taken on board the fact that Chinese cast members can help extend a film into the provinces, where "Liam Neeson and Robert De Niro are complete unknowns", says Denizot. "Suddenly you're looking at 5,000 prints over 3,500. I think Luc will do his best to cast a new Chinese actor in Valerian. It's something we'll do more of where it fits the story."
Another area where both sides are coming up to speed is in their attempts to tie in the China and US releases in a bid to beat piracy. EuropaCorp has factored into its production process the ability to deliver material early enough that Fundamental can handle quota and censorship issues well ahead of the planned US release. "If we want to beat the pirates, it's crucial to be able to release the movie simultaneously with the US," explains Denizot. "Lucy and Taken 3 were released two months later in China because we were in a production rush and focusing on the US, but we know we probably missed a lot of box office due to this."
Upcoming titles
Aside from The Transporter Refueled trailer, EuropaCorp's CineEurope product presentation will also feature sizzle reels for upcoming productions Shut In, a psychological thriller starring Naomi Watts as a woman cut off from the world in her rural New England home following a deadly storm, and Barry Sonnenfeld's Nine Lives, in which Kevin Spacey plays a workaholic who becomes trapped in the body of his family's cat.
There will also be teasers for action thriller The Lake, about Navy Seals who uncover lost treasure in war-torn Serbia, The Warrior's Gate and, possibly, drug-baron biopic Escobar, which co-stars Javier Bardem and Penelope Cruz. "These films were shooting during Cannes," explains Montironi, "so it's the first time we've been able to show anything." RED will release Shut In on February 19, 2016, followed by Nine Lives on April 29 and The Lake on July 15. EuropaCorp's new US operation looks set for a busy first year.
Transporter Rebooting the reboot
When EuropaCorp's marketing team rolled out the first trailer for The Transporter Refueled earlier this year, the plan was to target the fanbase of the first three films. When it was initially released via Facebook's autoplay service, however, the trailer received a mixed response, leading to a rethink of the campaign.
"We did an exclusive deal and big media spend on Facebook's autoplay service, targeting the hardcore fans of the first Transporter trilogy," explains marketing manager Fabrice Denizot. "But we realised this might not be the ideal way to go. Firstly, they've aged and are all around 37 years old, and secondly, they're primarily fans of Jason Statham. So we were trying to convince people who automatically hate Ed Skrein because he's not Statham."
In response, the marketing department have reframed the campaign to focus on a demographic that is 15 to 24 years old and predominantly male, with the aim of creating a new fanbase for the franchise. "We're really excited about the new trailer, which has tested amazingly well," says Denizot.
Following its CineEurope preview on June 25, the trailer will premiere online on July 1 before hitting cinemas in a launch scheduled to tie in with the release of Terminator Genisys.
Valerian A new franchise?
Luc Besson's upcoming live-action adaptation of the French science-fiction comic-book series Valerian, which has sold nearly 10 million copies since 1967, was one of the hottest properties in Cannes. Buyers snaked round the forecourt of the Majestic Hotel ahead of Besson's presentation of the project alongside its first announced cast members, Dane DeHaan and Cara Delevingne.
"We sold 90% of the world in six days so it was very satisfying, and we achieved some nice figures to allow us to go into production," says head of sales Marie-Laure Montironi. "Luc Besson is such a creative genius that when he is attached as a producer, author and director, it's always a huge asset."
"We'll wait to see how the first movie performs, but it's a mission-driven franchise like James Bond," adds marketing manager Fabrice Denizot of EuropaCorp's hopes that Valerian, which is slated to go into production early next year for a July 2017 release, will mark the beginning of a franchise. "This, combined with the fact there are 23 graphic novels Luc can get inspiration from, means the possibilities are endless."