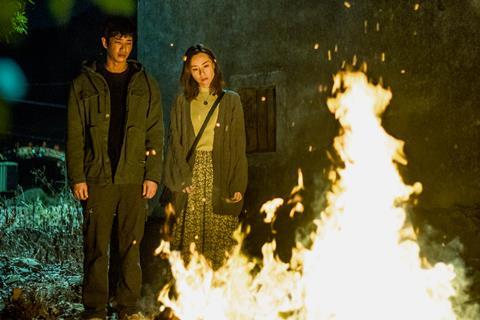 High-profile blockbusters from Hong Kong will be in the spotlight at this year's Filmart Online (March 14-17) as companies including Emperor Motion Pictures (EMP), Mandarin Motion Pictures, One Cool Pictures and Universe Films serve up their latest titles for international buyers.
Among them are crime thrillers and action films, which have traditionally proved some of the most successful exports from Hong Kong. They include EMP's Detective Vs. Sleuths, which reunites director Wai Ka Fai with his regular actor Lau Ching Wan and is set to open on April 2 in China (but not in Hong Kong where cinemas have remained closed since January 7 due to pandemic restrictions), making it the first tentpole Hong Kong-Chinese co-production released in mainland China this year.
Further highly anticipated titles with A-list stars aiming for release in 2022 include time-travel action period drama Back To The Past, airplane hijacking thriller High Forces and the untitled spin-off from the Storm franchise.
While there is no lack of films in production – proof that the industry is up and running despite the pandemic – the bigger problem lies with cinema closures. As Hong Kong continues to face its fifth and worst wave of Covid-19 cases, films originally scheduled for the first quarter have remained unreleased in the region and the overseas markets that have acquired them. They include Table For Six and Chilli Laugh Story, which had been lined up to open over the lucrative Chinese New Year, and Valentine's Day releases of Far Far Away and Don't Forget I Love You. (The latter went on to open in China on February 14, skipping Hong Kong.)
Major film events have also been impacted. Both the Hong Kong International Film Festival and the Hong Kong Film Awards have been postponed until further notice as cinemas remain closed until late April at least.
Commercial offerings aside, there are several Chinese films among the Filmart Online line-up that will be aiming for festival berths. They include Vagrant Bebop from A Chat director Wang Xide, which is selected for HAF's work-in-progress section, and Zheng Peike's Karma, which won Zou Tao the award for best actor at China's Pingyao film festival, and Call Me Crazy, starring renowned actor Ge You and directed by DoP-turned-filmmaker Gu Changwei whose feature debut Peacock won a Berlinale Silver Bear in 2005.
Meanwhile, Mandarin Motion Pictures has added two Taiwanese romantic dramas onto its slate: Harry Shui's Say Yes Again, and Ryan Tu's My Best Friend's Breakfast, which led the box office in Taiwan over Chinese New Year with takings of $2.4m.
Almost Love
Dir. Luo Luo
Novelist-turned-director Luo Luo's latest film revolves around two high-school sweethearts, played by Li Wenhan and Xu Ruohan, who stay together through university but begin to drift apart as their career takes off. Produced by Beijing's iQiyi Pictures and Xiamen Hengye Pictures, the romantic drama is aiming for a theatrical release in China in May. Luo's previous features Cry Me A Sad River in 2018 and The End Of Endless Love in 2020 have each crossed $47.5m at the Chinese box office. Contact: Bryce Tsao, iQiyi
As It Burns
Dir. Lee Po Cheung
Starring Jasper Liu (More Than Blue), Stephy Tang (My Prince Edward) and veteran actor Ray Lui, this suspense thriller follows a detective who links a recent apartment explosion to a similar fatal case 15 years ago. But his investigation takes a turn when he discovers a lookalike of the recent female victim. Painted Skin director Gordon Chan produces the film for Lee whose credits include 2007's Single Blog and Gangster Payday, which was the closing film at the Busan International Film Festival in 2014. Contact: Grace Chan, Entertaining Power
Back To The Past
Dirs. Ng Yuen Fai, Jack Lai
This time-travel historical action drama, set in both modern day and ancient China, reunites Louis Koo, Jessica Hsuan and Raymond Lam, who starred together in hit 2001 drama series A Step Into The Past. When a sudden attack destroys the peace of his recently unified kingdom, Emperor Qin is forced to seek help from his reclusive mentor to help fight against a time-travelling villain. Co-director Ng is a visual effects specialist who is also the director of upcoming apocalyptic sci-fi Warriors Of Future. Contact: Christy Choi, One Cool Pictures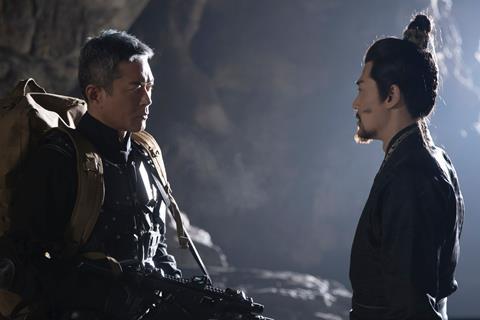 Beyond The Sin
Dir. Kwok Man Ki
This crime thriller follows a former police inspector who begins to suspect that his daughter's killer is still at large when more girls are found brutally murdered in Macau. Toplining the cast are Louis Koo and Lam Ka Tung, who received two best actor nominations for Limbo and Hand Rolled Cigarette at this year's Hong Kong Film Awards. The film is in production and marks the feature directorial debut of Kwok, a seasoned assistant director who has worked on films including Stephen Chow's The Mermaid. Contact: Christy Choi, One Cool Pictures
Call Me Crazy
Dir. Gu Changwei
Chinese director Gu's latest film pairs veteran actor Ge You, star of If You Are The One and its sequel, with Karry Wang from popular boy band TFBoys. They play social misfits – an eccentric old man and his stuttering nephew – who form an unlikely friendship that leads them into a series of adventures, including eating a hedgehog. The film is named after this animal in Chinese. The screenplay is based on a short story by Zheng Zhi who is also the screenwriter. Gu's directorial debut Peacock won Berlin's grand jury prize Silver Bear in 2005. Contact: Miriam Cheung, Emperor Motion Pictures
Detective Vs. Sleuths
Dir. Wai Ka Fai
Lau Ching Wan, star of the Overheard franchise, plays a mentally unstable former top detective who begins his own investigation against the Chosen Sleuths – a group of brutal killers who take justice into their own hands. Charlene Choi (The Lady Improper) and Raymond Lam (Back To The Past) round out the cast of this crime thriller, which is set to open in China on April 2. It is the first film directed by Wai since 2009's Written By, which also starred Lau. Wai has previously co-directed several films with Hong Kong auteur Johnnie To, including Mad Detective in 2007. Contact: Miriam Cheung, Emperor Motion Pictures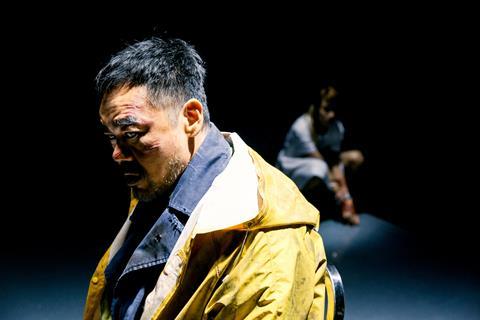 High Forces
Dir. Oxide Pang
This action thriller takes places on a plane where a former SWAT member, played by Andy Lau (Shock Wave 2), is caught up in a mid-air hijack with hostages including his own daughter. The cast also includes Zhang Zifeng (Sister), Qu Chuxiao (The Wandering Earth) and Liu Tao (Peace Breaker) and the film is set for release in the fourth quarter of 2022. Lau is also a producer of the film. Hong Kong director Pang, one half of the Pang Brothers, is best known for The Eye horror series. Contact: Universe Films Distribution
Karma
Dir. Zheng Peike
Set along the Yangtze River that flows through the Sichuan province, Zheng's directorial debut follows two generations of two boatmen who decide to set sail on a new journey while still coming to terms with the loss of loved ones in a previous boating accident. The film premiered in October at China's Pingyao film festival where Zou Tao won the Fei Mu award for best actor. It is produced by Chengdu-based Emei Film Group. Contact: Miranda Liu, Hishow Entertainment
The Narrow Road
Dir. Lam Sum
Louis Cheung (Breakout Brothers) and Angela Yuen (The White Girl) lead the cast of this social drama, which focuses on the owner of a small cleaning company who can barely make ends meet. A new hire of a young single mother helps keep his business afloat until the pandemic worsens. The film is backed by mm2 Studios Hong Kong, which was behind box office hit One Second Champion and the critically acclaimed Drifting. Lam, a co-director of May You Stay Forever Young, was a winner of short film competition the mm2 Movie Makers Awards in 2017. Contact: Sim Wee Boon, mm2 Entertainment
Sunshine Of My Life
Dir. Judy Chu
Hong Kong director Chu, who was born to blind parents, draws on personal experience for her feature debut. In this family drama, her young protagonist wants to get away from her blind parents at all costs, but when the opportunity comes, she realizes that she cannot cut all ties with them. The cast includes award-winning actress Kara Wai (The Bold, The Corrupt, And The Beautiful), Karena Ng (Wong Ka Yan) and veteran actor Hugo Ng. The project was a recipient of Hong Kong's Film Development Fund. Contact: Kat Yeung, Mandarin Motion Pictures
Vagrant Bebop
Dir. Wang Xide
Wang's second feature includes an ensemble cast comprised of seven men and women of different backgrounds who meet and part in a small café over the course of one winter. The film was shot in Wang's hometown of Changzhou, Jiangsu province over 14 days as a tribute to some of his friends who have passed away. The project was selected for the work-in-progress section of this year's Hong Kong-Asia Film Financing Forum (HAF) and a final cut is nearly complete. Wang's debut feature, A Chat, received its international premiere at Vancouver International Film Festival in 2021 and won best film at China's Chongqing Youth Film Festival. Contact: Cao Liuying, Parallax Films
Untitled
Dir. Terry Ng
This untitled action crime thriller is set up as a spin-off of the Storm franchise, which spawned five anti-corruption films with the final being last year's G Storm. The new feature follows an anti-corruption investigator who must prove his innocence after he being suspended from duties when his father is implicated in a customs corruption case. The cast includes Kevin Cheng, Bosco Wong and Adam Pak, all from the Storm franchise. Raymond Wong and David Lam, producer and director of all the Storm films respectively, serve as producers on this feature debut by Ng. Contact: Kat Yeung, Mandarin Motion Pictures