As the irascible, blatantly biased judge in The Trial Of The Chicago 7, Frank Langella revelled in playing a deeply unsympathetic character.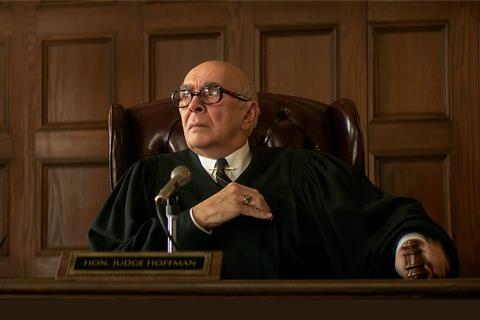 Frank Langella had not worked for a year when his agent sent Aaron Sorkin's script for The Trial Of The Chicago 7. "I made a decision a long, long time ago, I would rather wait than fill in with mediocre material or things that are considered 'career moving'," he explains on the phone from his home in upstate New York. "I don't get nervous or think I'd better take that lousy television show because I'm not working. And look, this came along out of nowhere. It fell out of the sky. I read it and thought, 'What a great thing to happen at my time of my career.' I don't know how many more films I've got in me."
Now 83, Langella has earned the right to wait for "quality", having been acting for more than 60 years. He made his screen debut for Mel Brooks in The Twelve Chairs in 1970 (although it was released after the film that IMDb credits as his first, Diary Of A Mad Housewife), and since then has starred in more than 60 films and a similar number of plays. Along the way he has picked up four Tony Awards in a glittering career that has seen him essay everything from Dracula (on stage as well as screen in John Badham's 1979 adaptation) to Skeletor to Richard Nixon (his only Oscar and Bafta nominations came for Frost/Nixon, a role he originated at London's Donmar theatre).
Originally a Steven Spielberg directing project that Sorkin took over as director, and initially set for release by Paramount Pictures until acquired by Netflix, The Trial Of The Chicago 7 tells the true story of a group of anti-Vietnam War protesters — alongside Bobby Seale, co-founder of the Black Panthers — who were charged with conspiracy and intent to incite violence at the 1968 Democratic National Convention in Chicago. Langella electrifies as the clearly biased judge Julius Hoffman, bellowing and berating an ensemble that includes Sacha Baron Cohen, Mark Rylance, Eddie Redmayne, Yahya Abdul-Mateen II and Jeremy Strong.
Hoffman is not the first real-life character Langella has played, nor the first bad guy. While actors try to humanise villains, Langella was having none of it with Hoffman, who was "a shit-heel, a man totally and completely in the pocket of the government, a man who was racist, had no respect for the law, and was only out to win points for himself. Now where have we noticed that lately?"
Sorkin shot all the courtroom scenes chronologically, in just 13 days. "It was extraordinary for all of us to be on the set, 12 hours every day," says Langella. Moreover, in six decades, it was the first time he had played a judge or starred in a courtroom drama. "There's that wonderful Mel Brooks expression, 'It's good to be the king.' Well, it's good to be the judge. I sat on that bench and watched these young men."
Initially, Langella planned to keep himself separate from the rest of the cast during filming, to help engender a frosty atmosphere between judge and defendants, but soon scrapped the idea. "I fell in love with [them] on the first day," he reveals. "They were terrific companions. Everybody always asks you for stories when you're an old man. So I bored them as best I could." But when they wanted to know his memories of the actual trial, Langella had to plead ignorance, informing them that, at the time, he had only been focused on two things: acting and women. "I was 30. What else would I be interested in?"
A man of reputation
Besides being a "remarkable writer" and an "excellent director", Sorkin was "a lesson to me", admits Langella. "If you're in this profession for a very long time, you have a reputation. And usually the producers will call the people who worked with you before and say, 'What's Langella like? Is he difficult? Is he this? Is he that?' Aaron's reputation was, 'You must absolutely know every line. He doesn't tolerate any kind of ad‑libbing or rewriting.' I never rewrote a single word, but I did ignore what I heard. And when I thought something could be more interesting, he was enormously egalitarian."
So what is Langella like? "I think it would depend upon the decade of my career. In my 20s, I would say impossible. In my 30s, I'd say a little bit less. And in my 40s, I began to understand various things. I always give young actors a very wide berth when they're difficult or stubborn or when they're perhaps approaching something the wrong way, because they're tense or nervous. I was an incredibly arrogant 24 year old. Young actors have demons that drive them; they're competitive and neurotic. It didn't happen on this, but I've done many, many films and plays with difficult young actors. Sometimes I want to kick them in the teeth. But I don't."
Currently working on a second volume of memoirs — the first, the 2012-published Dropped Names: Famous Men And Women As I Knew Them, included his encounter, aged 15, with Marilyn Monroe — Langella starts shooting his next film in late February, an adaptation of Henry James' The Beast In The Jungle, directed by Broadway choreographer Susan Stroman. It will involve "a great deal of dance. It is a marvellous piece of material that nobody will see, but is absolutely irresistible. I like doing independent films, because there's no time and no money to fuck it up."
Does he have any advice for younger actors? "Don't be afraid to be lousy. Don't be afraid to make a fool of yourself. If you trust yourself, eventually it's going to bubble to the surface. I couldn't find Dracula for the first three weeks of rehearsal. And I had the same problem with Nixon. You just keep your head down and keep working, and you risk, you jump, and see where it takes you, and then you go, 'That was terrible. I made a complete fool of myself. But so what?' If you play it safe, you'll never be anything, in my opinion. The whole point of being an actor is to leap."