While China looks unlikely to lift restrictions on overseas investment following the Communist Party's National Congress, there may be other ways for Hollywood to work with the world's second biggest film market. Screen examines the changing relationship.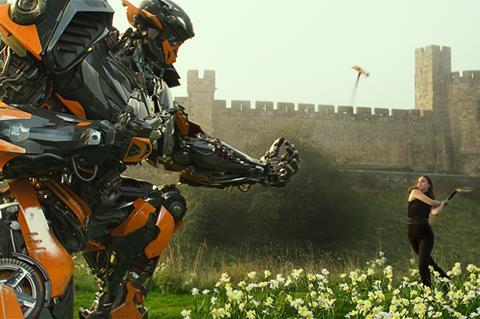 It would be an understatement to say the relationship between the US and Chinese film industries has been recalibrated since the beginning of 2017. The apparently bottomless well of Chinese finance that was flowing into companies, slates and individual films has slowed to a trickle.
At the same time, previously high-flying Chinese tycoons with ambitions of conquering Hollywood, including Dalian Wanda Group founder and chairman Wang Jianlin, have had their wings clipped as the government puts pressure on big corporations to reduce debt.
Fortunately for the US studios, Chinese audiences are continuing to watch their tentpole releases — hits in China this year include The Fate Of The Furious ($393m), Transformers: The Last Knight ($229m) and Pirates Of The Caribbean: Dead Men Tell No Tales ($172m). But as Paramount discovered earlier this year, when its $1bn financing deal with Huahua Media and Shanghai Film Group failed to materialise, the studios can no longer rely on China to finance costly slates.
In recent months, the pullback, which has left Hollywood scrambling for alternative sources of finance, has been blamed on China's need to reduce capital outflows and rebalance the economy in the run-up to October's National Congress — a once-every-five-years event that determines the leadership of the Chinese Communist Party. After months of dwindling deal flow, the Chinese government finally made that official policy in August, when it prohibited what was described as "irrational" overseas investments in sectors including film, entertainment, hotels and sports. Meanwhile, the government stated that investments aligned with China's 'Belt and Road' initiative — a development and infrastructure project aimed at repaving the ancient Silk Road trade routes — are to be encouraged.
Xi consolidates power
But now the dust has settled on the Congress, which ran October 18-24 in Beijing, it looks unlikely there will be any positive changes for Hollywood in the short term. As expected, the gathering confirmed that Xi Jinping will remain in power as China's president and general secretary of the Communist Party for the next five years. Indeed, the Congress elevated Xi to the lofty heights of former leaders Mao Zedong and Deng Xiaoping, as his philosophy — "Xi Jinping Thought on Socialism with Chinese Characteristics for a New Era" — has been enshrined in the Chinese constitution.
While no one ever doubted Xi would remain in charge, it was his comments on economic policy during the Congress that should give Hollywood pause for thought. During his lengthy opening speech, his emphasis was on "quality" rather than breakneck growth that has often been based on overspending; addressing the country's staggering income inequality; and helping wealth trickle down to the regions. Xi is well aware that China is grappling with a perfect storm of slowing economic growth, ballooning debt and an ageing population. This was not the talk of a man who would be happy to see billions of dollars flow overseas into foreign movies.
Also of interest to Western content and tech companies were Xi's comments on cyber-security. In recent months, China has clamped down on live streaming, news services that don't rely on government sources, and virtual private networks (VPNs) used to circumvent China's 'Great Firewall'. During his speech, Xi pledged to enhance internet censorship to "clearly oppose and resist the whole range of erroneous viewpoints". So there's no reason to believe the doors will be opened to Western tech companies such as Facebook, Netflix and Google any time soon.
Tech giants on alert
Indeed, now that the Congress is out of the way, it will be interesting to see how a newly empowered Xi regards China's own trio of tech giants: Baidu, Alibaba and Tencent. Unlike Wang Jianlin, who irked the Party with boasts of acquiring Hollywood studios, all three companies have downplayed their overseas investments into film and games companies, taxi-hailing apps, ecommerce platforms and artificial intelligence. But at home they are becoming increasingly powerful, especially with super apps such as Tencent's WeChat with its 900 million users. Chinese authorities have already reprimanded Baidu for publishing misleading medical information and Tencent for its addictive videogame Honour Of Kings. Going forward, the question will be whether the government regards these companies as a potential nuisance or an essential component of a burgeoning digital economy.
But while Chinese investment is unlikely to ever return to its previous levels, there are some positive developments in the relationship between the US and Chinese film industries. China's Perfect World Pictures recently closed a $250m credit facility with East West Bank and JP Morgan to cover the second phase of a $500m five-year slate financing agreement with Universal Pictures. In addition, STX Entertainment, which is backed by China's Huayi Brothers and Tencent, recently scored a global hit with The Foreigner, starring Jackie Chan and Pierce Brosnan. Produced on a budget of around $35m, the film has already grossed $120m worldwide, including a respectable take in both the US and China. STX is now gearing up for an IPO on the Hong Kong stock exchange that should value the company at around $3.5bn.
And then there's the fact that Chinese productions are again enjoying box office success with Wolf Warrior 2 grossing $860m over the summer and body-swap comedy Never Say Die taking more than $300m over the National Day holidays. Partly due to the success of these films, China's box office is expected to grow by 20% to hit $8.3bn in 2017, compared to just 3.7% growth the previous year. That should make it easier for the US Trade Representative to argue during ongoing negotiations over China's import quotas that local films are holding their own against Hollywood releases.
Indeed, films such as Wolf Warrior 2 could paint a new blueprint for the working relationship between the US and Chinese film industries. Although it was fully financed by Beijing Culture Media and other Chinese companies, the $30m film relied fairly heavily on Western filmmaking experience. Captain America director-producers Joe and Anthony Russo served as consultants on the film, and in turn brought in stunt director Sam Hargrave (Captain America: Civil War) and composer Joseph Trapanese (Tron: Uprising).
Although it is an entertaining film, Wolf Warrior 2 is not likely to travel widely, except for its curiosity value, as its patriotic viewpoint is too closely aligned to a mainland Chinese mindset. But as US-China co-productions such as The Great Wall have proved over and again, it's difficult to make films that work in both the US and Chinese markets. Perhaps the way forward is to focus on co-financing and producing local-language content solely for the China market — if you can achieve a gross close to $1bn, you don't really need to worry about anywhere else. Not that this is necessarily an easy option. The US studios have been trying to make Chinese-language films for several years with mixed results, so perhaps there's a gap for fleet-footed independents, whose business sense may find more common ground with China's young, fast-moving and aggressively entrepreneurial film industry.
We may also see more partnerships between Chinese and Western companies that focus on developing infrastructure in the China market. At least two such partnerships have emerged so far this year: Perfect World's joint venture with Village Roadshow and WME IMG, and China Media Capital's investment into the Chinese branch of CAA. With the exception of those deals that were primarily aimed at moving money offshore, Chinese studios' interest in Hollywood has always been twofold — turning a profit and learning how to produce international films — and very few of the slate-financing deals signed over the past few years have delivered on either count. Indeed, for the foreseeable future, the best way to work with China may be to look at what can be contributed to the country's relatively young film industry rather than pondering over what can be taken out.