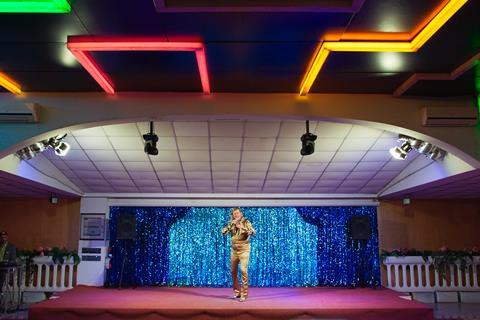 Filmart, Asia's largest film and television content market, is set to welcome back visitors virtually for the third time from March 14-17 and is drawing on experience gained during the pandemic to deliver its biggest online edition to date.
While it may be disappointing to some that the leading Asian market still cannot take place in-person, organisers the Hong Kong Trade Development Council (HKTDC) are encouraged by growing numbers of international participation.
At time of writing, the number of exhibitors at Filmart Online is expected to hit 700, compared to 677 from last year, and more than 3,000 buyers have registered, including a selection from remote territories that normally would find the travel to Hong Kong prohibitive.
As in previous years, Filmart takes place just one month after the European Film Market (EFM), representing the first Asian market of the year. Many European sellers join Filmart through the European Film Promotion (EFP), Unifrance or independently and present fresh titles from the Berlinale, which this year include Rimini by Coproduction Office, Talking About The Weather by Films Boutique, Lullaby by Latido Films, Beautiful Beings by New Europe Film Sales, and Somewhere Over The Chemtrails by Pluto Film.
"We're glad that Filmart continues to give us the opportunity to meet with our partners from Asia and beyond," says Julien Razafindranaly, head of sales of Berlin-based Films Boutique. "As long as it remains a market, it creates a moment in time and space for people to do business and interact with one another."
Despite the migration online, he says: "We're heading into Filmart with a confident approach, in the same spirit as we would normally: with a lineup ready, taking meetings as if we were in the Hong Kong Convention and Exhibition Centre, and hoping to meet distributors that we may not know yet."
Also among Films Boutique's lineup is war journalist Loup Bureau's Ukraine war documentary Trenches, which premiered out of competition at Venice last year. "We share a particular emotion about this film. Loup is now back in Ukraine, where he shot Trenches, to cover the ongoing conflict," adds Razafindranaly.
Spanish films have found major success in Asia in recent years, such as thrillers The Invisible Guest and Mirage, both directed by Paulo Oriol, which took a total of $45m in China alone and have been remade for India in different local languages.
Regular Filmart exhibitor Latido Films presents a string of Spanish-language genre films such as What Lucia Saw and Virus-32. "Filmart is a key Asian market even if it's online. There is good momentum to catch up with our clients in the region and keep up the visibility of our movies," says Juan Torres of Madrid-based Latido Films.
Filmart Online has attracted 24 pavilions from eight countries and regions this year, including Content Thailand, Film Development Council of the Philippines (FDCP), Korean Film Council (KOFIC), Taiwan Content Creative Agency (TAICCA), UniJapan, EFP from Europe, Independent Film and Television Alliance (IFTA) from the US, and various cities and provinces from China such as Beijing, Hangzhou, Guangdong and Zhejiang.
Prior to the pandemic outbreak, Hong Kong companies often made a big splash on home turf, setting up some of the most extravagant and the biggest booths along the front row of the physical Filmart. Prominent Hong Kong players continue to show their support to the online marketplace, bringing with them new titles including Detective Vs Sleuths and Just 1 Day by Emperor Motion Pictures, As It Burns by Entertaining Power, Breakout Brothers 3 and Sunshine Of My Life by Mandarin Motion Pictures, and The White Storm 3 and High Forces by Universe Films Distribution.
Until recently Hong Kong had been successful in curbing the spread of Covid-19 but the city is in the grip of the fifth wave of the virus, with a record number of cases of the Omicron variant. While mandatory mass testing and a city-wide lockdown are expected to be enforced soon, cinemas have remained closed from January 7 until at least April 20, and the Hong Kong International Film Festival, due to open on March 31, has been postponed.
"We know that cinema closures have had a strong impact on our partners in Asia," says Films Boutique's Razafindranaly. "Many of them have become a bit more cautious with their acquisitions simply because they won't be able to release their films for some time.
"That being said, within its very diverse population, the appetite for film remains strong. We can only have a positive approach every time we head for Filmart."
As a buyer, Patrick Huang from Taiwan's Flash Forward is a familiar face at international festivals and markets. "Filmart is the place to continue the ongoing discussions from EFM and preview upcoming titles ready for Cannes," he says. "The mood could certainly move the deal in an efficient way. My mind is always clearer during Filmart as we have more time to really discuss upcoming titles and not be interrupted by festival screenings or anxious buzz from reviews."
His company recently acquired Berlinale Competition title Before, Now & Then from Wild Bunch.
Angie Wang from China's Hishow Entertainment is another buyer who acknowledges the strategic importance of Filmart. "It's always a good opportunity to follow up on EFM and take a closer look at Asian films," she says. "It would be much nicer to meet in person of course, but we've got used to online meetings in the last two years. The bigger problem is the lack of diversified content."
In 2019, Hishow released the 4K restoration of The Legend of 1900, which struck a chord with local audiences and grossed $23m (RMB143m) in China. Its earlier theatrical releases include animation Ballerina in 2017 and The Imitation Game in 2015.
Filmart also has a special appeal to festival programmers. "Before the pandemic, sandwiched between two big markets – EFM and Cannes Film Market – Filmart was very useful as a way to maintain privileged relationships with various film companies in Asia which might not otherwise have the same market visibility elsewhere," says Ariel Esteban Cayer of Fantasia International Film Festival in Montreal who has been based in Hong Kong since late 2019 and recently co-founded Blu-ray label Kani Releasing.
"While the pandemic era has shifted the dynamic and moved meetings online, we are grateful for Filmart's continued efforts in connecting industry players, allowing us to focus our energies around a singular part of the year and keep programming as usual."
HAF showcase
Producers and sales agents are also attracted to the Hong Kong-Asia Film Forum (HAF), which has become an integral part of Filmart. The 20th edition of HAF will showcase 43 in-development and work-in-progress projects, taking place virtually from March 14-16 in conjunction with Filmart Online.
Flash Forward's Huang, who is also a producer, considers HAF an important platform. "Many Asian projects selected by HAF have achieved good results on the festival and commercial circuits," he says.
"With the support from Taiwan's new funding agencies such as TAICCA and Taipei Film Commission, I'm eagerly looking for new Asian projects to co-produce from script or WIP stage and for remake properties from Asia and elsewhere. Huang is co-producing Indian film In The Belly Of A Tiger, which was at HAF in 2020.
This year will also see Filmart bring all its online seminars and events under a new banner, EntertainmentPulse. Seminars which aim to encourage knowledge sharing among participants will be a key focus.
Notable speakers have been scheduled over four days, including Jessica Kam-Engle on Disney's content strategy in Asia, NHK's Imamura Keni-chi on the power of documentaries, Sandbox co-founder Sebastien Borget on the metaverse, and Blockchain Creative Labs' Melody Hildebrandt on NFTs.