Jennifer Salke and Georgia Brown talk to Screen about Amazon's global TV ambitions, The Lord Of The Rings and UK opportunities.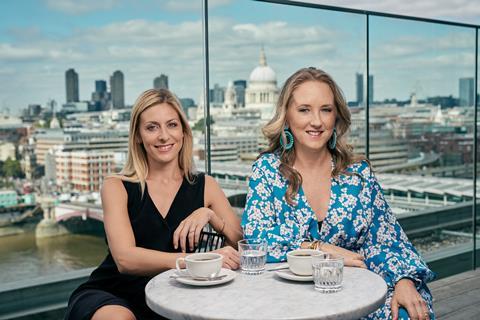 From swanky new offices to bold moves into film and TV content, Amazon Studios is out to make a statement. Screen International meets the streaming giant's new head of film and television, Jennifer Salke, in a symbol of Old Hollywood at the historic Culver Studios lot — which Amazon took over in April on a 15-year lease and is in the process of building 75,000 sq ft of additional office space. Once completed, the campus will eventually house the company's entire Los Angeles-based entertainment division.
Salke's bungalow-style office, situated in the majestic mansion at the complex's heart, has served as an administration building since the 1930s for tenants including film executive David O Selznick. She describes the ambitious plans for Amazon's Culver Studios campus as "dovetailing into what our mission statement is right now, which is about creating the best home for talent".
So says nearly every entertainment executive with capabilities to greenlight, but Amazon — which recently joined Apple as the second company to reach a stock market valuation of $1tn — is in a better position than most to deliver on it. In 2017, the SVoD platform's content budget was reported at $4.5bn, and it has increased for 2018 — although the company will not confirm by how much.
Amazon's entertainment ambitions are now being steered by a seasoned Hollywood executive who has brought hit shows such as Glee, Modern Family and This Is Us to the small screen, the latter during her tenure at NBCUniversal. Salke brings a stellar industry reputation for forging strong, collaborative relationships with talent.
A new strategic emphasis is also being placed on Europe, led by Georgia Brown, director of European Originals. She joined Amazon from Fremantle Media in 2017. In Europe, Prime Video launched first in February 2014 in the UK and Germany, included as part of the Prime membership package, before rolling out internationally in December 2016 (in most countries, as a standalone SVoD service).
Since then, Amazon has rescued cancelled series (the BBC's Ripper Street, ProSiebenSat.1's Pastewka), signed the team behind BBC's Top Gear to create The Grand Tour, launched Prime Original series in the UK (The Collection, its first European original), Germany (You Are Wanted) and Spain (football doc series Six Dreams, its first Spanish original, co-produced with Mediapro and La Liga).
In production or ready to air this year are Good Omens, Deutsch-Les-Landes, Beat and Deutschland 86, while current and upcoming co-productions include King Lear (which aired on BBC2 in May), Agatha Christie mystery The ABC Murders and the second series of Fleabag with the BBC; Vanity Fair and The Widow with ITV; and series four of Catastrophe with Channel 4.
European expansion plans are ramping up with Salke on board and Brown recruiting for on-the-ground development executives in Spain, Italy, France and Germany. These hires will source, develop and produce local-language content, both scripted and unscripted, for the SVoD's local audiences. Brown recently appointed two senior development executives in London, which will act as the primary creative hub.
"The important thing, and the reason I came here, is Amazon want to do it locally," says Brown, patching into the conversation via a wall-mounted videoscreen from Amazon's new London headquarters near Liverpool Street. "We are not interested in having a team here but actually everything having to go back to the US. The autonomy lies in the territories.
"We are commissioning through a local lens, we want local shows," she adds. "My worst pitch is when someone comes in and goes, 'I've got a great pan-European show, and it could be a French lead or it could be a German lead, or if you want it in Spain we could do that too.' My answer is, 'I don't want it.' What I want is people to come in and say specifically, 'This is a Spanish show, and these are the reasons it will work so well there for you.' I don't need it to work in America — it's great when they travel but I don't need that, I need it for that audience."
Amazon's forays into entertainment have borne fruit. On the film side, Manchester By The Sea and Sundance pick-up The Big Sick delivered awards and respectable box-office figures. For TV, Transparent and The Man In The High Castle have garnered critical acclaim while The Grand Tour raised Amazon Prime Video's UK profile immeasurably. In April, Amazon CEO Jeff Bezos declared its Prime membership programme — which, in territories where it is not an SVoD-only service, is as much about enticing users with free delivery for their Amazon purchases as it is about entertainment — had passed 100 million members worldwide.
But there have been expensive misfires — including The Last Tycoon — and headline-grabbing missteps, namely the departure of former Amazon Studios head Roy Price in October 2017 over sexual harassment allegations — one of the early casualties of the #MeToo era. Keen to expunge any whiff of toxicity in its entertainment arm, the search for Price's replacement came down to a coterie of high-profile female executives, with Salke landing the job.
Her experience crosses networks and studios, with stints at NBC Universal, 20th Century Fox and Aaron Spelling Productions, and with many details still to be ironed out early into her tenure (not least who is going to replace Jason Ropell as head of the film division, a role being shared for the time being between Ted Hope and Matt Newman), her plotting of a new course for Amazon's entertainment division exudes poise and assurance. (It is also sparking a raft of trade speculation: is Amazon considering a deal to buy the US's Landmark theatre chain? Is it in talks with Sony and Paramount about producing original movies for the streaming service?)
These are questions Salke is not ready to answer but, as she tells Screen, "everything is up for discussion". When she first arrived, she did the rounds in Hollywood, meeting with producers, showrunners and studios, soothing industry fears that Amazon had lost its way under Price, while, internally, she set out to assure staff that she was a different kind of executive, one whose door was always open. She made a key hire in Vernon Sanders, who joined from NBC as co-head of television alongside Albert Cheng. "The things I know that I can do pretty well are build collaborative cultures and develop and nurture loyal, close relationships with creators like [This Is Us showrunner] Dan Fogelman or Ryan [Murphy]. I wanted to put those things into action right at day one."
In the US, Salke has already overseen a flurry of deals, signing Jordan Peele, Nicole Kidman, Reed Morano (The Handmaid's Tale) and Gone Girl author Gillian Flynn to first-look deals, getting Barry Jenkins to commit to directing all 11 episodes of his adaptation of The Underground Railroad, and greenlighting The Marvelous Mrs Maisel and Jack Ryan for second seasons. But Salke makes clear she is not out to play the volume game. "I want to free up the teams to jump into things without feeling like they're under some sort of mandate as far as numbers," she says. "That's not to say there might not be a lot of volume over time, but it isn't about how many things can you get made, it's what are the things we think can make an impact and really please our customers."
Making the right deals
While Netflix has grabbed headlines this year with nine-figure deals for Ryan Murphy and Shonda Rhimes, Salke is more keen on first-look deals with seasoned and prolific producers. "[First-look deals] mean we're able to pick and choose which projects make the most sense for us," she says. "Even for people who deserve them as much as [Murphy and Rhimes], I just don't get the sense in the community the giant mega-deals are up for grabs in any kind of volume way. But Amazon absolutely would make a deal of that level for the right person. And anywhere in between."
In the UK and Europe first-look deals are less part of the culture, and not a priority. "The European market is incredibly enabling for a producer to have ownership of their rights and their destiny," notes Brown. "We work on the premise that if talent have a good experience working with us they'll want to come back."
Salke praises the shows and creators Amazon supported before her arrival, including The Marvelous Mrs Maisel (which won big at the Primetime Emmys last month) and Carlton Cuse and Graham Roland's Jack Ryan, even though the axe also fell on a number of underperformers this year.
But she is also eyeing a broader programming footprint that on one hand reaches out to the female-driven audience who embraced Big Little Lies and The Handmaid's Tale ("addictive dramas that women can't get enough of and men come along too — it's a good sweet spot," she says) and on the other, score with instant cultural impact. Tired of playing second fiddle to HBO (Game Of Thrones, Westworld) and Netflix (Stranger Things), Amazon's $250m rights deal for The Lord Of The Rings (and a reputed $1bn, five-season commitment) is one such statement of intent.
That deal was done prior to Salke's arrival but it is one she embraces: "We have to break out. We have to make noise. We're talking global ambition about entertaining a global audience. Shows like Jack Ryan or The Lord Of The Rings, IPs where there's already a rabid fanbase — that absolutely needs to be part of our complexion."
And far from abandoning the niche furrow represented by a show like Jill Soloway's Transparent, Salke insists Amazon will continue to offer "a thriving pipeline for more artistic endeavours". But in both the US and Europe it is about "getting into business with people who have a variety of projects on their slate and who are prolific in their own right".
Bridging the divide
A week-long trip to the UK this summer saw Salke and Brown hold court at Covent Garden Hotel, packing in more than two-dozen meetings with heavyweight filmmakers and producers including Matthew Vaughn, Jane Featherstone and Andy Harries. Salke wanted to get the lay of the land and send out the message that "Georgia and I are seeing Europe as the extended home for talent", and encouraging the creative communities in the UK and on the continent to start pitching more of their projects to Amazon.
"There's a huge opportunity for us here to start telling different stories from different voices that you really haven't seen before," says Brown, who adds she is speaking to "probably every creative in every [European] locale right now", from the worlds of both TV and film. The first shows on her slate will be announced at an Amazon Prime Video event in London on October 2.
Salke plans multiple annual visits to the UK going forward and intends to be hands-on, alongside Brown, in building relationships with UK and European producers. "There's nothing like spending time together and coming up with ideas and strategies together," she says. While the US executive has a deep-rooted know­ledge of the European markets, Brown will be an important conduit for building deeper bonds with its content creators.
Television plays out on a global playing field now, and Prime Video's audience data offers an invaluable resource, right down to ground-zero research for the books and audiobooks inspiring interest that might be valuable IPs to pursue. "I'm just starting to peel the orange on that," Salke smiles.
In the UK and Europe, Amazon already co-produces with multiple partners, from the BBC and ITV to ProSieben in Germany and Canal Plus in France, and it plans to continue to invest heavily in that area. The company also plans to seek out more original IP in the future. "There's so many different models now, in terms of how we can work and collaborate with broadcasters, and a number of different ways we can make up the slate," says Brown. "When we're looking at deals, the two things that are important to us are the audience and our customer, and then the producers and what's the best model that fits the relationship. Producers when they work with us are able to monetise in ways they can't, I don't think, with other players."
Brown has greenlighting power via her London-based boss Jay Marine, vice president, Prime Video Europe, and the upcoming debut of Good Omens, a co-production with BBC Studios with Neil Gaiman as showrunner, is a good indicator of the direction the company is increasingly heading in Europe. The series will launch globally on the platform in early 2019, before the BBC gets the second window at a later date.
The new series of Jack Ryan, which launched on Prime Video in August, has scored strong viewership with the SVoD giant's European customer base, according to Brown, and coming soon is Homecoming with Julia Roberts, which played in Toronto International Film Festival's TV strand, and Matthew Weiner's The Romanoffs. In the pipeline are three big bets on YA pilots in production right now, plus John Carney's half-hour romantic anthology Modern Love and a US remake of Utopia with Kudos.
Further down the development pipeline are event-scale series such as Cortes, based on the Spanish explorer and executive produced by Steven Spielberg, and a new Conan The Barbarian, that is being spearheaded by executive producer Warren Littlefield (Fargo, The Handmaid's Tale), as well as a recently announced deal with the Russo brothers to develop a hugely ambitious global "mothership" series that will also exist in local markets in parallel spin-off shows.
"It's about thinking about the world in a way that's a little bit smaller," says Salke. "And how we can really get our arms around it."