How did Damien Chazelle craft a lavish, old-style Hollywood musical on a $30m budget? The writer-director and his lead producers tell Matt Mueller the story behind his ridiculously ambitious third feature.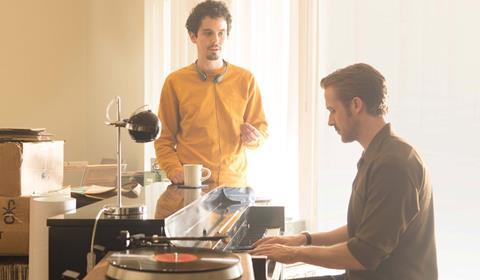 Labelling writer-director Damien Chazelle's bittersweet, candy-coloured awards contender La La Land a homage to classic Hollywood musicals feels like a double-edged sword. "It's true," agrees Chazelle, "and the hope was to never stop there. The movie is a love letter to a lot of things, in that way, but through that prism it hopefully tells a story that's of the moment, grounded and realistic."
La La Land spins the romantic journey of Sebastian (Ryan Gosling) and Mia (Emma Stone), a defiantly retro jazz pianist and aspiring actress respectively who cast a spell on each other in a moody and noirish Los Angeles.
"I wanted to see what would happen if I pasted these MGM musicals onto a modern landscape with modern characters going through a life where the dreams don't always match up to the old movies," says Chazelle.
A giddy delight that was anointed one of this year's prime awards-season contenders as soon as it made its debut as Venice's opening film, La La Land is rife with song-and-dance numbers performed by Stone, Gosling and a game cast that also includes Whiplash Oscar winner JK Simmons. Combined with his previous film Whiplash, La La Land confirms Chazelle as a film-maker who is going to be an industry force for many years to come.
The 32 year old first fell "head over heels in love" with musicals in his late teens, right as he headed off to Harvard University. Specifically, Golden Age musicals like Singin' In The Rain and Jacques Demy's The Umbrellas Of Cherbourg became his most formative influences. Cherbourg, which Chazelle describes as "the most perfect film ever made", was a big touchstone for La La Land. It was a film he nearly tore out of the VCR when he first watched it, before sticking with it — and finding himself addicted by the end. "I've never been the same since," he says. "I've never had a movie take me on that kind of a journey, on both an emotional and intellectual level. I found it incredible that a film and a genre could do that."
Right on cue
It is that motivation that inspired Chazelle and composer Justin Hurwitz, college roommates from Harvard who have now collaborated on three features, to write the script and the score for La La Land, before they wrote Whiplash. But it was Whiplash that became the first post-Harvard feature Chazelle was able to get financed, and its success (which included three Oscar and Bafta wins apiece) gave Chazelle options. Rather than be tempted by fresh script offers, however, he knew how he wanted to use his newfound industry clout. "I made Whiplash in order to make La La Land, so as soon as the doors opened even an inch, we were charging right in with this script," says Chazelle.
Rewinding a few years, Fred Berger and Jordan Horowitz, a pair of producers who rose up in New York's independent film community (Berger got his start working with Sofia Coppola while Horowitz produced The Kids Are Alright), were introduced to Chazelle after he'd made his feature debut, 2009 musical drama Guy And Madeline On A Park Bench, as his Harvard senior thesis. At an LA coffee shop in 2010, Chazelle pitched the duo La La Land. "We were like, 'Original musical, romantic, love letter to LA, old-fashioned, about an actor and a jazz musician: those are all things that are not going to work. Let's do it,'" says Berger. "We just started developing it incredibly ambitiously, purely and in a little bit of a vacuum."
What Berger and Horowitz found thrilling about Chazelle was his level of ambition and unswervable determination to try and mount a film that was, as Berger puts it, "essentially impossible in the mould of Hollywood financing. The prospect of making it was so far-fetched that at no moment were we ever tethered to reality in terms of reverse engineering it to get it made. That's where I think Whiplash had to get made first in order to give rise to the movie that exists today".
Long before Whiplash stormed Sundance in 2014, sparking a heated revival in La La Land's fortunes, the latter project had been set up at Focus Features, which optioned the script in 2011. Chazelle, Berger, Horowitz and composer Justin Hurwitz had completed songs, a lookbook and a highly visual script to tout, so there was plenty of industry interest in the project. But a change of regime at Focus saw the film's main champions exit the company and thrust La La Land into limbo.
At Sundance 2014, the conversations changed again, but the wariness about financing an independently produced, elaborate, large-scale musical still existed for most studios. It was only when Lionsgate came on board the greenlight was finally issued. With the Lionsgate hierarchy (including CEO Jon Feltheimer, co-chairman Patrick Wachsberger and co-president Eric Feig) falling hard for Chazelle's vision, the company actually suggested increasing the budget.
La La Land, made under the Summit Entertainment banner, eventually cost $30m — a challenging figure for a lavish musical that shot in Los Angeles on a tight 42-day schedule. "Coming from the New York film world, we love to make things for less than they can cost," says Berger. "We fought with Lionsgate to bring the budget down and they forced us to bring it up — to their credit, by the way, because it would have meant a number or two would have had to be cut."
"Lionsgate's passion for the project was unrivalled," adds Horowitz. "As well as giving us the resources to deliver the movie, they pushed us to go further. They challenged the film in the right ways."
Raising the stakes
"Even with Whiplash, it was still a big gamble, especially in Hollywood's climate today," says Chazelle. More important than the finance perhaps, Lionsgate's production team gave Chazelle and his partners the artistic freedom to make the film they wanted. "They said, 'We believe in this project as it is on the page and we're not going to try and change it into something it's not', which a lot of people had wanted to do," says Chazelle. "I wound up being glad that it had taken a long time." As for the changes others had asked him to make along the way, Chazelle says they were "the sort of things you would expect: 'Does there have to be so much jazz in it? Can't they get married at the end?'"
At Lionsgate's suggestion, Marc Platt, the producer of high-budget musicals including Into The Woods and Nine who had also made two movies with Ryan Gosling, including Drive, was brought on board the project (the fourth producer was Gary Gilbert). The budget allowed Chazelle and the production to aim high with "a dream team" of department heads, including Quentin Tarantino's longtime production designer David Wasco, costume designer Mary Zophres (Interstellar), DoP Linus Sandgren (American Hustle), choreographer Mandy Moore and Marius de Vries (Moulin Rouge) as executive music producer ("although Justin [Hurwitz] orchestrated every note of the score", says Horowitz).
Emma Watson and Whiplash star Miles Teller were the original duo set to star. With scheduling conflicts given as the reason for them dropping out (Teller has since insisted he was replaced), Emma Stone and Ryan Gosling — who previously appeared together in Gangster Squad and Crazy Stupid Love - stepped in to take on the roles of the lovers. This required Chazelle to age the characters and progress their careers narratively: Mia became a struggling actress rather than someone just off the bus, while Sebastian acquired a more jaded perspective as a musician attempting to keep bitterness at bay.
"Damien brings everyone's game up," says Berger. "But no degree of masterful craftsmanship can create the emotion and chemistry that Ryan and Emma bring. They're legitimately the beating heart of the movie."
The actors committed themselves to the entirety of pre-production, which happened over three months at a warehouse complex in the San Fernando Valley. "It housed production and art and costumes and choreography and vocal and dance training and Ryan's piano room," says Horowitz. "It had a very free-flowing vibe."
Berger describes the shoot as having "an athletic quality. It felt like going to a sports match every day because we operated without a net as much as possible: Ryan had no piano double, the dance numbers were all single takes, head to toe, on 35mm film so there couldn't be one false step".
Filming wrapped in October 2015 and Chazelle agonised in the editing suite with editor Tom Cross, tinkering to find the right tone for his passion project. He has ended up with a film that looks to be on an inexorable path towards prime awards season recognition. International box-office prospects also look robust, with La La Land rolling out across most territories in December and January.
Even though he's managed to create magic on a $30m budget, Chazelle still wanted more. "If one day I make a $100m movie, you'll probably find me bitching about not having enough," he laughs. "We had to be creative at every turn from the outset, but what was amazing was ultimately I was able to step away from the movie knowing that I hadn't compromised anything. Things had certainly changed but it was always for the better. There wasn't that awful moment where the dream you've always had in your head, you weren't able to do. I was able to shut down freeways and have them fly up into the stars."
City at a standstill
The production engine behind La La Land's remarkable opening sequence.
The film opens with a mesmerising and meticulously choreographed sequence called 'Traffic', set in gridlocked traffic on a Los Angeles freeway overpass. Chazelle shot his film's most intricate sequence about two-thirds of the way through the 42-day shoot. "We wanted to be a well-oiled machine by the time we attempted that, but we also didn't want to be too exhausted," he says.
The EZ-Pass ramp, which connects the city's 110 and 105 freeways, was shut down for an entire weekend in August, giving Chazelle two days to get his automotive chorus-line sequence in the can (after a previous six-hour rehearsal on the ramp, which features a 100-foot drop). Logistical pre-planning (including Post-It notes with car brand names and the 100 dancers who would waltz across them) and three months of diligent rehearsal leading up to those two days were the key to the sequence's successful execution, which the film-maker describes as being "like a blur" (10 California highway patrol officers were recruited to secure the area).
Since it was designed to feel like a single, sustained take, and thus was pieced together with a series of long takes, the days were spent doing up to 50 takes for each shot. That's a lot of energy to sustain, as Chazelle admits, for a group of dancers who were performing elaborate dance moves atop stationary vehicles in 40°C heat. "I had it easy; I had to sit behind a camera," he says. "They're the ones who had the sun beating down on them while pretending to be happy about it."
Chazelle actually left the number out of the first test screening, but while the reaction was fine, some further tinkering to the sequence — and another test screening — means the film now opens with what is already an iconic musical number. "We all came away knowing that we had done something special," says Chazelle. "We had no idea whether it would work, but at least we had tackled something that had scared the bejeezus out of all of us."