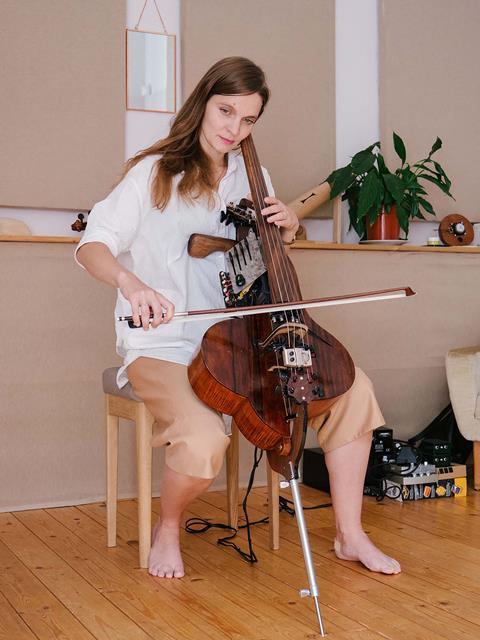 Hildur Gudnadottir does not see herself as a film composer even though her mesmeric score for Joker has earned many plaudits, including Oscar, Golden Globe and Bafta nominations.
"I am a person who makes music in whatever shape or form," says Iceland-born, Berlin-based Gudnadottir. "I mean, I love writing film scores, but it's definitely not the only thing I do, because I'm someone who really likes to perform and have as many musical outlets as I can. I'm so hopelessly curious I can't limit myself to just one."
A classically trained cellist, Gudna­dottir has recorded both as a solo artist and with several bands, in addition to working on the scores for Denis Villeneuve's Arrival and Sicario, both of which were composed by her late countryman Johann Johannsson.
As a composer, she wrote and performed the score for feature Mary Magdalene, the HBO/Sky miniseries Chernobyl, which won her an Emmy, and sequel Sicario: Day Of The Soldado. It was the latter that caught the ear of Joker director Todd Phillips.
"He is someone who is very inspired by music. He listens to it a lot as he is writing, and plays music on set. And as he was writing the script, he saw Sicario 2 and basically decided in the cinema, 'I want this person to score the film,'" Gudnadottir explains. "After that, he went back to my solo albums, which he also really liked, because they're largely based around the cello, and he wanted the cello to be a strong voice in the score."
Phillips contacted Gudnadottir "out of the blue", asking if she would like to read his and Scott Silver's Joker script — which she duly did. "I really loved it," says the musician. "Then he asked if I was interested in writing some music based on the feeling I got from the script, and those pieces ended up being the main themes that were used in the film."
Did Phillips give her any indication as to what direction he wanted the music to go? "No. He was pretty open," she says. "He was curious to hear what I felt after reading and, thankfully, we were in very strong agreement. He's so generous with the space he gives the artist he's collaborating with. He's curious to see and hear what they have to bring to the table. I could see that with the cinematography and with Joaquin Phoenix's performance, and it made the whole process really special for everyone involved."
So enamoured was Phillips of Gudnadottir's music, he played it during filming, with Joker star Phoenix later claiming the track, entitled 'Bathroom Scene', helped his transformation from wannabe stand-up comedian Arthur Fleck into the epony­mous comic-book villain.
"I know Joaquin was having a bit of a hard time finding his way into the character," Gudnadottir recalls. "The scene was originally scripted totally differently. There wasn't supposed to be any dancing, but Joaquin was so inspired, he started improvising the dance that ended up being the transformation into the Joker. So the music was leading that process, which was so magical, because we never spoke about it. It was like there was this tele­pathic communication through the music. I only came on set a couple of times but pretty much every scene was affected by the music, and I was like, 'Oh my God, the people must hate me, because they've had to listen to the same music for months.'"
While Joker's score was ultimately recorded by a 100-piece orchestra, all the main themes are just Gudna­dottir and her halldorophone, "a kind of Jimi Hendrix" electric cello. "It's a monster," she laughs. "It has eight strings and every string has a microphone. There's a speaker on the back so it creates this feedback loop, and creates all these strange sounds and does that electro-acoustically. For this score, I played it through a four-stack of amplifiers, so all the strange sounds you hear, like when he goes into the fridge, are all played on this, and all played live. They're not made in a computer."
Working in stereo
What is perhaps even more remarkable about Gudnadottir's Joker score is she produced it while working simultaneously on the soundtrack forChernobyl. "That was pretty difficult, to be honest, to jump between the two, because the sound worlds and the stories were so completely different," she reflects. "But I tried to do chunks on each project, so I could be really focused on one thing at a time. In the end, I have no idea how I managed to do both at the same time, but somehow it worked out."
To prepare for Chernobyl, Gudnadottir visited the decommissioned Lithuanian power station used in the series and recorded its atmosphere. "Because the story is so real, the music needed to be almost like factual and not fictional,"
she notes. "I felt I really needed to understand what the space was, what it sounded like, what it feels like to be in this massive surrounding, and what radiation could possibly feel and sound like, because I felt it was important the music portray this radiation. Because it's something you can't capture on camera, I felt it was important the music took that vacuum — so I tried to listen as carefully as I could to the sounds the power plant was making, then turn the power plant into a musical instrument. All the sounds in the score come from this power plant apart from the human element, which is my voice."
Deep dives
Off the back of Chernobyl and Joker, Gudnadottir has inevitably found herself even more in demand than before. "There has been quite a few offers for film and TV projects," she says, "but it is important to me to take breaks between film projects because they are quite demanding and take a lot of time. I was working on Joker, start to finish, for almost one-and-a-half years.
"The way I work is a very big commitment. I don't like doing film scores in three weeks because I like to really be able to dive into the process and kind of marinate myself in the story, and normally a few weeks isn't enough time for me to do that. So I'm taking time off, to be able to create some head space for the next big dive."