Sidney Flanigan brought no acting experience but all the talent, understanding and instinct she needed to play the teenage protagonist of Never Rarely Sometimes Always.
Eliza Hittman first spotted the then 14-year-old Flanigan at a wedding party. But not just any wedding — Hittman's partner Scott Cummings was making an experimental documentary about the 'Juggalo' subculture of Buffalo, New York. Juggalos are obsessive fans of the rap group Insane Clown Posse, and, like the band, they habitually wear clown make-up.
"It's an interesting culture," says Flanigan. "I never got super into it, but I was dating someone at the time who was staying at their house." It is worth noting that, in a yard party attended by people in full clown make-up, it was the teenage Flanigan who made a lasting impression on the director. Five years later, Hittman approached her about the lead role in Never Rarely Sometimes Always. "I guess it had to do with the fact I was a 14-year-old girl, at the time I had a shaved head and I was wearing wigs. I just must have looked eccentric and out of place at this wedding with all these people in their 20s and 30s."
Flanigan had a background in music and performance — she plays violin, guitar and ukulele, studied at Buffalo Academy for Visual and Performing Arts and has been part of the local punk scene since she was 15 — but she had no acting experience whatsoever. Her first inclination when she was approached about the role of Autumn, a teenager from Pennsylvania who has to travel to New York in order to get an abortion, was to turn it down. "I told them I don't know how to act and I had all these other excuses, 'Oh, I couldn't possibly get away from my job,'" she recalls. "But it was like a minimum-wage job at a grocery store."
Despite her initial reservations, Flanigan was persuaded to read the screenplay. "I was immediately very excited. I didn't realise it was going to be about abortion, and I was instantly drawn to that. And I remember thinking, 'Wow, these characters are so real.' It didn't feel like a big Hollywood version of the story, it felt grounded and I wanted to be part of that. The screenplay was definitely a factor. But a lot of it was Eliza — talking to her, watching her other films. I immediately felt like I trusted her to be the person to tell that story."
The authenticity that Flanigan responded to in the characters is evident in the teen inarticulacy of the dialogue. Much is communicated without words in the spare exchanges between Autumn and her cousin Skylar (played by Talia Ryder), but Flanigan did not find the non-verbal element of the performance to be a challenge. "Eliza was really good at directing small moments," she says. "She would be off-screen saying things like, 'Push your hair behind your ear' — little tiny details. It really helped. A lot of it, too, was being in the proper headspace. Tapping into emotional places and memories." She adds, "When it came to the character, I imprinted a lot of myself onto her."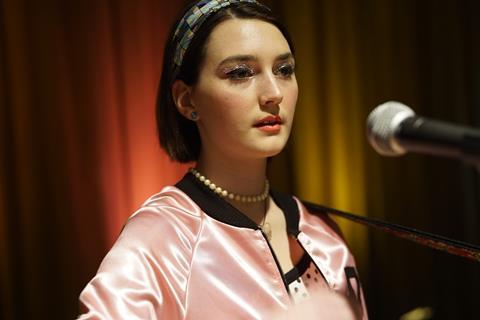 The creative dividends helped the Focus Features title earn a special jury award at Sundance Film Festival last year, quickly followed by the Silver Bear jury prize at Berlin, where it played in the festival's Competition section. More recently, the New York Film Critics Circle awarded Hittman best screenplay and Flanigan best actress at its annual awards.
Authentic connection
Never Rarely Sometimes Always is a film about reproductive rights, but it is also a persuasive portrait of female friendship — a friendship that, like everything in the film, feels strikingly authentic. That truthfulness, explains Flanigan, comes from a genuine connection that developed between Ryder and herself from the outset. "I just immediately liked her. We discovered that we were both from Buffalo, so that was like a nice establishing thing that we had in common." To build on that spark, Hittman had the actresses do each other's make-up while running lines and share confidences through journals. "It helped us develop this deep initial connection, as women and as people. She was my rock on set."
The film was not without its challenges. Shooting on the streets of New York, for example, was initially a daunting experience. During a scene in which Autumn visits a Planned Parenthood clinic, Flanigan had to brave an actual anti-abortion demonstration and found herself berated by placard-waving protesters. "The chaotic energy of New York definitely helps inform the anxiety of the film and of the performance."
The film, she says, is timely in its themes. "It is always going to be relevant to some extent, unfortunately. It definitely is an urgent film. With the amount of new abortion restrictions that are popping up, with the shift in the Supreme Court, it is a scary time to be a woman. I think any art that is depicting these stories or is raising awareness — every contribution counts. But this film has definitely had an impact in that it can help open discussions. I have had so many conversations, with friends and family, with people online. An important first step is talking about it."
A "very casual moviegoer" before she was cast in Never Rarely Sometimes Always, Flanigan has subsequently started to explore the world of indie and arthouse cinema — Moonlight and Sound Of Metalare particular favourites. Her next film project, My Twin Is Dead from first-time feature director Matthew Kaun­dart, is loosely scheduled to shoot in spring or summer.
But music, and her band Starjuice, remains her first love. "I have been attending shows in cafés or basements or living rooms for a very long time. I have thrown shows out of my own house. Now I'm old enough to play in bars, which is nice. That's one of the things that I am so, so excited to get back to doing when we can. I have never gone this long without going on a stage. I miss it so much."