The Secret Life Of Pets co-director Chris Renaud tells Elbert Wyche why authenticity was so important in the creation of Illumination Entertainment's summer hit.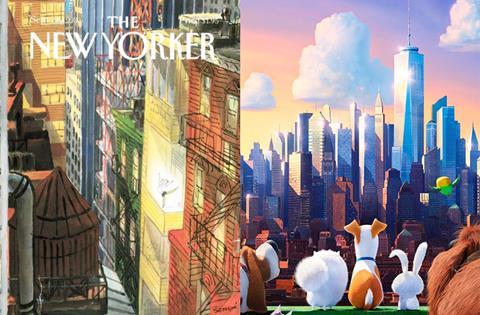 Director Chris Renaud has established himself as a steady force in the world of animated film, having directed both Despicable Me and Despicable Me 2 - for which he co-created the popular Minions - and Dr Seuss adaptation The Lorax.
The idea for The Secret Life Of Pets came in 2012, after Chris Meledandri, founder of Illumination Entertainment, posed the following question: what do pets do when their owners are not home?
After spending years in the Despicable Me universe, Renaud (below) was ready to move into something new and, two years after that original spark of an idea, he knew it would be his next project.
"It was fun to start thinking about a different set of characters, and to start developing a new world and a new story," he says. "I love pets. I've had an animal in my life pretty consistently. The opportunity, particularly from an animation perspective, to really try to capture animals as they are was very exciting."
When Renaud came on board to direct, one of the initial challenges he gave his design team was to portray the animals with as little anthropomorphisation as possible.
"We tried to keep the animals on all fours and make their behaviour very believable," he explains. "I hadn't really seen it done before. I felt we could really explore the idea of the performance of these animals in a very naturalistic way, and of course we always tried to put a twist on it."
A big challenge that the production had to overcome involved animating crowd scenes that featured many different species of animals.
"The tricky part is, unlike a crowd of Minions, each of these characters has different body types and very distinct behaviour," says Renaud. "You can't animate a crocodile the way you would animate a tarantula.
"We've done a lot of stuff with human characters to date, but with a dog you're not just animating the face - you've got ears and you've got a tail," the film-maker continues. "There's a different kind of body language that you have to master and make second nature. I think that was sort of a learning curve."
True to New York
The city of New York serves as the backdrop for Pets, so the director knew he and his team needed to get it absolutely right. Since the film was produced in France, and many of the artists had never been to New York, Renaud had to ensure that the environment they built stayed true to the city.
"I lived in New York for quite a few years and one of the fun challenges was policing the design and modelling of the city," he says.
French illustrator Jean-Jacques Sempé's New Yorker covers also provided inspiration for the look of the city.
"Eric Guillon, the production designer, used him as a reference very often. Sempé drew his covers so that the buildings were almost a vertical curtain, then he'd focus the illustration on these two little characters in the corner. We really tried to create this vertically scaled-up city. Partly because it makes it more beautiful, sort of like the Emerald City, but also to accentuate the scale of height as it relates to these little pets who are shorter than human beings; to try to force that perspective a bit," says Renaud.
The score by Academy Award-winning composer Alexandre Desplat is one of Renaud's personal highlights of the film.
"From our earliest conversations we talked about a jazz-infused score. We really tried to come up with something that felt very New York without it feeling old-fashioned. I think that he was able to fuse some elements to create a very distinct sound, and really a fun and bouncy score that I felt was a little different from a typical animated film score. It was one element that I was very pleased with, in how it came together and how it evolved.
"People love their animals and I think the movie spoke to that," says Renaud as he ponders why the film so resonated with audiences; it has taken $367m in the US since its release in July, and almost $873m worldwide.
"That was a great thing to be a part of. To draw upon those memories and experiences - it's a very special relationship. I was reminded of that, we all were."