After portraying a handful of real-life characters, Jack Lowden faced his greatest acting challenge yet in Benediction, Terence Davies' take on anti‑war poet Siegfried Sassoon. Screen talks to the actor about finding the man behind the verse.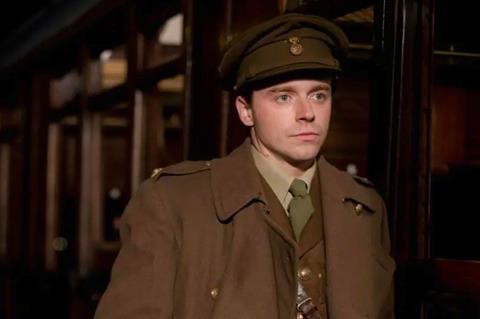 "I have always tried to pick the part that terrifies me," says Jack Lowden. The Scottish actor points first to his change-of-pace role in Stephen Merchant's 2019 wrestling comedy Fighting With My Family — and most recently, of taking on the closeted gay anti‑First World War poet Siegfried Sassoon in Terence Davies' Benediction, which proved just as intimidating.
Benediction began six years ago at the Toronto International Film Festival when Ben Roberts, the-then director of the BFI film fund (and now its CEO) suggested the war poet as a subject to Davies, sparking his interest in making a film about Sassoon. But the struggle to fit all that he was and represented into one feature-length screenplay delayed the filmmaker. When, finally, shooting for the BFI- and BBC Film-backed feature was set to commence on March 23, 2020, it was the very day UK citizens were ordered by the government to stay home because of the spread of Covid-19.
Three days prior, Lowden had been for hair and make-up tests, while watching the response to the pandemic unfold on his phone. He had been sitting with the script — "one of the best I've ever read" — and Sassoon for three years.
"The whole story is in the dialogue," says Lowden, a Screen Star of Tomorrow in 2014 whose big break came alongside James Norton and Lily James in 2016 miniseries War & Peace.
"Terry's not necessarily as visual a director as others. [Perhaps] it's because he spent a lot of time listening to radio plays when he was younger. You get almost everything from his script — it's so intricately worked out. They're like tennis matches — so fit and sharp."
Living the detail
Lowden knew who Sassoon was, but it was not until this script that he began to understand the man himself. He devoured Sassoon's memoirs, finding more there than even in the decorated war hero's famous poems. And because Davies had meticulously put everything on the page, it became evident there would not be much rehearsal for Lowden and his castmates, if any at all. It was a very different filmmaking process for the actor, one he admits was quite difficult at first. But things smoothed out once he gave himself over to Davies' method and lived in his world for the two months of shooting.
"There's also the fact I was basically playing Terence," says Lowden. "He sees a lot of himself in Sassoon, or at least the Sassoon he put on the page."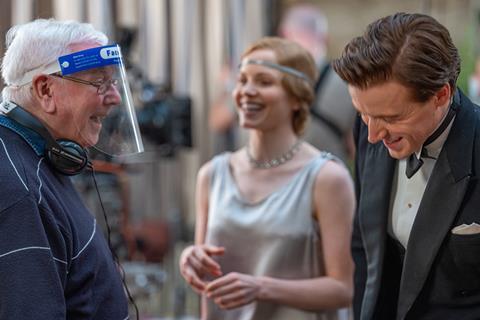 Davies has made no secret about his lifelong struggles with his own homosexuality and former life as a practising Catholic. It was a major part of his wanting to make Benediction in the first place. And because of the affinity the writer/director felt with Sassoon — whose religious trajectory followed a rather different path, in that he converted to Catholicism later in life — it gave Lowden one of his biggest acting challenges to date.
"This [role] became an exercise in execution, not in interpretation," says Lowden. He has played a fair few real people throughout his career — singer Morrissey in England Is Mine, politician Tony Benn in A United Kingdom, Henry Darnley in Mary Queen Of Scots, Thomas Wyatt in Wolf Hall, barrister Ian Macdonald in Small Axe, wrestler Zak Knight in Fighting With My Family, golfer Tom Morris in Tommy's Honour — and enjoys digging into the research, figuring out how to interpret that person, honour them in some cases. "When I realised that I was basically playing Terence," he continues, "it was almost more helpful because the real McCoy was stood there on set… the real Sassoon. So, I just used a different [acting] muscle."
If it is the job of an actor to transform into someone else and convince the viewer it is true, or could be true, that leads to a discussion that has grown more heated over the last couple of years: whether an actor should play someone they are intrinsically not — a disabled character, or a trans character, or, in this case, a gay character?
"To answer that question," says Lowden, "you would have to ask me what my sexuality is, or you would have to know full stop what my sexuality is. And my answer to anybody asking that question is, 'Mind your own business.'"
Lowden acknowledges the point, though, and agrees the shared experiences that a trans person or disabled person would have in order to play a trans or disabled role are far more authentic and worthy than his own.
"Also, I'm an actor," he continues. "I know that's a facetious point to a certain extent, but I am an actor and I take everything I do very seriously. I never take myself seriously, but I take the parts seriously and I try and play them to the best of my ability. Terence is a director who has openly declared his sexuality. And he saw loads of [actors for this role], and if an openly gay actor was better suited to play the part, he would've gotten the part."
Producer envy
There are not many details Lowden can give when it comes to the immediate future of his career, but he is taking on another role to give himself more control over its direction: producer. He executive produced Benediction and served as a producer on Joe Marcantonio's psychological thriller Kindred, in which Lowden appeared alongside Tamara Lawrance and Fiona Shaw. Now he has another script that he is "ridiculously excited about", with Kindred producing partner Dominic Norris.
"I am learning [a lot about producing]," says Lowden, who also has his eyes set on directing someday. "I love doing it. As an actor, you're incredibly active for about 45 seconds, and then you stand around. I was envious of people running around constantly. And I'm more conscious of the machine; I enjoy the machine."
For now, however, acting remains front and centre. Apple TV+ series Slow Horses is an adaptation of Mick Herron's novel about washed-up MI5 spies; Gary Oldman and Kristin Scott Thomas star opposite Lowden. "It's a very, very funny arc, and ridiculous. I've never shot anything like it."
A suitable choice, in other words, given Lowden's avowed preference for taking the part that scares him.