Screenwriter Jack Thorne and director Tom Harper talk to Screen about turning a Philip K Dick short story into a 45-minute TV episode.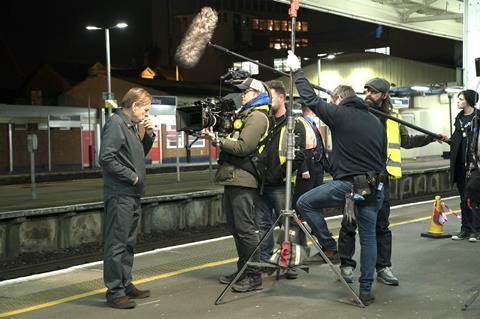 Of the 10 episodes of science-fiction anthology Philip K Dick's Electric Dreams, produced by Channel 4, Sony Pictures Television and Amazon Studios, The Commuter is, perhaps, the most down-to-earth — and not just because it is set in the English commuter town of Woking.
The story tells of railway employee Ed Jacobson, played by Timothy Spall, who struggles to cope when his son experiences violent mental illness and finds a form of solace in the mysterious, idyllic village of Macon Heights — a visit to which wipes his son from his life.
As memories of the child begin to haunt him, and Macon Heights begins to reveal its darker secrets, Ed must decide whether to remain or return to his troubled reality.
While it may not have the interstellar travel, telecommunication, alien lifeforms and humanoids that can be found in other stories across the series — which includes episodes directed by Mudbound's Dee Rees and theatre director David Farr, and starring a raft of talent from Steve Buscemi and Anna Paquin to Bryan Cranston and Juno Temple — The Commuter packs its own extraordinary punch.
It could have something to do with the kinship both screenwriter Jack Thorne and director Tom Harper found with Dick's original material and their strong working relationship, honed during collaborations on films The Scouting Book For Boys and War Book, and TV series This Is England '86 (the duo are also now making Amelia Wren drama The Aeronauts, starring Felicity Jones and Eddie Redmayne, for Amazon Studios and Mandeville Films).
For longtime Philip K Dick fan Thorne, there was immediate personal resonance to be found in The Commuter. "Channel 4 sent me a set of 20 of [Dick's] short stories, and The Commuter was the first one I read," he recalls. "There was something about the title that just appealed to me. It was about this ticket guard, and my grandad was a ticket guard. I was like, 'I can tell a story here. I know these people.'"
Thorne says Channel 4 was very flexible when it came to the brief for adapting the story into a 45-minute episode. "They encouraged us to be quite free with it. They realised that what was so special about Philip K Dick, compared to most other writers, is that he's so eclectic in his storytelling. And they wanted to do justice to that.
"The original story didn't have any notion of his family," Thorne continues of the tweaks he made, which included moving the action from suburban America to the UK commuter belt. "No children, no notion of mental health playing a role. But I never thought my grandad was a happy man, and thought it could play into that. And from there came the idea of the horrors of being a parent who can't really cope with their child. The notion of a different life, a life that's more aligned with the psychological needs, was already in the original story and that felt very interesting to me."
Performance piece
After he had written his initial draft, Thorne brought in Harper who, he says, "was exactly the sort of filmmaker [Channel 4] were looking for. Ones with a very individual voice, that are exciting to watch and are going to do something different."
The pair worked together on polishing the screenplay, then turned their attention to casting. "There's not many people who would be able to play [the role of Ed]," says Thorne of their leading man. "It had to feel authentic and working-class, and also have that charisma to take you through these very complicated emotions. The other thing about [Spall], in all his work, is his attention to detail. The nuances with how the world around Ed had changed, and how that impacted the character, was crucial in following the overall arc."
Thorne also talks of Spall's ability to draw in a viewer. "The character is quite selfish, in many ways; that's what takes him to Macon Heights in the first place," he explains. "To even consider rejecting your son in that way is quite a challenging thing for an audience to get on board with. Having someone who can play that complexity of emotions with empathy, or enable an audience to empathise with him despite doing some pretty challenging things, is a wonderful and rare quality."
The cast also includes Tuppence Middleton as the enigmatic stranger who first leads Ed to Macon Heights; Tom Brooke as an unnamed man also finding redemption in the mysterious village; and Hayley Squires as a waitress who shares some difficult — and pivotal truths — with Ed in an emotionally devastating scene, during which she describes the violent assault that led her to the town.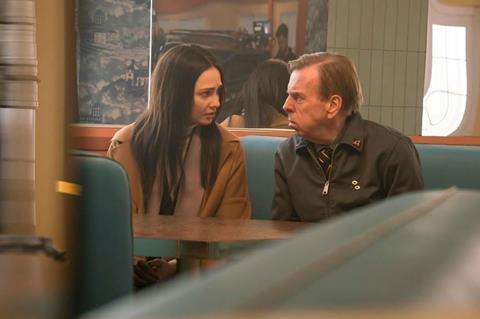 "I definitely knew that was going to be an important moment," says Harper of the heartfelt conversation between Spall and Squires' characters. "With scenes like that you just have to tackle them as honestly as you can. It taps into an overarching theme of the piece, and Jack's writing, and the thing that interests me as a filmmaker — finding a human path through things. Showing something vital or harsh which helps us understand something about humanity."
Visual style
When it came to crafting the episode's arresting and evocative production design, Harper cites US photographer Philip-Lorca diCorcia as a particular source of inspiration. "There is kind of an artifice in his photography that I thought was interesting for the world of Macon Heights," the director explains.
For the town itself, the crew found an ideal location in Poundbury, Dorset, an eco-friendly new village built on the Duchy Estate near England's south coast. Harper describes it as looking "a bit like a toy town".
"Even in the original story, it was just this really nice town where everyone is really nice to each other," says Thorne of Macon Heights' real-world charm. "It wasn't like you turn up and there's people blowing bubbles. And that would be exactly the sort of thing my grandad would have wanted — a place where traditional businesses thrive and where people were nice."
Less straightforward, however, was shooting key scenes on a deserted platform at Woking train station, which, recalls Harper, required "all sorts of rules and regulations".
"We picked a train to film on, but they couldn't guarantee we could keep it. One morning we lit a train, blacked out the windows, put up lights, then there was some kind of emergency and the train pulled out of the station. It never came back! So the sparks ran down the road and brought a whole new load of battery-powered lights to stick in another train."
Light and colour are of particular importance to the off-beat atmosphere of the episode, in which the monochromatic tones of Ed's dismal reality and the vivid brights of Macon Heights begin to bleed into each other as Ed starts to lose his mental grip.
"There was a careful plot of how we would shoot each scene," says Harper. "When Ed walks back home [from work] at the beginning of the episode, there's sodium street-lighting, dogs barking, music playing, rubbish on the floor. When he comes back from Macon Heights and his world starts to change, there's no rubbish, the gardens are neat and the sodium lighting becomes clean white lighting. The whole colour palette changes, there's a shifting in tone.
"It gets really interesting when his mind starts deconstructing and the whole thing starts falling apart, and the worlds start coming together," continues Harper. "It all came back to the question at the root of it all, which is how much is in his mind versus how much is real? What happens when you start to augment reality?"
Embracing possibilities
As a writer, Thorne says he is thrilled audiences are interpreting The Commuter in a variety of ways. "Mental health requires a lot of different responses, and the response may not be to always face reality full in the face. Some people believe that it's about a breakdown, and that this is what Ed has to go through," he says. "He has to choose his son, and by choosing his son he can start to recover."
Thorne also admits he wanted the episode to be "more ambiguous" and that there were ideas about Ed's home opening out and becoming "paper thin" that did not make it into the final edit. "You get very few opportunities to genuinely play, and both of us were determined to use this opportunity to fully explore what TV can do," he says of the experience. "We really embraced the possibilities of the form."