The Mexican writer-director on making his 'desert version' of Gravity.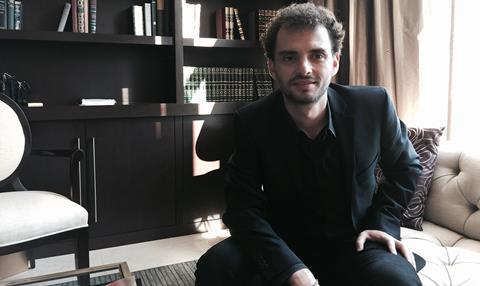 Still riding high from Gravity's success two years ago, which he co-write with father Alfonso, Mexican writer-director Jonas Cuaron returns to the BFI London Film Festival (Oct 7-18) with his second feature directing effort Desierto.
Describing it as the "down to earth" version to its space-set counterpart, the film-maker utilises a cat-and-mouse set-up amidst the Baja California Sur desert to give weight to the headier topic of immigration.
A France/Mexico co-production, financed by Eficine, Ithaca Films, CG Cinema and Orange Studio with IM Global handling international sales, Desierto stars Gael Garcia Bernal as a Mexican migrant and Jeffrey Dean Morgan as a sociopathic lone ranger patrolling the US-Mexico border. Before its UK premiere, Cuaron spoke to Screen about the highs and lows of making the film.
Like Gravity, Desierto features two people pitted against a harsh landscape. Was this intentional?
I wrote the script six years ago. When I showed it to my dad, he said, "I like the concept, let's do something similar." So that was the start to Gravity. But I always knew I wanted to make this film as well - the down-to-earth version.
How did the original idea come to you?
The idea initially came to me when my brother and I visited the Mexican Consulate in Tucson, Arizona, and learned how they help migrants. Living in Mexico, I am of course very aware of migrants and their heartbreaking stories. It is very frustrating. We are all migrants. We all started in Africa. And it's not just the US/Mexico border that has issues, this is a relevant topic around the world.
How did you attach Gael Garcia Bernal and Jeffrey Dean Morgan?
Gael became attached to the project very early on. He is an expert on the subject matter. He has first-hand experiences, travelling across Central America on a train with other migrants. When Jeffrey came on board, he and Gael shook hands and then never saw each other until the final scene. I wanted to keep them distant.
How was it shooting in the desert?
After Gravity, I wanted to work on something that was more rugged, less self-contained. So when I started rewriting Desierto, I began scouting for locations across the world. We shot for over 50 days. It was always over 100 degrees (37C) and there were lots of snakes.
Was it useful having your father and uncle (Carlos Cuaron) on board as producers?
This was the first time all three of us officially worked together. They were very trusting, they gave invaluable feedback and they never tried to impose. If at any moment I had issues with their abuse, they stood back.
What kind of abuse did they give you?
Sometimes they are a real pain. Have you seen Y Tu Mama Tambien? That will give you an idea of their sense of humour.