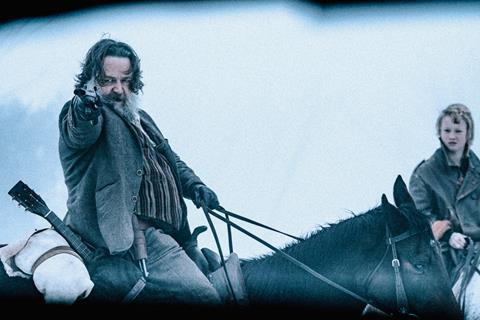 Australian filmmaker Justin Kurzel's fourth feature True History Of The Kelly Gang, an adaptation of Peter Carey's Booker Prize-winning novel about the famed Aussie outlaw, has its world premiere at TIFF on September 11.
The director describes how he put his stamp on the Kelly story, his reflections on the difficult blockbuster Assassin's Creed, and his upcoming Apple TV series Shantaram.
What was the genesis of True History Of The Kelly Gang?
It was a long gestation, about eight years. One of the producers first approached me when I was at a screening ofSnowtown [Kurzel's 2011 feature debut] at London Film Festival. The project had gone through several incarnations with some pretty extraordinary directors before me, so I was aware of it. But it took making two more films [Macbeth and then Assassin's Creed] before I picked the book up and read it again. Me and writer Shaun Grant, who did Snowtown, found an angle that we could embrace. It took a lot to get the finance together so in the end it became a massive passion project.
Do you see parallels between the Ned Kelly story and modern Australia?
Yes, in a sense of, "Who the fuck are we?" As a country, we're trying to desperately get our head around our brutal past. Ned Kelly is usually held up in a one-dimensional way. I wanted to challenge, through him, the notion of what white Australia is.
What led you to cast George MacKay as Kelly?
He did an extraordinary physical audition. Then I found out he's part Australian and had spent a lot of time here. After we cast him, he went out to Australia straight away, living on farms, and ended up staying there for a good eight or nine months as the film got started. I felt like he could take the character through moments when audiences wanted the best for him, and moments when they were terrified of him.
This is your return to indie filmmaking after Assassin's Creed. How do the two experiences compare?
It was me pivoting back to a place of filmmaking that I love. Assassin's Creed was huge for me, but fraught with difficulties in regards to the script and getting the project ready. Kelly Gang was about getting back to something that felt more personal and a bit closer to my previous films. It was me wanting to find out who I was again, as a filmmaker.
Did Assassin's Creed turn out the way you wanted?
There are things about that film I'm proud of. There's a style and a vision to the film that a lot of people worked hard to achieve. But it was difficult, and its challenges always came back to the script. The film never really found its voice.
You went back to Australia to make True History Of The Kelly Gang, and now you're going global again with Apple TV series Shantaram. What is the lure of that project?
Shantaram was something I'd been chasing for a long time, initially as a film. It's a book I really got into as a teenager. Being Australian, travelling is part of our soul. Charlie Hunnam was reading the book on the set of Kelly Gang, he told me about how it was being made into a TV series, which I thought was really smart. One thing led to another and I teamed up with the showrunner Eric Warren Singer. I haven't done a series before but there's exciting stuff happening in TV and this is one of my favourite books. It's a fantastic way to work on something on a larger scale with something I really believe in and admire.
When do you shoot?
We are going into pre-production after Toronto, and start shooting in November in Mumbai, Bhopal and then Melbourne. We're in the process of casting. I'm directing the first two and last two episodes [of a total 10 episodes], and I'm a director/producer over the whole series. I'll work with the other two directors, who we're still choosing.