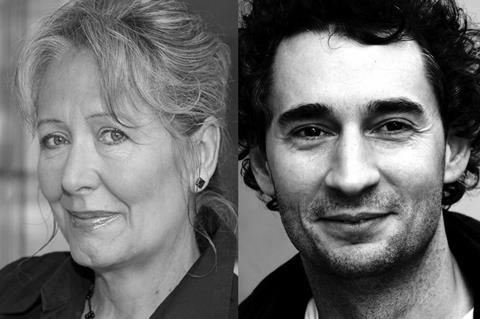 The career of two-time Oscar-winner Miloš Forman is told by Helena Třeštíková (herself a storied Czech filmmaker) and Jakub Hejna (her long-time editor) in their new documentary Forman Vs. Forman. They eschew talking heads and utilize archive footage to allow the Czech-born Forman to tell the story of his career in his own words.
It was a career that ranged from Czech New Wave masterpiece The Fireman's Ball in 1967 to Oscar-winners One Flew Over The Cuckoo's Nest and Amadeus, and later The People Vs. Larry Flynt in 1996. The film sees Forman, who died in 2018, muse on the nature of creativity, working within the Hollywood system and his humble yet complex childhood in the former Czechoslovakia.
Forman Vs Forman is produced by the Czech Republic's Negativ Film and co-produced with Česká televise, ARTE, and France\s Alegria Productions. Negativ is handling international sales.
The film made its world premiere at this year's Cannes Classics, and is now playing in Karlovy Vary where it has a special screening as the festival celebrates one of their favorite hometown sons.
The directors reveal the different skills they brough to their first collaboration as co-directors, the challenges of sifting through archive material and the enduring significance of the life and work of Miloš Forman.
What prompted you to make a film about Milos Forman?
Jakub Hejna: I felt a close connection with Miloš Forman's film language even before I started doing film professionally. I remember seeing Amadeus for the first time when I was 11 and I watched this story about the brilliant music composer with great excitement. The film's visual approach linked with Mozart's classical music will never cease to amaze me.
What were you surprised to find out about Forman when you made this?
JH: I'm fascinated by the twists of fate he experienced. His fortune and misfortune. His parents were in a concentration camp, he experienced life-changing coincidences which were probably no coincidences at all and he was able to take advantage of them and turn them into a narrative of an individual's never-ending fight for freedom against institutions. He elaborated this theme in all the films he made.
Helena Třeštíková: I was surprised by the difficult experiences that marked his childhood. Then I discovered a wholly new angle: Miloš Forman found out his real father was someone else. He tried to get in touch with his biological father, who had emigrated to Ecuador, but received a devastating answer that the man was not interested in him. As if he became, after losing both parents, an orphan once again.
Why did you choose to tell the story entirely through archive footage?
JH: We wanted to tell his life story as if seen through "his own eyes". Which means through him and with the archival materials we had available. We knew it was no longer possible to shoot an interview directly with Forman and we also ruled out the option of someone else speaking about him in the film.
HT: We knew from the beginning that the film would be made of archives. To make a compact form out of diverse materials was a great challenge for me. We tried to avoid talking heads and make a film instead of a 'made-for-TV' picture.
How much archive footage did sift through?
JH: We worked with roughly 100 items. These were all kinds of materials. We had professionally made excellent documentaries. But sometimes, powerful things were said in standard TV archival footage. In such cases, we only used the sound and took images from elsewhere. Czech and English statements often alternate. It's a complex collage. We spent two months of intense editing. Then we took a break, went searching for extra footage and returned to the editing room.
How difficult was it to balance the focus on Forman's career as a filmmaker and the parallels of the tumultuous times in the then Czechoslovakia?
JH: We were constantly looking for connections between the archives and Miloš Forman's words and putting it all together. The aim was to make the film understandable even for a viewer who might not know Forman very well and is not familiar with the historical context of Czechoslovakia of the time. The topic of freedom, which Miloš Forman never stopped striving for, was important and determining for us.
HT: Our work was to understand the value of the completely diverse materials we had in the editing room, link them up and possibly create new connections between his life and films.
Petr Forman, Miloš' son, narrates sections of the film. How willing were the family to get involved?
JH: We asked Petr Forman to record several quotes which add information, move the story forward and at the same time help us condense the narration and avoid building individual scenes. Petr Forman approached the voice-over in an authentic manner – during the recording, he would correct the text saying: "Dad wouldn't have said it like this, he would have phrased it like this…"
You've worked together before – how do you approach a project like this together?
JH: I have been working as Helena's editor for over 10 years. In the editing room, I see the editor as the director's right hand, like the DOP during a shoot. Helena and I have established a creative dialogue which allows me extensive interventions into the dramatic composition. It's a dialogue of two artists, a search for the right message. I can feel what Helena wants the film to reflect and she can tell when I get stuck on something. I focus on the visuals and comprehensibility and Helena concentrates on the content. She comes to the editing room well prepared with parts of the statements underlined so that we donl have to go through heaps of useless stuff.
Karlovy Vary has given the film a special screening. What does it mean for you that the biggest Czech film festival in the world is celebrating one of the worlds greatest Czech filmmakers?
JH: For me, Miloš Forman was first and foremost a CZECH director, I am proud of him. I see the screening of the film at the biggest Czech festival as essential and I am very happy about it.
HT: I am excited. I go to the Karlovy Vary festival regularly and I am looking forward to the audience's feedback. I sense that Miloš Forman will be with us in Karlovy Vary.
Are you planning to work together again?
JH: Helena and I are working on a completely different film format – a longitudinal documentary. For 15 years, Helena has followed with a camera a middle-aged woman who, when she was 47, started earning her living as a prostitute.
HT: I am back doing films I make myself that depict the life of ordinary Czech citizens over time. This is an important film topic for me.