Four years on from the Oscar-nominated War Witch, Kim Nguyen returns with a romantic drama set near the North Pole. Screen speaks to the writer-director.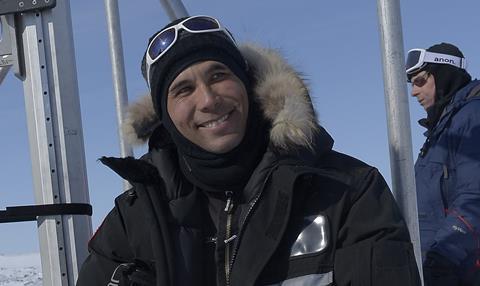 It's been four years since Kim Nguyen made his mark on the international scene with foreign-language Oscar nominee War Witch. But it has been more than a dozen years since the idea for his Directors' Fortnight entry Two Lovers And A Bear took root in the mind of the Montreal-born writer-director.
The Arctic-set, English-language romantic drama was loosely inspired by an unpublished story written by Quebecois outdoorsman and entrepreneur Louis Grenier, a story bought (for the princely sum of one Canadian dollar, according to Nguyen) by Quebec producer Roger Frappier and pitched to the director after the critical success of his 2002 debut feature The Marsh.
Nguyen travelled to the Arctic and kept the idea under wraps for a few years. Coming off War Witch, though, it felt like the time was right. "It dawned on me that this was the most compelling story I could do at the moment," says the film-maker, who explains the key to unravelling the narrative was "to let go of rationality and bring elements of surrealism to the story".
What emerged from the process was the tale of Lucy (played by Orphan Black star Tatiana Maslany) and Roman (the equally hot Dane DeHaan), inhabitants of a small modern town near the North Pole who are in love but facing the prospect of a forced separation because of tragedies in Lucy's past. In response, the lovers make what the film's press materials describe, somewhat cryptically, as "a leap for life, a leap for inner peace".
For Nguyen, his fifth narrative feature represents "a kind of return to a totally romantic story about two people ready to die for each other, which we've kind of gotten away from. But in this realm of overwhelmingly challenging elements, I find the story has a purpose and is completely credible."
Arctic experience
The film also gave its creator — who shot War Witch in sub-Saharan Africa — a chance to explore the psycho-geography of Nunavut, the vast but sparsely populated Canadian Arctic territory where the mix of cultures juxtaposes traditional fur clothing with satellite dishes and high-tech waste management systems.
"There's something very cool about the environment that I saw when I started doing the visual research," Nguyen suggests. "Living in Iqaluit [Nunavut's capital and the film's main location] is similar to living on a lunar base, especially in the harsh winter. You're wearing things that feel like spacesuits and you have houses that look like lunar modules on stilts."
A bigger budget than on War Witch — $6.3m-$7.1m (c$8m-c$9m), compared with $2.8m (c$3.6m) — helped Nguyen and crew deal with difficult shooting conditions in Iqaluit, also the location for Benoit Pilon's forthcoming drama named after the city. But money could not change a climate that can produce -40°c temperatures with 60km per hour winds. "My skin would go white from frostbite in about 30 seconds," Nguyen recalls. "That's how cold it was."
Cold will not be a problem on his next project. The film-maker, a graduate of Montreal's Concordia University film school, has returned from a first block of shooting in Morocco on Eye On Juliet, another contemporary love story, this one about a drone operator who makes it his mission to protect the life of a young bride in the Middle East. With UK actor Joe Cole (Peaky Blinders) and French newcomer Lina Elarabi as the leads, the film, Nguyen says, will be "an exploration of modern relationships — how people connect with things like Tinder and social media and how this affects the way we relate".