In his first feature for a major studio, Green took on the challenge of directing the world's biggest movie star playing a larger-than-life character. The director talks to Screen about Will Smith and King Richard.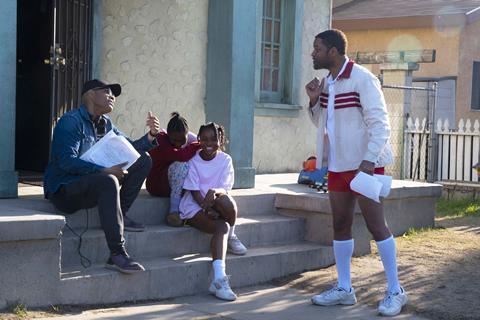 Reinaldo Marcus Green may never have been a teenage tennis phenomenon, but he still brought an athlete's perspective to King Richard, the crowdpleasing biographical drama with Will Smith playing Richard Williams, father to Venus and Serena Williams.
As a college player who tried out for professional teams, "the first third of my life was on a baseball field," says Green. "I grew up with a father who thought he was raising a major leaguer. He was very similar to Richard, because he did it with love and he made it fun. The way we communicated was through sports."
Green had long moved on to film by the time he was picked to direct Warner Bros' King Richard, 18 months after his debut feature Monsters And Men won the special jury award for a first film at Sundance 2018.
Transitioning from an indie drama to a studio project with a huge name attached was a challenge made less daunting by the eight-plus weeks of preparation Green was able to get with Smith, who served as executive producer as well as star. "It was huge for me to get to know Will," says the director, "for him to get to know me, and then for us to figure out how we were going to build this thing from the ground up."
Creating the title character — seen in the 1990s-set film coaching the young Venus and Serena on rundown courts in their Compton neighbourhood of Los Angeles and then pushing to get his daughters' talents recognised by often-sniffy coaches and administrators — was the first big task.
Green and Smith — whose performance has positioned him as a leading contender for best actor honours — experimented with accent (the real Richard Williams has a Louisiana brogue) and prosthetics to find the right balance between imitation and creative licence for the screen portrayal.
"We went through the process of going all the way and then pulling back," explains Green. "I thought this version was the best version for us not to be distracted. Will could still be Will and lose himself in the role, and it wasn't going to be about the prosthetics — it would be about the performance."
Director and star also wanted to stay true to the facts about the real Williams, sometimes seen as a controversial figure as he accompanied his daughters on their rise to the top of the sport.
"We didn't want to sugarcoat anything we heard about Richard, including whether he passes gas in a meeting," says Green, referring to a scene in the film where Williams breaks wind loudly during a negotiation with a patronising agent. "He could be abrasive at times but he loved those girls, and that makes him complex and three-dimensional and a fun character to play."
The farting story, in fact, came from Isha Price, an executive producer on King Richard along with her half- sisters Venus and Serena. The involvement of the Williams family helped rather than hindered the film, according to Green: "The only resistance was to doing something that would feel inaccurate," he reports. The family "were our partners in the process and I was very receptive to having their input and happy they let me take certain liberties to make the film — hopefully — a cinematic experience".
Fine tuning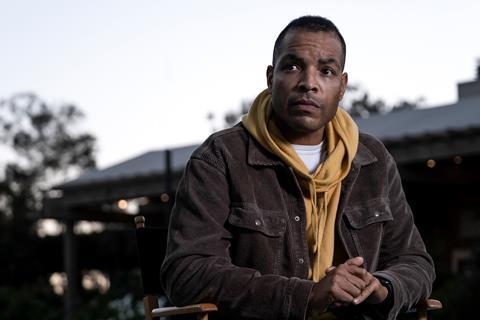 The prejudice that a Black family encountered in the largely white tennis world was something on which Green — who dealt deftly with racial prejudice in Monsters And Men and with homophobia in his follow-up Joe Bell — had a different perspective to the film's screenwriter Zach Baylin. It was one of the elements in the script "that felt at times we needed to pull back on", says the director. "Zach, who wrote a brilliant screenplay, was very receptive to that.
"Compton in the 1980s and early '90s was a tough place to grow up. It was always in the background. So I didn't think we had to beat people over the head with it," explains Green. "It's an important piece of the story, but it's not what we put the emphasis on."
Filming scenes in the real Compton was another way to achieve authenticity. The majority-Black suburb south of downtown Los Angeles has "a different feel, a different pace, a different mood", says Green. "We felt it as a crew and it's one of those things that is hopefully invisible but that you feel [as a viewer]."
Later sections set in Florida were also shot in California (where the project tapped into the state's tax credit programme), thanks to the work of the film's production designers, location managers and visual- effects team.
No-one, of course, could work around the Covid-19 pandemic, which caused the King Richard shoot to be suspended three weeks after it began in early 2020. When production resumed in October under strict health protocols, "everybody was just so happy to be back on set that whatever we had to wear, it didn't matter. You could have asked me to come in a hazmat suit and I would have been smiling from ear to ear," says Green.
The production benefited from the fact most of its action was exterior and involved a sport that is naturally socially distanced. "In a lot of ways we got very lucky that we were making a tennis movie that happened to take place outside, which was the safest place to be once we were able to start shooting," says the director.
Having seen the film through its September premiere at Telluride and its recent day-and-date theatrical/streaming release by Warner Bros and HBO Max, grossing nearly $25m worldwide at press time, Green is now focused on future projects that could be just as challenging.
He has finished shooting We Own This City, a limited series from The Wire executive producers David Simon and George Pelecanos about a real-life Baltimore police corruption scandal. The HBO project will be Green's third major TV outing, after episodes of Netflix's UK series Top Boy and equal-rights documentary series Amend: The Fight For America, also for Netflix and with Will Smith hosting and executive producing.
Next on the schedule, if things go according to plan, is Paramount's feature biopic of Bob Marley, to be produced by Marley's widow Rita and children Ziggy and Cedella. The casting search for an actor to take on the central role is underway, with Green "looking for the essence of Bob Marley. I need to find somebody that can carry a film and be a great actor in the same way Rami Malek took on Freddie Mercury [in Bohemian Rhapsody]."
Landing the director's chair on a film about the reggae pioneer and cultural icon is giving Green "butter­flies", but nothing that a former baseball 'closer' who has gained confidence from his experience on King Richard can't handle. "You get them before every game," he says.