Ukraine's Maryna Er Gorbach made Klondike before the 2022 Russian invasion — but her film is rooted in a conflict that has been ongoing since 2014. The writer/director tells Screen about her timely Oscar contender.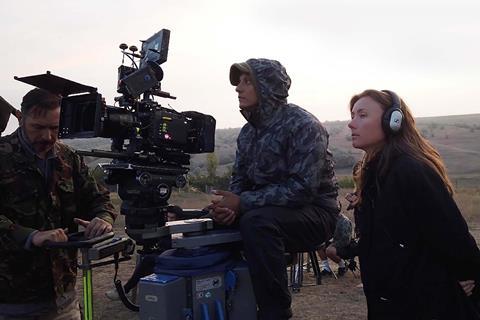 Anyone doubting the resilience of the Ukrainian population might want to consider how, despite the renewed Russian bombing of Kyiv this autumn following the aggressor's February 24 invasion, audiences in the capital are still booking cinema tickets. "We have to continue living," says filmmaker Maryna Er Gorbach, whose Klondike is Ukraine's submission to this year's best international feature film Oscar. "If an air-raid siren goes off, they use Telegram to tell everyone in the cinemas to go to the bomb shelters, and then they come back when it's over and they restart the film. It's tough but also unique."
The protagonist of Er Gorbach's film, shot in 2020 but made even more timely with this year's invasion, is also certainly resilient. Set in July 2014 in the disputed Donbas region of eastern Ukraine, the drama focuses on heavily pregnant Irka and her attempts to survive as war between Ukrainians and Russian separatists builds around her. After a stray Russian mortar shell destroys a wall of the family house, Malaysia Airlines flight 17 is shot down nearby — a disaster that brought international condemnation.
"It wasn't a conscious choice to have a pregnant woman at the centre of the film," says Er Gorbach, speaking days before Klondike's thankfully interruption-­free Ukrainian premiere in Kyiv on October 24, ahead of its November 3 opening. "I had been thinking for a couple of years about the mess on the border of Ukraine and Russia [following Russia's illegal annexation of Crimea in 2014]. When I understood that it was a war against nature, against humanity, a war between creation and destruction, then it became clear that a pregnant woman should be at the centre. The theme of a woman's point of view of war in contrast with a man's came naturally to me.
"It may sound strange, and I don't say this about men as a gender, but I think those people whose work is war, like mercenaries, do it because they like it," she continues. "It's to do with this idea of epic and heroic mythology. The concept of reality of people who start wars and my concept of reality as a woman artist and mother is so different. I'm driven by the question, how can you see any kind of machine gun as a trophy, as [a badge of] honour?"
This also explains the film's title, which conjures up an image of the Yukon and the gold rush, of locals and incomers fighting over land that may house danger or riches; what Er Gorbach describes, in her lyrically poetic eastern European way, as a "mirage".
"It was important to talk about modern heroes," she says. "I think of two cowboys trying to kill each other for gold or land, but are these men the heroes of the future?"
International attention
Er Gorbach's credits include festival successes Omar And Us (2019) — about a Turkish coast guard forced to confront his own prejudices when two refugees move in next door — cross-cultural comedy-­drama Love Me(2013), and mob drama Black Dogs Barking (2009). All three were co-directed by her producing partner and husband Mehmet Bahadir Er; Klondike is her first solo writing/directing outing.
"I am a Ukrainian living abroad [in Turkey] and I knew the situation in eastern Ukraine did not have enough international attention," she notes. "I thought, 'What can I do?' Because I felt speechless and powerless. I'm not a soldier but I can make a film. It felt natural that I would write and direct but I got a lot of help from my producers, Bahadir and Slava [Sviatoslav Bulakovskyi, who is also the film's cinematographer]."
A Ukraine-Turkey co-­production between Kedr Film and Protim VP, Klondike was 80% funded by the Ukrainian State Film Agency, with Turkey's Ministry of Culture and Tourism putting in the remaining 20%. Filming took place in the Odesa region near Moldova, which looks very similar to the Donbas area, says Er Gorbach.
That landscape plays an integral part in the story, a constant reminder through the gaping wall of Irka and husband Tolik's house of the disputed border between Ukraine and Russia. Er Gorbach's calm, deliberate direction and Bulakovskyi's slow panning camera­work, placing most of the explosive moments either off-camera or in the far background, make the threat of danger all the more palpable.
"The framing was a creative decision based on the psychology of people in catastrophe," says Er Gorbach. "On February 24 this year, the world discovered that Ukraine is under Russian occupation but it's been like that since 2014, and just because it's not in international news it doesn't mean it's not happening. It's the same with the mise en scène — if we don't see it, it doesn't mean it's not happening. My task was to relate those events and to make the viewer ask questions about what's happening."
The film stars Oksana Cherkashyna, a theatre actress making her film debut. "Oksana is from Kharkiv, in eastern Ukraine, and she knows this kind of woman," says Er Gorbach. "Irka carries on living for the future, she's preparing for the winter, and for the baby she's carrying. Oksana had the right physical energy, because the audience has to believe that Irka can push all this violence out by her instinct."
Irka may be surrounded by brutality, but Er Gorbach made sure the production was a happy one. Covid-19 restrictions helped to create a family atmosphere where everyone supported each other. "From the very beginning, I said we are making a film against war and toxic events, and we have to be positive, we have to see beauty," says the filmmaker. "I told the crew we had to work silently but happily because we are fighting against a very toxic war."
Even the weather gave a helping hand. One memorable scene has Irka stride out into the fields beyond the house after breaking up a bitter argument between her hotheaded brother and her glumly conflicted husband. The script required the clouds to waft in and cast a shadow over Irka just as she stops at the border. Crew members assumed it would be achieved with CGI, but Er Gorbach told them to wait. And sure enough, the clouds blew over the landscape almost exactly on cue.
Er Gorbach — whose inspirations include Ukrainian experimental filmmaker Maya Deren (prolific in the 1940s), France's Agnes Varda and Russia's Larisa Shepitko (a Berlin Golden Bear winner in 1977 for The Ascent) — has her own concerns about both her immediate family still in Kyiv and her extended film family who are supporting the war by volunteering or fighting.
She says this makes the film's international success bittersweet; it won the directing award in Sundance's world cinema dramatic competition and went on to win further awards at Berlin, Sarajevo and Seattle. "Sundance was a powerful start and it shone a light on the film, and its anti-war message has been recognised," says Er Gorbach. "But we are talking about war, it's not an easy topic, and it makes it hard. But each award or festival screening gives it wider exposure and the Oscar campaign will help."
Er Gorbach is now working on two projects: one she describes as an arthouse film for children about children's creativity in a world of constant change; the other about the Ukrainian diaspora in the wake of the Russian invasion.
"It's a film about start-ups," she says of the latter, "looking at Ukrainians abroad and how they have to start life again in another country with another culture, another mentality, other expectations, another language.
"I don't know where Ukrainians will be emotionally in three or four years but I'm trying to understand."