Documentary Last Men In Aleppo is the first Syrian film ever to earn an Oscar nomination. Screen talks to its director Feras Fayyad.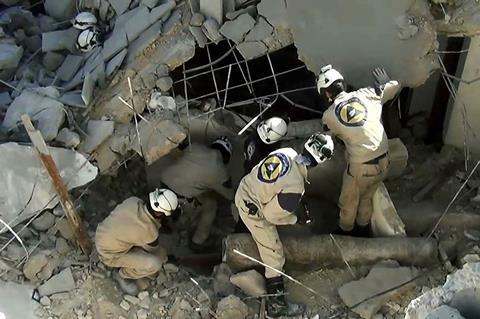 Syrian director Feras Fayyad was on his way to the World Economic Forum in the Swiss ski resort of Davos for a screening of Last Men In Aleppo when he learned it had been nominated for best documentary in this year's Academy Awards.
The portrait of life under bombs in divided Syria's rebel city of Aleppo, told through the lives of its volunteer rescue workers the White Helmets, is the first Syrian film to get an Oscar nomination in the history of the awards. It was a fitting screening choice for the influential Davos meeting, which this year revolved around the theme of 'creating a shared future in a fractured world'.
Fayyad describes Last Men In Aleppo as both a "call for humanity" as well as a way to "address war crimes" committed in his native Syria, where the civil war has killed some 400,000 people and displaced another 11 million citizens since late 2011.
Pressure from all sides
The director first came into contact with the White Helmets through its founder Raed Al Saleh, who espoused a mission to change society through non-violent means. Fayyad and his two cameramen began following seven White Helmets in 2013, but in the end the filmmaker decided to focus on the period from 2015 onwards, when Russia entered the war and the rebels were pushed into eastern Aleppo. "The strongest material came out of this time when the pressure on the city from all sides — the Syrian regime, Isis, rebel factions and Russia — was at its greatest," he explains.
Fayyad brought in two local journalists, Kareem Abeed and Hasan Kattan, who he met through local citizen news agency Aleppo Media Centre (AMC), as producer and assistant director respectively. As shooting progressed, Fayyad cut rough promos and hit co-production markets in Europe as well as the not-for-profit funding scene in North America. Soren Steen Jespersen of Copenhagen-based Larm Film joined as a producer in co-operation with AMC, and support also came from the Danish Film Institute and Nordisk Film & TV Fond. Denmark's DR Sales pre-sold the film to a number of broadcasters worldwide including DR, SVT, ARTE and VPRO.
Two main protagonists started to emerge as shooting continued: the late Khaled Omar Harrah, to whom the film is dedicated, and Mahmoud. Khaled — a larger-than-life former painter and decorator and father of two young daughters — became emblematic to the movement after footage of him pulling a 'miracle' baby out of a collapsed building went viral. His death in an air strike in August 2016 sent shockwaves through the production. "None of us could believe he had been killed. We thought he was indestructible. He used to say, 'I have seven souls, like a cat,'" says Fayyad.
Philosophy student Mahmoud joined the White Helmets after deciding he could do more good saving people than staying in the classroom. "I wanted to tell a different story about Syria," says Fayyad. "This is a story about human beings who are trying to stay in their country. They're not refugees. It's about people fighting for their dreams and deciding to be human in a very ugly situation."
The documentary makes for harrowing viewing. Images of rescue workers scrabbling to dig victims and body parts out of the rubble are intercut with scenes of the men trying to relax with their children and friends.
Midway through 2016, Fayyad left Syria for good and headed to Denmark to work on the edit alongside editors Steen Johannessen and Michael Bauer. "The last four months of 2016, I was working day and night. I was sleeping in the editing room. I could not go back to Syria but the cinematographers continued shooting," he says.
Now living in Los Angeles, Fayyad is hoping to complete a master of fine arts course, which has been interrupted on several occasions, and is also in talks with Netflix — which bought Last Men In Aleppo — for a second documentary about female doctors running underground hospitals in the city during the siege. With half of it shot already, he sees it as the second film in a trilogy: "The first film tackled men, the second will be about women in the conflict and the third one will be about children."
One dark spot in the documentary's award-winning festival tour has been the launch of a sophisticated disinformation campaign linking the White Helmets to terrorist organisations, which has also targeted and trolled Fayyad. An investigation by UK newspaper The Guardian last year suggested it was a Russian-backed propaganda sting.
"I don't know who these people are," says Fayyad. "All I can say is that they clearly haven't seen the film. There would be another 100,000 dead without the White Helmets. I want the audience to ask themselves, 'What did Khaled do to be killed?' When you watch this film, you become a witness. You can't say you didn't know."