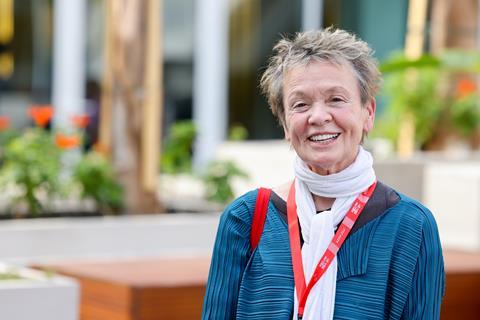 Red Sea Immersive, the virtual reality component of the Red Sea International Film Festival, boasted a programme of 21 works, including a competition selection of 13 pieces.
End Of Night by David Adler, a collaboration between Denmark and France, won the Golden Yusr Immersive award, which includes a cash prize of $10,000.
The programme was designed and managed by UK-based Liz Rosenthal, curator of Venice VR at the Venice International Film Festival, and is being judged by an all-female jury of international artists: pioneering Saudi street artist Sarah Mohanna Al Abdali, Bafta-winning director Victoria Mapplebeck and trail-blazing avant-garde artist Laurie Anderson who has served as jury president.
Anderson has explored a wide range of forms and media over the decades, from writing and painting to technologically mediated performances, filmmaking and VR explorations.
"I'm an ideal jury member, because I'll put up with anything, and just see, 'What kind of story are you telling? How are you telling it?'" she explains.
"VR has a unique relationship to narrative, unlike most films," Anderson suggests. "There are some very narrative VR pieces that are actually meta-narrative: one voice telling you a story, and you look around, so you're trapped in that. It's almost like a Chris Marker film. You have somebody talking to you, and you're loosely associated with the imagery.
"In other VR things, it's impossible to generalise about narrative," she continues. "You have a huge field situation in which you have to decide everything from beginning to end: where you're going to go, what you're going to do, what you're going to listen to, what door you're going to open. That comes from its early incarnation in gaming."
Anderson's own VR work includes a 15-minute piece called To The Moon that she made with Taiwanese artist and filmmaker Hsin-Chien Huang in 2019.
"I wanted to make something that was more about flying," she explains. "That's how my own first pieces were about flying through spaces without a narrative.
"My secret motivation for doing VR was to make something for kids that was not about shooting and getting shot, because that's gaming. At that time, the audience was 10-year-old boys. I have nothing against 10-year-old boys, but I wanted to make something else that would be another way to navigate the world other than just killing and [laughs] getting killed, scoring, or even seeing."
The 13 VR experiences that have played in competition at Red Sea are: Anandala, End Of Night, Genesis, Glimpse, Goliath: Playing With Reality, Kusunda, Laika, Lavrynthos, Le Bal De Paris De Blanca Li, Marco & Polo Go Round, Reeducated, Samsara (Lun Hui) and The Sick Rose.
The programme is presented in collaboration with Art Jameel, the Saudi non-profit organisation that commissions, incubates and exhibits MENA region contemporary art, and hosted by Hayy Jameel, Jeddah's new art centre.