The Hamilton creator is one of the busiest people in showbiz, with contributions to four major films in 2021 - including the Netflix musical. Screen talks to the multi-tasker about a year to remember.
"Man, the man is non-stop!" marvels one of Hamilton's cast members about the show's title character, US founding father Alexander Hamilton, whose life inspired the 2015 hip‑hop musical phenomenon. The same can clearly be said of its creator and one-time star Lin-Manuel Miranda, a writer, performer and now debut filmmaker who has a hand in no fewer than four of the titles jockeying for attention during this busy awards season.
Last summer brought In The Heights, Warner Bros' film version of Miranda's previous stage success, in which he was seen singing some of his own lyrics as a wily street-hawker of Puerto Rican ice desserts. Vivo, a Sony Pictures Animation feature distributed by Netflix in August, found him voicing a kinkajou undertaking a journey from Havana to Miami, soundtracked by his own musical compositions. Another animation, Disney's Encanto, appeared in November boasting yet more Miranda-penned tunes, one of which — Spanish-language ballad 'Dos Oruguitas' — is on the Oscar shortlist for best song and would see him join the select group of EGOT (Emmy, Grammy, Oscar, Tony) winners if he scoops the category.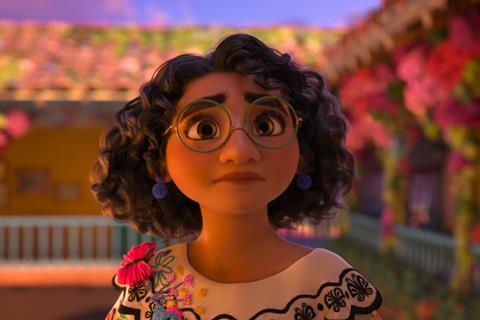 Then there is Miranda's feature directing debut Tick, Tick… Boom!, a biographical drama about a fellow composer of musicals, the late Jonathan Larson (played by Andrew Garfield), which premiered at AFI Fest in November, enjoying a limited theatrical run before streaming on Netflix later that month.
"It wasn't supposed to be this way," admits Miranda on his sudden ubiquity. "In The Heights was supposed to be released in 2020, Vivo was meant to be out in 2020. And there's another timeline in which Tick, Tick came out earlier in 2021, Encanto has just come out, and Hamilton was released theatrically in October." (The filmed version of that musical, directed by Thomas Kail and starring the original Broadway cast, instead dropped on Disney+ in July 2020.) "That was the original plan, and when you make plans, God laughs. And God has been laughing his ass off," the composer says with a chuckle.
The pandemic has run roughshod through many a release schedule and also had an impact on Tick, Tick… Boom!'s production, shutting down its New York set in March 2020, before resuming in October under strict Covid-19 protocols. Miranda says he is "incredibly grateful" to Netflix for its staunch support when Covid struck. "It was never even a conversation," he says. "It was just, 'We spend what we spend so you can finish making your movie.'"
Artistic freedom
Miranda's appreciation of the streaming giant extends to how it operates, box-office performance being largely peripheral to its subscription funding model. "There is a cold, hard calculus sometimes, in Hollywood," he says. "And as a first-time filmmaker, you don't want the box office of your first movie to determine whether you make a second." (Miranda has an earlier 1996 film called Clayton's Friends that he directed, but dismisses as a "10th-grade sleepover movie I made at 15 that only exists on a VHS in somebody's house".)
"To be freed from that particular burden [of box office] is exciting, because you can just be judged on the work itself," he continues. "It's not [a studio saying], 'It was a good movie, but no-one saw it. Sorry, kid, go back to writing your shows.'"
Writing shows was something that Jonathan Larson was obsessed by during a tragically short life that ended in 1996 just as Rent, his hit musical about bohemian artists struggling to survive in Lower Manhattan, was about to have its premiere.
Tick, Tick… Boom! is based on an earlier piece, an autobiographical musical monologue (originally titled Boho Days) that Larson first performed in 1990. Miranda's film version expands the work to incorporate Larson's friends, his girlfriend Susan (played by Alexandra Shipp) and his artistic community as he approaches his 30th birthday. It also confronts the escalating Aids crisis. The central conceit, however, is to have Garfield's Larson perform his confessional on a stage, a device Miranda insists was key to its execution.
"I think film musicals need a frame," he contends. "There's a higher threshold of folks breaking into song that you need to cross, because the camera captures life as it is. As a life-long lover of film, it's always been fascinating to me how different filmmakers bridge that divide." An energetic discussion then ensues on how West Side Story, Cabaret and other musicals inveigle the audience into their respective universes.
"With our film, as soon as Jonathan's fingers hit the piano keys, we give ourselves licence to go into the world according to Jonathan, which can be as real or fantastical as he wants us to see it," says Miranda.
Garfield learned to sing and play piano for his role in the film, whose story ends before Rent's creation and Larson succumbing to an aortic aneurysm at the age of 35.
The composer's ghost inevitably looms large over Tick, Tick… Boom!, the action of which revolves around the workshopping of a never-produced sci-fi musical called Superbia. "This is not the story of someone writing a masterpiece," says Miranda. "This is a story of someone spending their 20s writing a musical no-one wants to make."
Since its debut, Tick, Tick… Boom! has acquired another spectral presence in Stephen Sondheim, an adviser of Larson's played sympathetically on screen by Bradley Whitford. The iconic composer and lyricist died in November, though not before recording an answer-machine message that is replayed in the film.
"I feel grateful to have known Stephen, to have learned from him and have been alive at the same time as him," says Miranda. "Jonathan and I are two of thousands of people he encouraged, and I'm happy Tick, Tick honours his work and mentorship."
Miranda's year has been fuller than most, with a workload that also included songwriting duty on Disney's live-action version of The Little Mermaid, due out in 2023. One suspects, then, he could have done without the colourism row that followed In The Heights' release, Jon M Chu's film being attacked by some for its perceived failure to include dark-skinned Afro-Latino actors among its cast.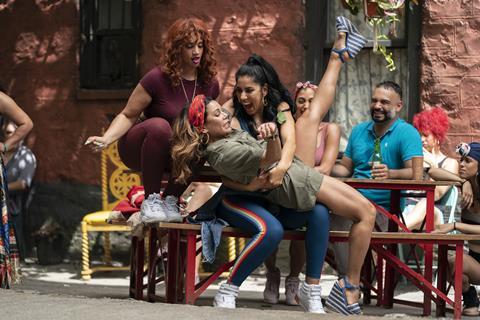 "You want your work to connect with an audience, and a part of that is you're going to hear from that audience," Miranda says. "So I take that as a lesson I will [carry] with me into the next project. The only thing you can do with criticism is to take in what hits the mark. And the fact that was such a public conversation means it's not going to happen again."
Miranda's future projects are under wraps for now, the 41-year-old insisting his 2022 (award ceremonies notwithstanding) will be a relatively quiet one. "I'm not doing anything," he says. "I'm going to sit at home, tuck in my kids [sons Sebastian and Francisco], and hopefully start writing new things.
"I've spent a good amount of my life taking apart the particular car engine that is the musical, and I get those to run pretty good," he adds. "So I'd like to make more musical films, keep learning and, to quote a song from Encanto, see what else I can do."