Locarno's Open Doors bids farewell to Southeast Asia and Mongolia this year, but pledges to stay connected with the region.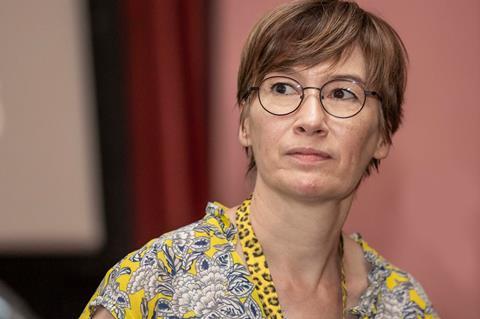 The 19th edition of Locarno's Open Doors platform (August 6-10) wraps its three-year cycle devoted to the Southeast Asia territories of Cambodia, Indonesia, Laos, Malaysia, Myanmar, Thailand, the Philippines and Vietnam, as well as Mongolia in East Asia, this August.
It has been an intense period for the programme aimed at supporting independent cinema in the global south and east. As well as contending with the logistical challenges of the Covid-19 pandemic, it has also road-tested new year-round tools: the online resources platform Open Doors ToolBox, an advice Hotline and a dedicated Consultancy service. All three were launched in late 2019 and are run by community co-ordinator Zsuzsi Bankuti.
In May it held a virtual inaugural edition of its long-planned Regional Forum, aimed at fostering links between participants from 16 different territories. In June the team found itself caught up vicariously in political events in Myanmar, following the arrest of filmmaker Ma Aeint, who has been participating in Open Doors since 2018.
"Ma is the first member of our network to be touched," says Open Doors head Sophie Bourdon. "I've had a hard time sleeping, thinking about the youngsters in Myanmar."
Her concerns reveal the deep ties Open Doors has forged with its participants over the years. The situation is also indicative of the complex political backdrops navigated by its team, which also includes deputy head Sarah Schiesser and artistic consultant Paolo Bertolin.
This year's edition will revolve around three core strands: the Hub, presenting eight feature projects (see page 8); the Lab, aimed at fostering nine emerging producers (see page 10); and Screenings, showcasing a selection of features and shorts (see page 12). Due to uncertainty around travel, the training and project development elements of the Hub and Lab kicked off online on July 19 and will continue into the festival with a mix of virtual and physical elements. "For those who can come to Locarno, the accent will be on experiencing the festival, and we'll make sure they get the most out of it," says Bourdon.
Rising stars from the focus territories to have participated over the three years include the Philippines' Carlo Francisco Manatad, whose Whether The Weather Is Fine world premieres in Locarno's Filmmakers of the Present competition this year; Thailand's Anucha Boonyawatana, who is to co-direct mystery series Forbidden for HBO Asia after features The Blue Hour and Malila: The Farewell Flower; Indonesia's Mouly Surya, whose Marlina The Murderer In Four Acts premiered in Cannes Directors' Fortnight 2017 and is now tipped to direct a major Netflix production; and the Philippines' Isabel Sandoval, who has won acclaim with her third film Lingua Franca.
Bourdon draws particular satis­faction, however, from the newcomers Open Doors has scouted as they progress from short films to their debut features. She cites Vietnam's Dieu Linh Duong, whose early film Mother, Daughter, Dreams played in the Open Doors Screenings in 2019, and who will now participate in the Hub with feature project Don't Cry Butterflies, as well as Philippines director E Del Mundo, who will present her feature project SAM in the Hub, after screening short film Man Of Pa'Aling in 2020. "Open Doors has evolved into a sort of talent hothouse or hub," says Bourdon.
The Open Doors ToolBox and online Hotline and Consultancy have played a major part in connecting Locarno with emerging talent. "In the first year of the cycle, we connected with 250 professionals; by the end of the cycle, we'll be over 800 people," notes Bourdon.
Open Doors will have spent six years in Asia thanks to its previous cycle devoted to South Asia. As the programme prepares to move to a new continent, Bourdon emphasises it plans to maintain existing ties through year-round tools and global initiatives that will be announced soon. "It's out of the question that we could just close the door," she says. "You can't spend six years somewhere and then walk away."
In Focus: Open Doors Lab
This year's producer-focused Open Doors Lab is rising to the travel challenges of the pandemic with a split hybrid edition.
A final round of nine emerging producers from Southeast Asia and Mongolia are participating in the sixth Open Doors Lab. It kicked off with an online programme on July 19, and continues into August with a mix of virtual and on-site events in Locarno, due to uncertainties around travel amid the pandemic.
"It's difficult to know who will be able to make it, so we're doing the training and project development in July. It's important everyone has a shared experience," says Bourdon.
Launched in 2016 in response to the lack of independent, creative producers in many Open Doors territories, the Lab consists of workshops and networking events and also helps attendees develop projects on their slate.
"Filmmakers like me, because we are in Myanmar, don't often get the chance to learn about the film industry outside of our own country. The Lab helps us to think outside of our local context, and brings fresh eyes and ears," says Lin Sun Oo at Yangon-based Tagu Films. He will be presenting rural drama The Mist Of Maya, his latest collaboration with director Zaw Win Htwe after a number of shorts and documentaries. It is a first feature project for both of them.
Malaysian producer Benji Lim at Petaling Jaya-based Kinovisuals will be focusing on supernatural fantasy tale Hungry Ghost Diner, the second feature from director and longtime collaborator Cho We Jun. It revolves around a young millennial who inherits her family's old-style coffee shop, only to discover it is haunted by dead relatives.
"Of importance for me is learning strategies on how to navigate the ecosystem and to successfully produce a film that will be bankable internationally," says Lim.
Gugi Gumilang, who divides his time between his native Indonesia and Germany, wants to learn more about creative producing. "Even though it is still not common for Indonesian producers to be involved in the creative process, I think operational and creative processes always go hand in hand," he says.
Gumilang is hoping to drum up international interest for LGBTQ+-themed feature project Dear Family by Monica Tedja, about a boy who comes out to his deeply religious Chinese-Indonesian family. "It's a pretty sensitive issue in Indo­nesia," he explains. "Having a collaboration with partners outside the country will help the project to widen the target audience."
A number of Lab participants regard themselves as directors but take on producer roles out of necessity. "I am more into directing but I have to produce my own films," says Mongolian director and producer Bat-Amgalan Lkhagvajav, whose recent directorial credits include historical action comedy Asuri, a hit at the local box office.
Alongside mainstream fare, he also strives to make more challenging work. His next project The Butcher will explore Mongolian society and how its nomadic traditions are adapting to the digital age. "It will be one of Mongolia's most beautiful and shocking social-realism films," he asserts.
Similarly, Vietnam's Nguyen Thi Xuan Trang sees herself more as a filmmaker but also produces, with credits including Truong Minh Quy's The Tree House, which played in Locarno in 2018. "I will team up with other directors to produce movies for them, with projects I have a passion and empathy for," she says. Her focus at the Lab will be Do Quoc Trung's intergenerational coming-of-age tale Cha Cha Cha, about a teenager who pledges to enter a dance contest with his ageing grandfather.
While looking forward to the online programme, Nguyen has her fingers crossed that she will be able to travel to Locarno for a secoffnd time in August.
"When we world premiered The Tree House, there were some in the audience who didn't like the film and left, but I saw some who cried. There is no word to describe that moment — you cannot get that human energy online."