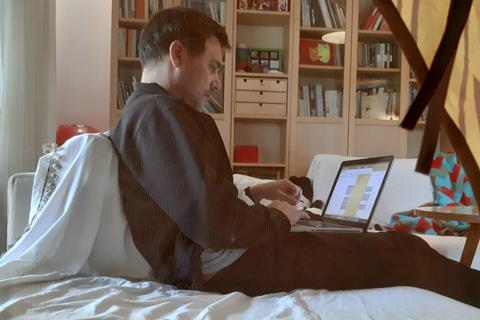 Giorgos Karnavas is co-founder with Konstantinos Kontovrakis of Athens-based film production company Heretic and its accompanying sales arm, Heretic Outreach.
As well as developing, financing and producing original features (including this year's Berlin Panorama title Pari), Karnavas's company also acts as a co-producer and local line producer for international projects including Ruben Ostlund's Triangle Of Sadness, which is scheduled to complete the Greek portion of its shoot this summer pending the coronavirus situation. Karnavas and Kontovrakis were presented with the Eurimages Co-Production Award at the European Film Awards in December.
Where are you right now?
I'm in Athens. Right now I'm at my mother's house. We live in the same building and I needed a little bit of quiet today because with the kids at home, it was a bit wild.
Is it business as usual for you and your team as you all work remotely home?
Look, it's not like being in the same room with people, although we're used to travelling and working with a tele kind of communication. But, if you exclude shooting, the lucky part of [our] business is that you can do a lot of stuff working from home: developing, applying for money, reporting… Even going back to stuff that you have left on the table and haven't looked at. To clean the desktop, let's say.
We also have time to think about things. Once a week we gather and we talk; we speculate how it's going to be afterwards. What is the best thing for us to do? As you know, our company does both production and sales. The sales side is very much affected by the situation as well. We came out of a pretty nice Berlin and then everything was in the air in 15 days. But we have a lot of things in development, we were looking for new projects, so this is a period of going on with that stuff.
Did you have films that were about to go into production or mid-shoot?
We have four films and we pushed them all. For Triangle Of Sadness, it seems that it might be possible to start shooting at some point late June. We have a German-Italian-Greek co-production, Daughter, that hopefully we will be able to shoot in July, and a Spanish project – Mediterraneo – that we intend to start shooting here end of August. The fourth project, A House In Jerusalem, is pushed to later this year.
Of course things change every day but we feel that shooting in Greece can start during the summer. We had an early lockdown and the situation seems to be quite well controlled, so measures will gradually be lifted from May 4. We are talking a lot with the crew, the services, all of the co-producers involved: what is Plan A, Plan B, Plan C…?
Which systems have you been using to keep in touch?
For big meetings, we're using Zoom; for one to ones, it's WhatsApp.
How are you and your colleagues keeping up team morale?
We just call each other any time and we talk about bullshit. We are a small team and it's pretty easy to keep up with each other.
What advice would you give to people in the business who are worried about the future?
I want to be optimistic and I want to say that this spooky thing that happens to humanity can only alert people and maybe we change a little bit. Even if it's rational to think that socialising is going to be more difficult or people will like to stay home more, I would like to think that people as a reaction will say, "Fuck it man, we have to be together and social experiences are above everything." There is no meaning otherwise.
As for our specific business, I can talk from the production side. If the digital consumption – I really hate this word – is going up and up, maybe it will have a positive effect middle term, although at Heretic we love to make theatrical films, this is our DNA. But more than ever you need to have a cash buffer and be scalable.
The other thing I would like to say is that if the world ends up deciding that for three weeks in spring we stop and we clean the planet, that's going to be a very nice side effect of this crazy thing that is happening.
If you have children, how are you managing keeping them entertained/educated?
You realise at times like this how cut off in a way you are from your family, because in our business you are always travelling, you are always very busy. It's like parallel lives. So, first of all, I have to say I'm really happy to have this time with my family.
My son is 11 and he is in the toughest situation. He has all this energy. Sometimes it hits the fan and he cannot control it and he wants to go out. Because I'm staying in the neighbourhood where I was born, every afternoon I'm going for a walk with him and we try to find new places that he has never really seen before, empty houses, holes in the ground, spooky places. Then he writes a story about it and we post them. It's really fun because people follow that and my son is happy he has a fanbase.
My little one is two and a half and, for her, it's just a miracle that we are locked together in the house and she can play with everybody. Two days ago, she said, "What is going on? Work is finished for you, Papa?"
What have you been watching, reading or listening to during this time?
I'm watching a lot – mostly old stuff, a lot of indie films from the '80s and '90s. Also, festival films that I missed the last few years and some new stuff on platforms. Last night I watched [Julia Ducournau's] Raw, for example. The days before I watched Tiger King – what the fuck!? I'm very jealous about the guy who produced this. It's a great piece.
Have you been learning any new skills or rekindling any hobbies?
I've started to work out. I'm cooking a lot with my wife – especially sweet things. Somehow the plants have taken my attention. I planted some things and we are in the process of greening the balconies and the backyard, which gives you peace of mind.
What's the first thing you're going to do when you get out of lockdown?
Probably send an SMS without needing to send an SMS to go out! There are six reasons to go out of your house here and you send an SMS with your reason and they reply to you – received. Code 1 is for the doctor or pharmacy; 2 for food shopping; 3 for the bank; 4 to help an elderly person; 5 for a wedding or funeral; and 6 for a workout. I'm a Code 2 and Code 6 person.