Nathan Morlando talks Screen through his coming-of-age drama Mean Dreams, which takes its place in Directors' Fortnight.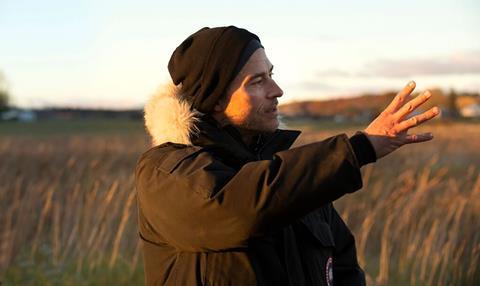 He may be at Cannes today but earlier in his career, Nathan Morlando admits — probably with a degree of understatement — that "there was some striving".
After earning his Master's degree in philosophy, the self-taught director of Directors' Fortnight entry Mean Dreams toiled on a series of unproduced screenplays — some for relatively large feature projects — in his home town of Toronto.
He got his first directing credit with 2002 short Countdown and, nearly a decade later, broke through as the writer-director of true-crime drama Citizen Gangster (aka Edwin Boyd: Citizen Gangster), winner of the Best Canadian First Feature award at Toronto International Film Festival in 2011. The co-writers of Mean Dreams, Kevin Coughlin and Ryan Grassby, together with producer Will Woods, sent Morlando their script because they had admired Citizen Gangster. He read it in a receptive mood near the end of a spell caring for a dying friend.
"I read it late one night," Morlando recalls. "I thought it was such a beautifully crafted script with extraordinary characters and the circumstances were incredible. I wasn't sure if I was hallucinating how good it was, because I was exhausted at this point. It was such a mature subject matter with two young leads, which I thought was a really interesting tension to explore."
The coming-of-age thriller, set in an unspecified, mostly rural part of northern North America, turns around farm boy Jonas (Josh Wiggins) and his new neighbour Casey (The Book Thief's Sophie Nélisse), two 15-year-olds who are beginning to fall in love when Jonas discovers that Casey's abusive home life has become dangerous. With a bag of cash stolen from Casey's corrupt cop father (Bill Paxton), the teens flee and start to learn the hard truth about what it will take to survive.
In putting the story on screen, Morlando's primary visual influence was 20th-century US artist Andrew Wyeth, known for the romanticism and modern gothic realism of paintings such as 'Christina's World'. Working with cinematographer Steve Cosens (who also shot Citizen Gangster, as well as recent Canadian jazz biopic Born To Be Blue), the director came up with a style he characterises as "Northern Gothic".
"It was really important for me to maintain shadow when shadow was present," Morlando explains. "So wherever it was natural to have shadow, I wanted the characters to live in that shadow, because I felt that shadow, literally and metaphorically, is a big element in human experience that we often don't explore. I felt that the story was exploring the darker elements of love and I wanted to maintain that on a visual and production design level."
Funded by Telefilm Canada and independent financiers, and set to be released in Canada by Elevation Pictures, Mean Dreams was also produced by Allison Black, Morlando's wife and partner in production company Euclid 431. Currently splitting their time between Toronto and Los Angeles, the Euclid 431 principals have several upcoming projects to turn to — some as a team, some separately — now that the journey of Mean Dreams has been completed.
Black is producing drama feature G.L.O, which is set to shoot this summer under Canadian writer-director Keith Behrman (Flower & Garnet). And Morlando is turning his one-time feature project The Lion's Share, about a US journalist in Somalia, into a limited television series.
After the experience of directing on a modest budget and from someone else's script on Mean Dreams, Morlando is also now open to other kinds of creative openings.
"I have scripts of my own that I'm very passionate about," he says. "But I'm also looking forward to seeing some scripts that I haven't generated. I'm also open to exploring bigger budgeted films, because I would love the opportunity to spend more time with the actors and more time composing shots."