The Belfast-born director on why his IM Global-backed film was the easiest project he's ever financed.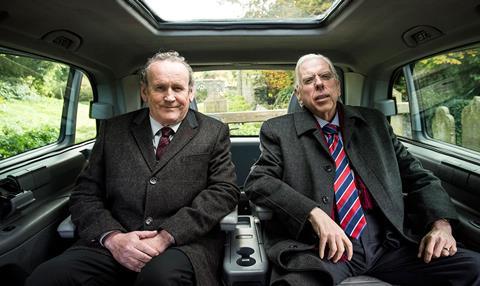 Following its Venice premiere, political drama The Journey plays at Toronto International Film Festival from Saturday (Sept 10). Screen sat down with director Nick Hamm to discuss getting the film made.
Despite spending a large portion of his childhood in Belfast, Northern Ireland, during the discontent of the Troubles, prior to The Journey Hamm (The Hole, Godsend) had never considered revisiting those years with a film project. "I never wanted to do a movie about the Troubles. I didn't want to make a film about masked men, guys with guns, terrorist acts, rioting. I always wanted to find a way of doing a story that celebrated the peace that has been achieved. To me that was a much more international story," he recalls.
It was one particular detail that changed Hamm's mind: "I found out that when politicians in North Ireland travel overseas, they had an unwritten rule that people from opposing parties would often travel on the same plane, or bus, or car, putting themselves in close proximity, even though they were completely antagonistic, to avoid assassination attempts. I thought that was a really interesting device for a film."
After investigating further, Hamm happened upon one particular incident in 2006, when loyalist Democratic Union Party (DUP) leader Ian Paisley and Sinn Fein politician Martin McGuinness travelled on a private jet together following peace talks in Edinburgh. After the journey, the two formed a political friendship that denied their clashing allegiances. While the contents of their discussion have never been publicly disclosed, the film hypothesises what might have been said, relocating events from a plane ("uncinematic… the background of a flight doesn't change," says Hamm) to the back of a car.
Hamm admits that when he and his producers were first packaging the film, they had concerns about the premise. "It's not immediately sexy," admits the director, but it's the quality of the writing that makes the events cinematic, he says.
"This was the easiest movie I've ever financed."
"We just had the package of the script, me as director and Northern Ireland Screen's backing," says Hamm of their initial talks with financiers. Securing the money, however, turned out to be easier than the director anticipated. "IM Global fully financed the film, and they did it with great swiftness. This was the easiest and the quickest movie I've ever financed," he recalls, pointing to the "incredible" script from writer Colin Bateman (Divorcing Jack) and the "extraordinary nature of the true story" as the two key ingredients.
The package was, of course, dependent on them securing an appropriate cast, which they found in the shape of Timothy Spall (Paisley) and Colm Meaney (McGuinness). Hamm waxes lyrically about the performances of his two leads, noting that the casting of the Paisley role was essential to the film's believability. "He was a very strange looking man in many respects, and he had very strong characteristics. He was also a very powerful individual. We needed to find an actor who could become that person," says Hamm.
"This wasn't an acting job [for Spall], it was a piece of acting surgery."
"There was only one actor who could pull off that sort of style and that's Tim," he continues. "Tim and I met early in the process. We went into a rehearsal room together for a day with the script, before he said 'yes', because he wanted to experiment with the accents, the walk, the mannerisms. We wanted to see if this man from south London could take on this iconoclastic Irish firebrand leader. It wasn't an acting job, it was a piece of acting surgery."
It didn't take long for Spall to convince both the director and himself that he was the right fit for the role. "He knew he could root it emotionally, and make it both real and personable. He could be hard but he could make you feel for him," recalls Hamm. "Tim won't take on anything that he can't do. Most great actors won't take a role they don't think they can pull off. It doesn't matter if they think it could win them this or that award, they won't expose themselves in that situation."
Watching Spall in Mr Turner convinced Hamm that the actor could do the job. "He literally became that painter. He's what I call a 'transformational' actor, what he offers you as a director is extraordinary," he says.
Once Spall was signed up, Hamm moved on to casting his co-lead, identifying Irish actor Colm Meaney for the McGuiness role. "I did want someone Irish to play the role, I didn't want to do the film with two English actors," says Hamm. "It was a similar process [to casting Spall]. I worked with Colm in a rehearsal room and, while he has a close physical appearance to McGuinness, he is also incredibly witty and has a great sense of comedy. I needed both of the actors to be really funny."
Small screen to big screen
The Journey marks Hamm's first film since 2011's Killing Bono, having spent several years away from the big screen to focus on television projects including US series Rogue and Full Circle. As a director focused largely on making independent films, Hamm says that the demand simply hasn't been there over the last decade. "The independent film industry has sort of disappeared for everybody over the last ten years," he says. "The kind of stories you were telling in independent cinema are now being told on TV. Directors and writers will always migrate to a place where they can tell their stories."
"The independent film industry sort of disappeared over the last ten years."
"Anybody who tells you that there is a difference between cinema and television, I believe they don't understand what is going on in the modern content world," he adds. However, Hamm also thinks that we will soon see a swing back to the big screen. "I believe [cinema] is coming back. People don't always necessarily want to watch 10 or 20 episodes, they want to go out and experience something for 90 minutes. What you've got now is an incredible cross-fertilisation between the talents in the two mediums," he says.
However, the director is not totally embracing modern developments in entertainment: "You see people watch films on their bloody iPhone, but nobody makes a movie to be watched on an iPhone, everybody wants them to be seen in the cinema. It's the collective experience, that will never change."
A strong start
Early in Hamm's career, he won a BAFTA for short film The Harmfulness Of Tobacco. How does he feel that experience has shaped what has followed? "It gave you the opportunities. You could either use them or squander them – I did both," the director surmises. "You are tempted by the deals, the money, or the idea that everything you touch is going to be great. It doesn't work like that."
"There are a lot of other great directors, so you better make sure you get all of the ingredients right. That's taken me 30 years to understand," he concludes.
Hamm hasn't finalised his next project, but he is planning to work again with writer Bateman. For now, he is focused on The Journey getting the reach he hopes it can. He believes there are lessons from the story of Paisley and McGuiness's fateful meeting that are applicable to the modern political climate.
"This movie is a very small reminder that you actually get a lot more from talking to people than you do from shooting them."