Film-maker Pang Ho Cheung talks to Liz Shackleton about HKIFF opening film Aberdeen, which looks at the contradictions of Hong Kong society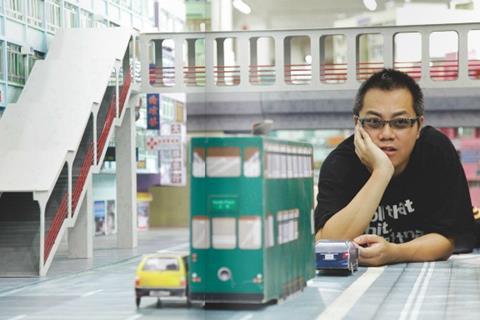 Pang Ho Cheung has spent several years developing Aberdeen, a film that revolves around three generations of a Hong Kong family as they deal with life's challenges - from bullying and career problems to midlife crises and extra-marital affairs. The strong ensemble cast includes Miriam Yeung, Louis Koo, Gigi Leung and Eric Tsang. The title refers to a district on the southern side of Hong Kong island.
Pang's recent credits include romantic comedies Love In A Puff (2010) and its sequel Love In The Buff (2012), horror film Dream Home (2010) and naughty comedy Vulgaria (2012) about the adult movie industry.
One of two opening films of the Hong Kong International Film Festival, Aberdeen is produced by Pang and Subi Liang's Making Film Productions and Chen Kuo-fu's CKF Pictures with backers including Sun Entertainment and Huayi Brothers. Ricky Tse's newly launched Bravos Pictures is handling international sales.
Why Aberdeen? Is it because it's a small place that can be seen as a microcosm of Hong Kong society?
Pang Ho Cheung When the English first arrived in Hong Kong, Aberdeen was the place where they came ashore. You could say this is where the story of Hong Kong begins.
Like many places in Hong Kong, Aberdeen started out as a fishing port, until the government decided to settle the fishermen on land by building Wah Fu Estate. This marked the beginning of Hong Kong's transformation from a fishing port to a major financial centre in Asia.
Aberdeen's Chinese name, Heung Gong Jai, is not only a place name but also gives rise to a pun that means 'Hong Kong people'. So I interpret this title as meaning, not only the story of Hong Kong, but also the story of Hong Kong people.
The film tackles the contradictions of Hong Kong society: tradition vs modernity; superstition vs materialism; family vs individuality. Do you feel that the film is positive about the future of Hong Kong?
PHC I don't think Aberdeen is a film that bears a positive viewpoint concerning the future of Hong Kong. This movie is based on the doubt I feel when I see the road sign that says 'To All Destinations', which is placed at the flyover on Connaught Road in Central. That road sign seems more like a question than a solution. There are no solutions in life, I guess, like the characters in Aberdeen discover. They solve the problems they have in life; still there are no perfect answers for them.
How do you think Aberdeen will fare in mainland China as the subject matter is much more local than your last film, Love In The Buff?
PHC In my opinion, it's important for a movie to have its local colour, but what's more crucial is whether it can evoke resonance among audiences all over the world. Although Aberdeen is a film about a group of people in Hong Kong, the family problems - like a father suspecting his child is not his own; or a middle-aged man who struggles over his affair with a young lady - these are situations that may happen in all cultures. The audience doesn't need to have the exact same experience as the character, yet they will be emotionally hooked to the story. It was the relationship between the two main characters in Love In The Buff that made the film a success.
Why did you decide to premiere Aberdeen at Hong Kong International Film Festival rather than a Western film festival such as Berlin or Cannes?
PHC Aberdeen has undergone a long post-production period. We finished shooting at the end of 2013 and finished post in late February 2014. But I think this was perfect timing, as it's more meaningful for a story about Hong Kong people to premiere in Hong Kong.
Do you think Hong Kong film-makers will always retain their own distinct identity? Or will the pressure to make films for mainland audiences eventually become too strong?
PHC I don't agree that Hong Kong filmmakers feel pressure from audiences in China. What makes them worry most is the film censorship system of China. In the past, Hong Kong films have been very diverse and recognised internationally. But nowadays, Hong Kong film-makers can't ignore the fact there's a censorship system in China if they want to sell their films to the mainland.
It's not the fact that the Chinese audiences dislike our films, but huge numbers of topics are already eliminated when taking the Chinese market into consideration. This rules out some topics that Hong Kong film-makers excel at, such as horror and crime films. It's difficult to adapt when we've been used to the freedom of creativity in the Hong Kong market.
You seem to be producing a lot more these days. Can you tell us what kind of film-makers and projects you are developing at Making Film Productions?
PHC For the past two years, we have been running a development department that gives passionate youngsters who are interested in working in the film industry the opportunity to work hand-in-hand with our team, at the same time as being further trained to become adaptive. We are hiring new blood every year, with the aim of giving these young film-makers a real taste of movie production.
At the same time, I wish to gradually change my role as a producer, so that I can focus on exploring a large variety of new projects and find talented young directors of different backgrounds. In addition to production, Making Film will also start to invest in different projects, aiming to diversify the market.