Paolo Sorrentino drew on his own adolescence and rich family history to tell evocative, Naples-set tale The Hand Of God. The Oscar-winning filmmaker guides Screen through his creative choices in four memorable scenes.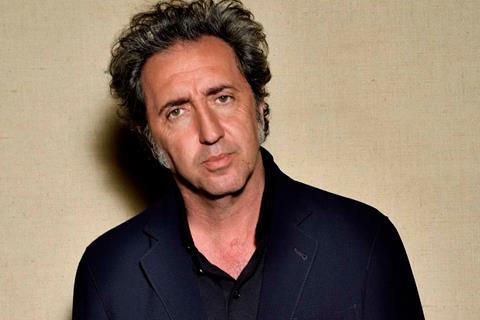 The Hand Of God marks a change of direction for 51-year-old Italian director Paolo Sorrentino. With films such as Il Divo, his biopic of Italian politician Giulio Andreotti, and Academy Award-winning The Great Beauty, as well as HBO miniseries The Young Pope and The New Pope, Sorrentino established himself as a creator of opulent, irony-infused cinematic and televisual operas.
But with 10th feature The Hand Of God — which is Oscar-shortlisted for best international feature and Bafta-longlisted in five categories including director and original screenplay — Sorrentino shakes off the jaded, baroque side of his filmmaking to deliver a warm, emotive coming-of-age story that is also highly auto­biographical.
Set in his native Naples in the mid-1980s, around the time that superstar Argentinian footballer Diego Maradona signed to play with the then-struggling local team SSC Napoli, it charts a seminal period in the life of teenage Fab­ietto Schisa, who Sorrentino has stated is "pretty much me at that age". Starring relative newcomer Filippo Scotti as Fabietto, the film was produced by Lorenzo Mieli's Fremantle offshoot The Apartment for Netflix, which began to stream it worldwide on December 15.
Sorrentino sat down with Screen International to discuss some of The Hand Of God's key scenes, starting with the film's magical realist prologue.
Patrizia meets San Gennaro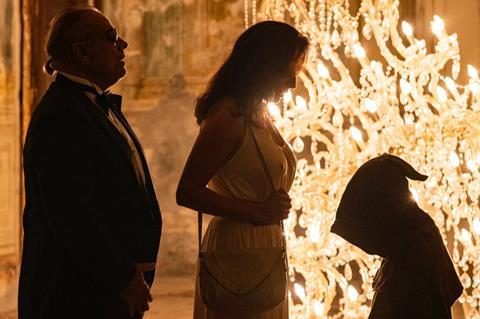 The scene: Fabietto's aunt Patrizia (Luisa Ranieri) is an unattainable object of desire for the virginal adolescent, although her abusive husband Franco (Massimiliano Gallo) sees her as rather too attainable. In the film's opening scene, she is given a lift by a man claiming to be Naples' patron saint, San Gennaro (Enzo De Caro), who tells her he can fix the couple's inability to have children.
Paolo Sorrentino: "The incredible thing about the meeting with San Gennaro is that it actually happened to an aunt of mine — or at least she claimed it happened. She told us that one evening as she was waiting for a bus, a vintage car pulled up with San Gennaro inside and he said, 'Get in, I'll give you a lift home.' During the ride he told her that she would be able to have kids, and soon after she got pregnant.
"The difference from the version I put in the film is that not only was her husband not abusive like Franco — he was actually with her at the time and got in the saint's car too. I turned this springboard into a scene that's suspended between dream and reality, lies and truth. It's the type of scene I find very congenial, one that starts off in the real world and ends up somewhere else — one with quite an imposing aesthetic structure.
"For the saint's house, I had this picture in my mind of an old palazzo, one that's comp­letely falling apart, and I thought it would be great if a chandelier had fallen from the ceiling but miraculously stayed intact and was just lying on its side. We had to find the right location, and that wasn't easy, because most old aristocratic palazzos like this have been restored. In the end, after a long search, my production designer Carmine Guarino found this old earthquake-damaged pal­azzo in a village outside Naples. I was scep­tical at first because it was smaller than I had imagined. But by choosing the right lenses, we worked some cinematic magic and made it match what I had in my head.
"I saw this scene as a prologue to the main story — something that's common in novels but not much used in the cinema. One of the most striking examples for me is the dybbuk scene at the beginning of the Coen brothers' A Serious Man. I like beginnings that, as [Jean-Paul] Sartre once said, 'Serve to catch the audience off-balance and draw them in.'"
The Schisas apologise to their next-door neighbours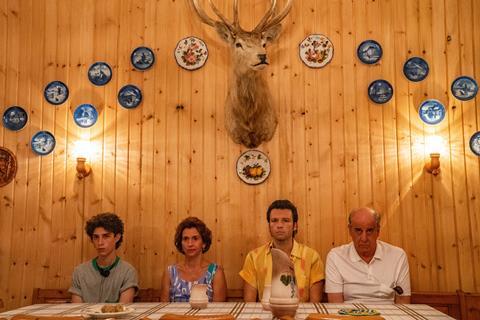 The scene: Fabietto's mother Maria (Teresa Saponangelo) loves to play practical jokes, but she gets the whole family in hot water when her neighbour Graziella (Birte Berg) discovers that a call offering her a major role in Franco Zeffirelli's next film was a hoax by Maria. Tails between their legs, Fabietto's family goes next door to apologise.
Sorrentino: "This scene is also completely true to life. Not only because my mother actually played that same trick on her next-door neighbour, but because the apartment the neighbour lived in with her family looked exactly like the one you see in the film. They were from Trentino-Alto Adige [the largely German-speaking region of northern Italy also known as Südtirol], and they had reconstructed the décor of an Alpine lodge in their Neapolitan living room. I absolutely loved their flat when I was kid — I found it so warm and welcoming — and I'm sure that's why I'm obsessed by Trentino-Alto Adige today. I have photos of their apartment that enabled us to make a perfect replica.
"It's a comic scene. The back-and-forth rhythm of the editing helps to underline the comic effect but so do the great performances, espec­ially that of Teresa Saponangelo as Fabietto's mother and, of course, Toni Servillo as his father. They do the 'descant melody' to Birte Berg's fantastic turn as the wronged neighbour. Birte threw herself into the game, she's a great actress.
"A scene like this could be considered a digression, but given that life is full of digressions these apparently unimportant diversions often turn out to be the most important parts of a film, because they're true to life."
Fabietto finds his metier during an encounter with director Antonio Capuano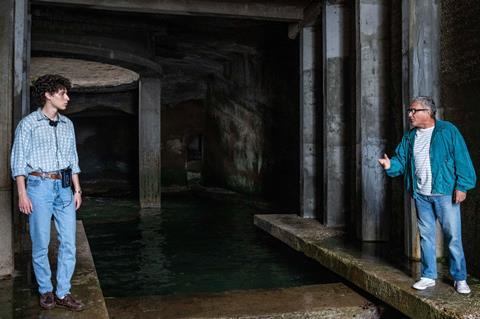 The scene: Fabietto's road to Damascus comes towards the end of the film during a walk-and-talk session through Naples with film director Antonio Capuano (Ciro Capano), who is scathing of the teenager's sudden determination to become a director himself but, in his challenging way, inspires and galvanises him.
Sorrentino: "This is showdown time for Fabietto. It's a scene in which he meets someone who offers him an idea of what his future might be, but also makes him realise that people's ambitions, what they most desire, can only be realised through effort and hard work. Capuano explains something fundamental to Fabietto: that he should beware of the trap that so many people fall into — including many of the aspiring young filmmakers I meet — which is to assume that having gone through some personal trauma gives you a free pass to create art. Capuano explains to Fabietto, as he did to me, that pain is just that — pain. It's not a licence to make films or write books. The sooner you realise that, the better.
"Although this scene is a synthesis of several encounters I had with the real Antonio Capuano, it's completely true to his manner of speaking, which is rough, bordering on violent. But I never felt it as violence — for me, it was simply vitality. That's also why I have the two of them moving constantly. That's what Capuano does. I can't remember ever sitting on a sofa with him, talking about movies or scripts. We would always be walking fast, up and down Naples' seaside prom­enade, with me struggling to keep up with him. The only time we paused was when we dived into a bar for a quick espresso.
"The final part of the scene is set in the ancient cellars of a house in the seaside suburb of Posillipo. There are houses there whose foundations are sunk into caves that are open to the sea. I knew about them, but it was almost imposs­ible to find them from above — so one day we rented a boat and went along the coast exploring all the sea caves underneath these villas until we found the right one."
The brothers part on Stromboli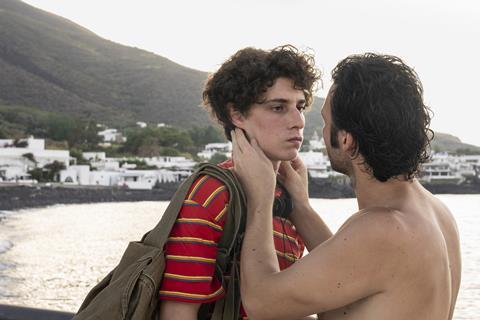 The scene: After the family tragedy at the heart of the film, the intense Fabietto joins his easygoing older brother Marchino (Marlon Joubert) on holiday on the volcanic island of Stromboli. But Fabietto leaves early, unable to enter into the laid-back summer spirit and determined to make his own way in the world.
Sorrentino: "I've been going to Stromboli ever since I was little, first with my parents, then by myself, and now with my own family. I don't know quite how to explain it — maybe it has something to do with the energy of the volcano — but it's a place I keep on returning to because I feel good there. Stromboli is such a big part of my life, I couldn't leave it out. One of the amazing things about the island is that you always approach it at dawn, because that's when the ship from Naples gets in. Getting to Stromboli just as day is breaking is one of those things that makes life worth living.
"The scene of the parting of ways between the two brothers on the jetty was one of the most difficult of all for me to shoot. I kept welling up and having to stop filming. It wasn't actually in my original script — it was Teresa Moneo [Netflix's dir­ector of international original film for Spain and Italy] who said that in her opinion the story was missing a scene in which the brothers say goodbye. I wrote it just a few weeks before we started shooting and in hindsight realised it was not only a really nice scene, it was a necessary one. That was all down to Teresa's great intuition.
"Both Filippo Scotti and Marlon Joubert were great. Marlon is very good-looking, which is something that can turn you against a person, but he's different — he has a great capacity for empathy and an ability to make people love him. I think in this scene, if the emotion works, he's the key."