.Dir: Jean-Francois Richet. 2008. Fr-Can-It. Part 1: 113mins, Part 2: 132mins.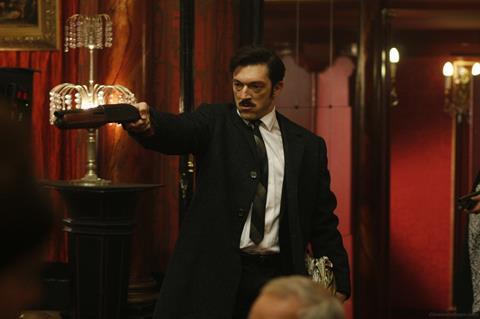 Public Enemy Number One: Part1
(Mesrine: L'Instinct De Mort)
Dir: Jean-Francois Richet. 2008. Fr-Can-It. 113mins.
The firstinstallmentof the two-part biopic devoted to Jacques Mesrine (1936-1979) is a whirlwind introduction to the charismatic career criminal who became a household name in France. Despite an abrupt narrative approach, formative episodes in Mesrine's larger-than-life reign flow together well enough to yield a frequently gripping whole. Vincent Cassel's performance, which entailed gaining and losing over 40 pounds to resemble Mesrine over the span of two decades, is excellent in the service of a tale marbled with action, violence and brass balls chutzpah.
Hitting French screens Oct 22, Part 1 is a free-standing entertainment that whets the appetite for Part 2 (Nov 19). While Gallic and Canadian audiences should show strong interest (Mesrine was Public Enemy Number One in Quebec before earning that status back in his native France), widely sold saga may present a marketing challenge in other territories. But there's always room for good accounts of bad men - Al Capone didn't have a publicist but his name resonates the world over.
During tense opening credits a man and woman load items into the boot of a car and head off into Paris traffic circa 1979. Moments after driver Mesrine (Cassel) remarks to his passenger that he was born not far from that very spot, the couple are fatally ambushed by police. The split second border between ordinary activities and explosive violence characterizes the entire film to come.
The action cuts straight to Algeria in 1959 where young Mesrine, a soldier in the French army, takes part in a brutal interrogation. Discharged and back in the Paris suburb of Clichy, he doesn't stay long in his parents' comfortable bourgeois home. His dad has a job lined up for Jacques in a lace factory, a prospect the viewer knows is risible even if his ineffectual father doesn't.
With childhood buddy Paul (Lellouche) who works for crime boss Guido (Depardieu), Jacques meets Pigalle prostitute Sarah (Thomassin) whose honour he later recklessly defends. Initiated by Paul in the ways of burglary and robbery, Jacques' knack for quick thinking is swiftly revealed.
Jacques falls for Spanish beauty Sofia (Anaya) in 1960. After doing time in a French prison, he lives with her and their three children but when legit work dries up, Mesrine again takes up arms for Guido and never looks back.
An already lively, if episodic, narrative really picks up in Paris in 1966 when Jacques meets Jeanne (De France), who's as violent and fearless as he is. Two years later, with police and rivals literally gunning for him, Jacques escapes to Montreal with Jeanne. An escapade with their wealthy employer lands the couple in prison. After surviving the spectacular indignities of solitary confinement in a Canadian penitentiary - a harrowing primer on why crime does not pay and rehabilitation doesn't work — Mesrine ingeniously busts out with buddy Mercier (Dupuis).
While Mesrine's exploits make for good theater, the film-makers don't judge their subject or attempt to spell out his motivations. Mesrine is never glorified. He may be despicable, but he's a man of his word, right down to returning to a prison from which he's escaped to spring others.
In limited screen time, De France radiates love and passion. Filmed in close-up during a covert phonecall, she nails the heartbreaking complexity of being emotionally committed to a homicidal hothead.
Boldly employing mosaic screen effects, the film is stylish but not ostentatiously so.
Public Enemy Number One: Part 2
(Mesrine: L'Ennemi Public N° 1)
Dir: Jean-Francois Richet. 2008. Fr-Can-It. 132mins.
Public Enemy Number One: Part 2 is a relentless portrait of Mesrine in his Scarface-like prime as he tips over into half-baked political motivations and continues his tightrope act between living life to the full and catapulting toward his inexorable fate. Bloody shoot-outs, daring escapes - from a courtroom in mid-trial, from prison, from an impressive manhunt - and grandstanding for the press illustrate Mesrine's assurance and arrogance with expedient strokes.
There have been too many fact-inspired movies about rebellious bank robbers (The Bank Job, Le Dernier Gang to name but two) for this material to feel entirely new, but Jean-François Richet has made two pictures that complement and build on each other with widescreen verve.
Anyone still wondering why they should care about this guy after Part 1 will get a rousing reply in the highlights of Mesrine's final six years of sangfroid and bravado. Even when cornered or captured, as he is by police nemesis Broussard (Gourmet) long before he gets his man for good, Mesrine takes his temporary defeat in stride. In custody in March of 1973, Mesrine strenuously denies knowing gangster Michel Ardouin (Le Bihan). They know each other alright, as a breathless escape and shooting spree energetically demonstrate.
In a long sequence shot and edited for maximum suspense, Mesrine later breaks out of prison with fellow convict François Besse (Amalric). Besse prefered to keep a low profile. Mesrine, conversely, was something of a pioneer in media manipulation, admitting to over 40 murders is an autobiography he published from prison before going on trial. Throughout Part 2 Mesrine willingly feeds his own legend.
Mesrine rarely resorted to disguise in the period covered in Part 1, robbing banks unmasked. In Part 2, now dubbed 'the man of a thousand faces,' he repeatedly walks into the lion's den - posing as a doctor to visit his dying father or disguised as a police inspector to make a few pointed inquiries at the Deauville police station before knocking off the local casino.
Because criminals commit crimes, there's a certain degree of repetition here. Bored with his own prowess and ever the provocateur, Mesrine takes superficial inspiration from the Red Brigades, the Palestinian struggle and the Baader Meinhof gang to beef up his rhetoric. There's an unfortunate whiff of Pretty Woman in the sequences where Mesrine and new girlfriend Sylvia (Sagnier) buy a BMW off the showroom floor and pay cash for costly baubles in Paris's Place Vendome. The nominally fun side of being public enemy number one does, however, underline the extraordinary fact that Mesrine was able to hide in plain sight for so long.
Part 2 ends as Part 1 began, with Mesrine shot down in very cold blood without a hint of legal preliminaries.
As played by Amalric, Besse's compact intensity makes him an unlikely but interesting partner-in-crime for the flamboyant Mesrine. Gerard Lanvin as extreme left-wing activist Charlie Bauer exudes all-or-nothing conviction on a wavelength that seems almost quaint three decades later. Sagnier is fun-loving, game and vulnerable.
After four hours in his presence it's difficult to imagine anyone but Cassel as the many faces of Mesrine.
Production companies
La Petite Reine
Remstar
Novo RPI
M6 Films
International sales
Kinology
Producer
Thomas Langmann
Executive producer
Daniel Delume
Co-producers
Maxime Remillard
Andre Rouleau
Screenplay
Abdel Raouf Dafri
Jean-Francois Richet
Based on Jacques Mesrine's book L'Instinct De Mort
Cinematography
Robert Gantz
Production design
Emile Ghigo
Music
Marco Beltrami
Editor
Herve Schneid
Main cast (Part 1)
Vincent Cassel
Cecile De France
Gerard Depardieu
Gilles Lellouche
Roy Dupuis
Elena Anaya
Florence Thomassin
Michel Duchaussoy
Main cast (Part 2)
Vincent Cassel
Ludivine Sagnier
Mathieu Amalric
Samuel Le Bihan
Gerard Lanvin
Olivier Gourmet
Georges Wilson
Anne Consigny
Laure Marsac
Alain Fromager