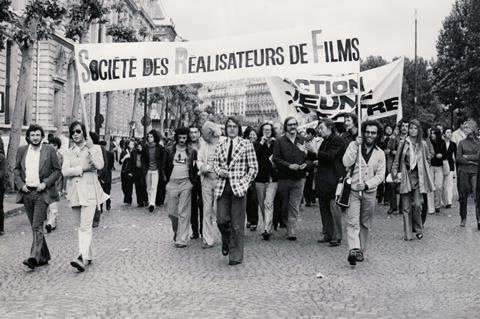 Martin Scorsese is a filmmaker more associated with Cannes Official Selection than the sidebars running alongside but this year he hit Directors' Fortnight to receive its honorary Carrosse d'Or and participate in the opening of its 50th edition in a programme of events billed as "an exceptional day with Mr Scorsese".
The Palme d'Or and Oscar-winning director also assisted in a screening of his breakthrough picture Mean Streets, which premiered internationally in the then renegade section in 1974, and took part in an on-stage conversation with a group of French cineastes including Jacques Audiard, Bertrand Bonello, Cédric Klapisch and Rebecca Zlotowski.
"It was the first time for me in Cannes and it was almost the best time because of anonymity and trying very hard to change that," said Scorsese in the conversation, recalling that 1974 trip.
"What I mean by that is that I was able to go on the Croisette. We'd go from table to table, place to place, meeting people., it was all exciting, meeting dubious financiers, wonderful stars, actors, producers, directors… Wenders and Herzog and many others. It was just an amazing, amazing time."
"This [Directors' Fortnight] was the international platform for Mean Streets, a film I didn't even think might get distribution. It was a very, very clear beginning of something international," he added.
Rebel spirit
Scorsese is among a long list of A-list directors and international auteurs to have had their first taste of Cannes at the sidebar, referred to simply as La Quinzaine by French cinephiles, alongside the likes of Ken Loach, George Lucas, Chantal Akerman, Jim Jarmusch, Nagisa Oshima, Bruno Dumont, Jean-Pierre and Luc Dardenne, and more recently Deniz Gamze Erguven.
Directors' Fortnight was launched in 1969, under the directorship of Pierre-Henri Deleau, as an anti-establishment antidote to the official selection. It has its roots in the period of social unrest in France in 1968 and was spearheaded by the then fledgling Société des Réalisateurs de Films. The body had been officially launched in June 1968 by a dozen directors including Louis Malle, Jean-Paul Rappeneau, Claude Lelouche, Costa-Gavras, Jacques Rivette, Robert Bresson and Claude Berri, to protect "the artistic, moral, professional and economic freedoms of cinema".
Aside from the prevailing mood of the time, their militancy had been sparked partly in response to an attempt to fire legendary film archivist and cinephile Henri Langlois from his post as head of the Cinématheque Francaise by culture minister André Malraux.
The new section differentiated itself by being non-competitive as well as more international and open to new cinematic visions and non-established filmmakers.
The reach of Directors' Fortnight goes far beyond the directors who have shown their films there over the years.
Its zeitgeisty, international selections, curated in the early years against the backdrop of the immense cinematic and social upheaval taking place across the globe in the 1970s, have shaped and informed the tastes of generations of cinephiles.
"I'm a son of the early years of Directors' Fortnight," says its outgoing artistic director Edouard Waintrop. "It shaped my cinematic taste. I was already a fan of John Ford and Alfred Hitchcock but through Directors' Fortnight, I also became a fan of Werner Herzog and Carmelo Bene — who was popular back then even if we talk about him less now — Nagisa Oshima or Alain Tanner."
Waintrop, who first attended the sidebar in 1976, recalls that Directors' Fortnight titles were quickly released on the screens of Paris's thriving independent cinema scene of the early 1970s.
"There was a buzz around the selection in the early days. It was a different time. We couldn't wait to see the films. People would flock to the cinemas in the Latin Quarter. I remember going to see a rerun screening of Lucas's THX 1138 in 1971 at the Palais Chaillot and being blown away."
Radical origins
Scorsese's presence at Directors' Fortnight also coincides with the 50th anniversary of the wave of wildcat anti-establishment strikes and protests — out of which Directors' Fortnight was born — which brought France to a halt in May 1968, as students barricaded the streets of Paris and other major cities, 11 million people went on strike and workers seized factories.
The popular uprising also famously hit Cannes as a group of filmmakers led by Jean-Luc Godard, Francois Truffaut and Berri shut down the festival just as the curtain was about to rise on the premiere of Spanish director Carlos Saura's political thriller Peppermint Frappé.
Former longtime Cannes delegate general Gilles Jacob, at the festival that year as a journalist for a weekly magazine, was at the Peppermint Frappé screening.
"Out of solidarity, Carlos Saura and Geraldine Chaplin [the actress who was Saura's wife at the time] held on to the curtain to stop the screening of their own film," says Jacob. "It was a unique act in the history of cinema, a magnificent example of suicidal generosity that won them the respect and affection of all the 'revolutionaries'."
After the festival closed down, attendees scrabbled to get home, he recalls. "I piled into a tiny car but the gas stations were almost all empty and we nearly didn't get home. The international guests all headed for the nearby Italian border. Fritz Lang returned to Rome with [Robert] Favre Le Bret, my predecessor [as delegate general]."
French director Bertrand Tavernier — who has gone on to become a four-time Palme d'Or contender — was also at Cannes, working as a press attaché alongside the late publicist Pierre Rissient. "We were handling Milos Forman's magnificent The Firemen's Ball, Peppermint Frappé and, if my memory doesn't fail me, Karel Reisz's Morgan — A Suitable Case For Treatment," says Tavernier.
He recalls Saura had mixed feelings about the cancellation of Peppermint Frappé. "I can picture him saying, 'I've been fighting for years against censorship of Franco, and Cannes protected me, gave me strength. It's strange and paradoxical to stop, in the name of the Revolution, the screening of a film, denouncing the hypocrisy and machismo which reigns in Spain under Franco's dictatorship.' I think Forman felt a bit the same," recounts Tavernier.
Directors' Fortnight artistic director Waintrop was a 16-year-old high school student in Paris occupying his school. "To be honest, nobody really cared or noticed what was going on in Cannes. The situation was so intense in Paris," he says. "Later, of course, we learned about it and thought it was a good thing but at the time we were more interested in what was happening at the Renault factory in Boulogne-Billancourt.
"I do remember we created our own cinema club in 1968 at which, sort of bizarrely, or interestingly, we showed films from the new generation of Eastern European cineastes emerging at the time, titles like Black Peter and A Blonde In Love," Waintrop adds, naming two early films by Forman.
Socialist realism
A number of filmmakers also remained in Paris during the peak of the protests, including notably producer and exhibitor Marin Karmitz, who was focused on directing at the time.
The events of 1968 had a profound impact on his filmmaking and indeed the whole ethos around the creation of his game-changing production and exhibition company mk2. He directed a series of features — Sept Jours Ailleurs, Camarades and Blow For Blow (Coup Pour Coup) — inspired by the socialist movements of the late 1960s.
A restored copy of Blow For Blow, about a group of female textile workers who ignore union advice and take their factory boss hostage in a protest over sweatshop conditions, screens in Cannes Classics on May 11 ahead of its re-release in France on May 16.
Further 1968-inspired films screening in Cannes this year include late filmmaker Jean-Luc Magneron's Mai 68, La Belle Ouvrage, which mixes footage of street protests and chaotic hospital scenes with eye-witness accounts of the events on the streets and police brutality.
"He was one of the early members of the SRF," says the filmmaker's son Loic Magneron, who is handling sales of the relaunched title under the banner of his Paris-based company Wide Management. "He was already established as a well-known documentary filmmaker for his reportage. When the protests broke out, he stayed in Paris and shot what was going on, fully immersed in the events, focusing on the Latin Quarter, the youthful nature of the movement and the way in which communication about the events had been manipulated by the state-run media."
The film, which premiered in the inaugural Directors' Fortnight in 1969, has just been re-released in France, kicking off with a screening at the Cinématheque Francaise. It screens here in the market today and will screen in the US and Spain as part of the 1968 retrospectives.
Looking back at the legacy of 1968 on contemporary cinema, Waintrop says little of that militant, socialist spirit remains. "I don't think cinema is as rebellious as it was in the 1960s and '70s. At that time, a whole section of society was in step with cinema, and cinema was in step with a whole section of society," he suggests. "Today, filmmakers are more focused on themselves and their careers… times have changed. You have a few socially minded filmmakers, like Ken Loach, but they're rare."
That said, Waintrop notes this year's Directors' Fortnight selection does contain a handful of titles capturing difficult social conditions, notably Argentinian director Agustin Toscano's The Snatch Thief, about a handbag snatcher seeking redemption, and Julio Hernandez Cordon's Buy Me A Gun, a dystopian vision of cartel-controlled Mexico.
"These films show a profound crisis in their countries of origin… but whereas there was a lot of hope in the cinema of the 1970s, there is a lot less today," says Waintrop.
As Cannes Film Festival unfolds once again amid widespread strikes and street protests across France, attendees this year might be asking if a new revolution is around the corner as discontent rises over the erosion of the hard-won worker rights gained in 1968 due to the 'gig economy' of the digital era.
Although those who lived through 1968 think a repeat of the strife of that period is unlikely, there is a sense of 'never say never'. "I don't have a crystal ball," says Tavernier. "The arrogance of power, the ignorance of reality had provoked events. Today, is history repeating itself or is it stuttering?"