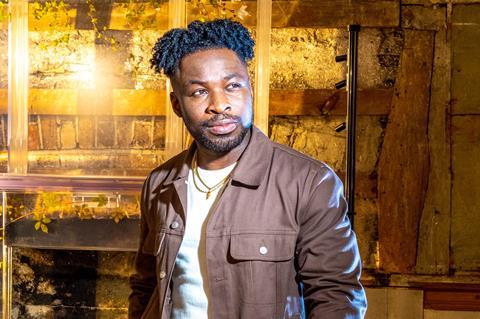 With two shorts in pre-production and two features in development, Derek Ugochukwu is one of Ireland's most-productive young storytellers.
After training as an actor at Bow Street Academy and working as a screenwriter, Ugochukwu made his short film directing debut with You're Not Home, which premiered at Galway Film Fleadh where he was nominated for the Bingham Ray new talent award, before going on to play at Dublin International Film Festival (DIFF) and South by Southwest. "It's about two African brothers seeking asylum but haunted by an ominous mould that appears in the room of their direct provision centre," he says. "It's a psychological depiction of systemic discrimination, disempowerment and exile, written to shine a light on the ongoing campaign to end direct provision in Ireland, but done in elevated horror."
Inspired by his Nigerian-Irish background, Ugochukwu also wrote the Lia Campbell-directed short To All My Darlings, which was shortlisted for the 2021 Bafta student awards and won the audience award at DIFF, and has two features in development. Consequences — a thriller about an upright father who's abducted by a vicious drugs lord — was selected by Screen Ireland for its Spotlight development scheme, aimed at fostering new and diverse writing talent, on which he was mentored by Maudie director Aisling Walsh. "She was my motivation to direct." He is also developing Fall Like Babylon, a drama set in Nigeria during the Nigerian Civil War of the late 1960s.
Ugochukwu trained as an actor while continuing his long-held passion for writing, graduating with a master's in screenwriting from the National Film School. "It was through acting I was able to pay for my master's," says Ugochukwu, who appeared in the TV series Nightflyers and Cold Courage.
In tandem with his feature work, Ugochukwu is prepping two more shorts. "Pediment is a take on the second generation in Ireland who are still navigating what it means to be Irish. Nay Day is a psychological thriller. When I started, I felt there wasn't a lot of diverse stories out there. I felt I might as well try to contribute."
Contact: Derek Ugochukwu