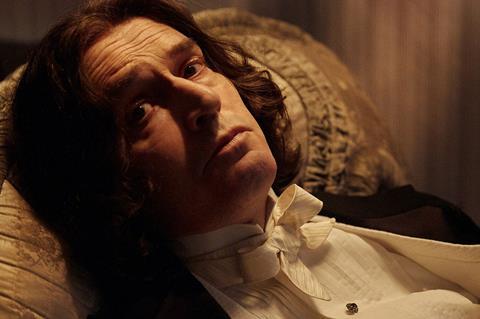 While a film which he has written, directed, produced and stars in bears all the hallmarks of a passion project, Rupert Everett says The Happy Prince only became that for him a few years after he began working on it.
"My initial motivation for writing it was to try and make a career move for myself as an actor," he says. "I thought Oscar Wilde would be a perfect role for me to try and put on the screen. As it went on, it pestered me so much, in every area of my life almost because at the same time, I wasn't working very much. And then suddenly it turned into something else. It was like walking through the mirror. It became my life, and to let it go seemed like death somehow. It became a project fuelled by a very peculiar passion."
Everett adds: "Wilde is my Christ figure in a way. He was fascinated by Christ himself, I think he saw in Christ a perfect example of god and man. In other words, half-genius and half-idiot, because the thing that's most appealing about Wilde is his human qualities. Apart from being a genius, he became a big-headed celebrity in a way – he couldn't tell how the world was looking at him. All these things I find fascinating and endearing."
The journey begins
The British actor began writing The Happy Prince shortly after his father died, in 2009. Wilde has been played previously on screen by Robert Morley (Oscar Wilde, 1960), Peter Finch (The Trials Of Oscar Wilde, 1960) and Stephen Fry (Wilde, 1997), but Everett was keen to offer a different interpretation.
"All three of them are great but they all present Wilde as a much more thoughtful, troubled, serious man," he says. "My picture of him is kind of as the last great 19th-century vagabond… He's messier in my film."
The British actor-writer had the idea to set the film on Wilde's deathbed in a cheap Parisian hotel room that expands and contracts (to reflect his "crumbling brain") as the Irish playwright has flashes of his life, mostly in the final, penniless years after he is released from incarceration for gross indecency and has been shunned by the society that once feted him as a literary genius.
Initially, working with producer Robert Fox (The Hours), the script was sent to Scott Rudin, who expressed interest in the project and suggested Philip Seymour Hoffman to play Wilde. "It was a genius idea, and I should've said yes because it would have established me as a writer in the most advantageous way; he is, of course, a genius producer," says Everett. But not wanting to give up the role he had written for himself, "I backed out, although [Rudin] then said, 'Well, if you find one of these six or seven directors, I will do it.'"
In the ensuing two years, Everett sat by as one by one the directors turned him down, at which stage "I thought, 'Fuck it, I'll direct it myself'". Another round of pitching and rejection followed, in the UK and Germany, before Everett had the brainwave in 2011 to approach playwright David Hare about mounting a new production of his 1998 play The Judas Kiss, which covers some of the same terrain as The Happy Prince.
"I thought at least I could show people what I could do as Wilde, and that was the thing that really turned this around," reveals Everett, who received strong reviews for his portrayal, which he performed at a sell-out run at Hampstead Theatre in 2012 followed by a UK tour and four weeks at the Brooklyn Academy of Music.
Off the back of The Judas Kiss, BBC Films and Lionsgate UK came on board the project, and Everett approached Jorg Schulze and former Bavaria Film Group producer Philipp Kreuzer, partners at indie German production house Maze Pictures, who became instrumental partners in piecing together the international co-production puzzle that finally allowed the film to be made.
Impetus was provided by the Bavarian Film Fund, which offered substantial funding in spring 2015, and Concorde, which followed suit by acquiring German rights. Other pieces soon fell into place, with further backing from the German Federal Film Fund, Rome-based Palomar, the Italian tax credit, Colin Firth's Raindog Films and Eurimages.
Sebastian Delloye of Belgian production outfit Entre Chien Et Loup joined Schulze and Kreuzer as a third producer, with the production also benefitting from Belgium's regional funds and the Belgian tax shelter. Beta Cinema came on board for international sales.
Friends and connections
The Happy Prince shot for 42 days between September and November 2016, mostly in Bavaria. "It is essentially a German film," says Everett. "By going to Franconia [a department of Bavaria on the Czech border], and finding three amazing old castles, I was able to shoot all manner of interiors, from a Neapolitan villa to a French music hall, to streets and hotel rooms and bars. That was the most fun part of the challenge in a way – making Bavaria into Paris."
He also filmed in Naples, Brussels, Wallonia and, briefly, in France, where Trouville-sur-Mer on the Normandy coast doubled for Dieppe. It gives The Happy Prince an impressive pan-European scope. "It had to be a road movie, really, because it's someone's journey through freedom towards death. I wanted it to keep moving."
Many of Everett's friends committed to key roles – Firth as Reggie Turner; Emily Watson as Constance; Tom Wilkinson (who played the Marquess of Queensberry in Wilde) as Father Dunne, the priest who gives Wilde the last rites – while up-and-coming British actors Colin Morgan and Edwin Thomas shine as Bosie and former lover Robbie Ross respectively.
"My name was not a particularly glossy one and so I very much relied on them," says Everett. "Particularly Colin, who, since signing a little piece of paper to me 10 years ago, became hugely successful. Every bit of money had their eye on him and he was amazing to stand by me. I can never pay any of them back."
As well as feeling a spiritual connection to Wilde, Everett's performance involves a striking physical transformation. No pictures in the attic for his version of the author, this is a man in sad and terminal decline, with the actor wearing the same large body stocking designed for him for The Judas Kiss. "It's this amazing body, this huge stocking with everything: an amazing arse, fantastic cock, low-hanging moobs, and everything hanging kind of moves. That body directed the whole thing, and I also had some amazing work done on teeth and plates to make my face a little bit thicker."
"It's pretty uncomfortable but you get used to it," he continues. "The trouble for me wasn't wearing the suit, it was just having that double job, trying to make sure we meet the day and hurrying all the time and then having the space to try and act."
Everett credits cinematographer John Conroy (also DoP on Idris Elba's Yardie) for giving him the necessary support; other key collaborators included production designer Brian Morris and composer Gabriel Yared.
He felt confident heading into production despite being a first-time filmmaker: "I knew exactly how I wanted to make the film, and I think that comes from years of experience of being around films, and a lot of period films – great ones, bad ones – where I've watched everyone at work for years. In the old days, when things were done much slower, you had nothing else to do but observe and learn."
As for guiding lights along the way, apart from Fox (credited on the final film as associate producer) and his other partners, Everett cites UK filmmaker Roger Michell, who he had hoped might direct at one stage and who offered advice on the initial cut of the film, and Philip Prowse, a theatre director who gave the actor his first professional job.
"One has to be careful with advice," he comments. "A first-time director is in a precarious position. If he sounds weak or uncertain then the floodgates open and everyone else swarms in and takes over. You've got to, I think, be a light to yourself."
Oscar's legacy
The Happy Prince shows Wilde still as a brilliant raconteur and wit, as well as the tragic, self-destructive figure who would rather be with the toxically selfish Bosie than the warm-hearted and devoted Ross.
"One of the things that is appealing to me about Oscar in general is that the gay liberation movement started with him, really," muses Everett. "There wasn't really a discussion about homosexuality until the Wilde scandal, and he knew that. He said at one point, 'The road to freedom is going to be long and covered with the blood of martyrs.'
"So he's a very potent voice, and now is a great opportunity for us to see how far we've come, rather than what sometimes tends to be our mind-set, which is being pissed off with where we are. Because in terms of LGBTQ, the journey from 1895 to now is huge, and it's only a second in history. It's very exciting, seeing with that kind of yardstick.
"As a minority, one should always be on one's toes. But at the same time, it's an amazing time, and things can get much better as well, even in the UK."
As The Happy Prince embarks on its journey into festivals (the actor confirms to Screen it has also been programmed for Berlin) and the wider world, Everett remains proud of one thing in particular: "It's the first time in my life that I didn't give up on something."