In taking on Mank, David Fincher's drama about Herman J Mankiewicz writing the iconic Citizen Kane, cinematographer Erik Messerschmidt was tasked with shooting a film that recalled the classic films of the story's 1930s and '40s setting.
The striking black-and-white visuals — filmed in high dynamic range on a custom-made RED Helium 8K monochrome camera with a black-and-white sensor — complemented a story rooted firmly in the world of Old Hollywood.
An intensive process was also required in post to recreate the pearlescent texture that is often made by chemical processing — an effect they instead achieved digitally.
Working his way up the production ladder, Messerschmidt spent more than 10 years as a grip and a gaffer when Fincher asked him to serve as DoP on his Netflix series Mindhunter and subsequently Messerschmidt's first feature Mank. The DoP is now working in Savannah, Georgia on Korean War movie Devotion, starring Glen Powell and Jonathan Majors.
What is the collaborative process when working with David Fincher?
He expressed how much he wanted to do this — how much it meant to him. He said he wanted it to feel like it was made in that day — like you are in a film vault and you see Citizen Kane and you see Mank. By the time he approaches you, he can see how the film would be laid out in his head. He always knows what he wants.
The monochrome imagery features deep blacks, contrasting with whites and shadows. How did you achieve the look?
We did a tremendous amount of testing and pre-visualisations. One thing that we wanted was this softness, pearlescent in the blacks, something that happens with black-and-white release prints. It's somewhat representative of the chemical world, a look David and I liked, but we were shooting the film digitally. This blooming and brimming the blacks was a technique our colourist Eric Weidt created. It is essentially teasing the blacks and the grey and applying a little deep focus, which is how we get that pearlescent look.
Why is your work with Fincher, including Netflix series Mindhunter, shot in 8K?
We are big believers in getting more resolution than the final exhibition for the purpose of selectively making decisions about how much softness, or noise we want — without the camera being the bottleneck, so to speak. For Mank, we then did the DI [digital intermediate] in 6K with the delivery in 4K. We have this idea of capturing a wide swathe and screwing it all up later.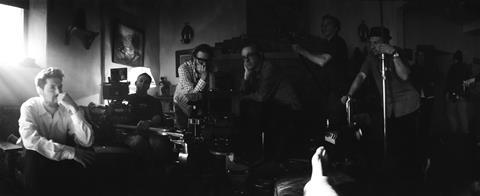 Do you make different decisions when shooting for television versus for a cinema screen?
No, I always assume people are going to see the highest quality version. If they don't, that's on them. Even when I shoot TV, I shoot as if it will be shown in the cinema. We are considerate of high dynamic range versus standard range. In TV exhibition, there are more HDR options for audiences than in theatrical. There is the argument that the home moviegoer has a better cinematic experience.
With Mank, were you consciously paying homage to Citizen Kane and Orson Welles' cinematographer Gregg Toland?
Toland is very influential — we looked at his work on other films too [Toland's credits include The Grapes Of Wrath]. Deep focus, relatively low camera angles, limited focal lengths — we restricted ourselves to just a few lenses and we wanted people to feel like they were watching a movie of the period and connect to the story that way. We also referenced photo­graphs of real people or behind-the-scenes photographs, which were wonderful to lean on for inspiration.
Which scenes were most challenging to light dramatically?
The election-night party came as a collaboration between the production designer [Donald Graham Burt] and myself in terms of how the space would be lit. It would be lots of people and lots of coverage, and I knew it needed to be lit with practicals. Don and I made this sign built out of light bulbs that says '1934' and it silhouettes people on stage. The art department built practicals for us on the tables to light the actors as well.
Natural settings often blend with built sets in distinctive ways. How did you meld the two?
The scene we spent the most time on is where we meet Marion Davies [played by Amanda Seyfried] at San Simeon. It was quite a complex scene and revolved around the positioning of the sun. Lots of pieces of coverage. When Don found the location, it was just a field. So where all the tents could go and what worked best for sun positioning required quite a bit of prep, but that was us mostly working in pre-vis. For Hearst Castle, Don's team built that, and we worked on giving it an old, musty feel. We shot the exteriors at the real bungalow where Mank wrote the script, but for the interiors we worked from another set built by Don's team, with more space so we could move around freely.