Michael Lennox's debut feature, A Patch Of Fog, is a darkly comic psychological thriller. Sarah Cooper visits the Belfast set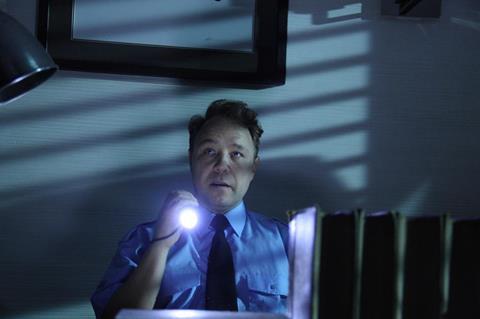 For Northern Irish film-maker Michael Lennox, the news his short film Boogaloo And Graham had made this year's Oscar shortlist came at the perfect moment: the night before he began shooting his debut feature A Patch Of Fog.
"It's funny getting a text message from the Oscars; I didn't quite believe it. It was a great boost going into the first day," says Lennox, a graduate of London's National Film and Television School whose previous short, Back Of Beyond, was nominated for a European Film Award in 2012.
Shooting has now wrapped on A Patch Of Fog, a darkly comic psychological thriller about a celebrated novelist and TV presenter (Game Of Thrones' Conleth Hill) who finds himself being blackmailed into becoming friends with a security guard (Stephen Graham) after his shoplifting habit is uncovered. The supporting cast includes Lara Pulver (Sherlock), Arsher Ali (Four Lions) and Northern Ireland's Ian McElhinney.
The film originated with Belfast-based writers John Cairns and Michael McCartney, who have been working together for nine years. They received their big break when they won Northern Ireland Screen's New Talent Focus scheme in 2012, a low-budget film-making initiative also backed by the BFI and Film4, aimed at Northern Ireland-based first-time feature writers, which sees one script going forward for production each year.
The two writers had already attracted the attention of producers Robert Jones, Wayne Marc Godfrey and David Gilbery of London and Los Angeles-based production and finance outfit The Fyzz Facility, which boarded the project, bringing in its own finance as well as funding from Goldcrest Post Production on top of NI Screen and the BFI's investment.
"We'd come second so many times, so to win was terrific," says Cairns of the 2012 prize. "Nothing happened for us seven or eight years ago because we weren't good enough. Then we started to write films we wanted to see and we just got better as writers." Cairns was delighted when Lennox signed on to direct. "The Northern Irish voice has the ability to be both deadly serious and deeply funny at the same time. That was what we loved about Back Of Beyond, and A Patch Of Fog has the same sort of musical key," he explains.
A perfect match
For Lennox, it was the script's ambiguous tone that attracted him to the project. "It's a dark buddy movie, with thrillerish elements and mystery permeating under the surface. But at the core is the bond between those two people and their strange, screwed up relationship, which makes it extremely funny and touching," says Lennox, who cites Michael Haneke and Danny Boyle among his influences.
"The relationship between the two men is about one-upmanship, but ultimately it's about someone who wants what we all want - to be loved," adds McCartney, who draws comparisons to Sleuth, Misery and dark comedy The Cable Guy.
When it came to casting, Stephen Graham - best known for his performance in This Is England and as Al Capone in Boardwalk Empire - was not necessarily the obvious choice to play a lonely security guard. Which is why Lennox thought he would be perfect.
"Everyone will be waiting for Stephen Graham to crack. But he never does.
I think only he could play it the way he's playing it," says Lennox, adding that "working with two actors from two of the best TV shows in the world has just been a brilliant experience".
The film's four-week shoot took place in December across 25 Belfast locations, including the city's impressive Queen's University.
"We love working here, we have a good rapport with everyone and the crews are world class. The amount of quality productions that are here, from Dracula Untold to Game Of Thrones, has given crews the consistency of work that they haven't had to travel elsewhere for," says producer Wayne Marc Godfrey, who is also producing Stephen Fingleton's debut feature, The Survivalist, which shot last year in Belfast and also came through NI Screen's New Talent Focus scheme.
Meanwhile, The Fyzz Facility has optioned two more scripts: Sterile and the BFI-backed The Men In White Coats, from Cairns and McCartney, as part of their commitment to new talent.
Coincidentally, Northern Ireland born and based Fingleton (and good friend of Lennox) has also made the Oscar shortlist for his short SLR. As Jones points out: "The great thing for Northern Ireland is to have not one but two young directors who are interesting and different enough to warrant this kind of international acclaim."