Japan's Takashi Miike returns to his action roots with a suitably off the wall gangster-vampire story, Yakuza Apocalypse. Jason Gray visits the set.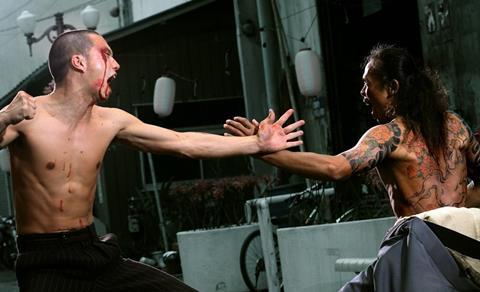 Director Takashi Miike watches an LED countdown timer on a homemade bomb as his crew work busily nearby. He smiles like a kid. Regarded as an alchemist of genre-bending and blending, Miike's latest film Yakuza Apocalypse (Gokudo Daisenso) - in production at Nikkatsu's studios - boasts a compelling concept: yakuza vampire action.
The scene being set up - a short but explosive fight in a confined office - is monitored from next door's set, a smoky mahjong parlour complete with vintage slot machines.
"I have memories of shooting in Nikkatsu stages six and eight as an assistant," says Miike wistfully (a part of the lot that was sold off this year). Early in his career Miike worked as an AD and second unit for masters including Shohei Imamura, Toshio Masuda and Kazuo Kuroki.
Other Yakuza Apocalypse sets are at various stages of completion. There is an ageing cinema facade with an ultra-realistic patina. In one of the hangars, an entire wooden nomiya yokocho (bar-lined alleyway) is being painted and dressed for upcoming fights and chases. The three-week production is predominantly being held at the studios, as Japan remains as difficult as ever to acquire shooting permits and other assistance, particularly in Tokyo.
'Miike is the first director I've worked with other than Gareth Evans. He is very good, with a unique character'

Yayan Ruhian
Just outside, Indonesian action star Yayan Ruhian (The Raid) works through the fight choreography with Yakuza Apocalypse's lead actor, Hayato Ichihara (Rookies, Box!).
Disguised as a ponytailed Akihabara geek for part of the story, Ruhian opens his plaid shirt, revealing an upper body that looks like a bronze breastplate. "Kick me as hard as you can," he tells Ichihara, who is no action slouch himself. They go through their moves at an impressive speed, with Ruhian's legs swivelling and arcing effortlessly.
"My aim is not to shoot an all-out action film," states Miike, who previously directed the first two Crows Zero films. "It's not action per se that I'm interested in but what comes out of the struggle between the main characters."
Miike's past answers regarding gory violence and horror (Lesson Of The Evil, 13 Assassins and Audition to name a few) have been similar. It's all in service to the drama at hand, which is perhaps why Miike excels at so many types of films.

Working in sync
After some on-set small talk about weekend box office, word comes in that the scene is set. Everyone assembles quickly to stage a run-through. Ruhian kicks Ichihara right out of frame repeatedly. Miike chain-smokes cigarettes as he hustles between the monitors and the neighbouring room, making performance, blocking and framing adjustments. Everyone is in sync, with many of the crew having worked under their leader for years.
Indeed, both Yakuza Apocalypse screenwriter Yoshitaka Yamaguchi and producer Shinjiro Nishimura were assistant directors on Miike's big-budget Yatterman (also shot at Nikkatsu). Nishimura comments on the new story's origins: "Yakuza are unique to Japan so we combined that with vampire action. Regular people who get bitten become yakuza [sporting tattoos] and overrun the city, while the real gangsters are thrown into chaos."
Nishimura, who is fluent in English, has become a key producer at the studio as it focuses more on international co-productions in a shrinking domestic market. He honed his practical and legal skills on recent Mo Brothers title Killers, with a large portion of the production shot in Jakarta. "When I saw The Raid I knew I wanted to cast Yayan and got to know him a bit over there."
The scene wraps. Ichihara sits back with fans and an ice pack on his neck. Yakuza Apocalypse reunites the 27-year-old star with Miike for the first time since 2008's God's Puzzle. "He has the same energy and freshness," Miike says. "Unlike some other actors looking ahead in their careers, he puts everything he has into the moment."
Ruhian, conversely, is bone dry and has the demeanour of someone who has just enjoyed reading a good book. "Miike is the first director I've worked with, other than [The Raid's] Gareth Evans," Ruhian explains. "Miike is very good, with a unique character. Whatever I do, I make it fun for myself. I like Japan. I'm making new friends."

Quick change
In a territory where almost every feature with a medium-to-large budget is based on either a TV show, novel or manga, how did such an original project come together?
"Maybe you know that I was supposed to make a Hollywood film," says Miike - Second World War Japan-set action project The Outsider had a lot of industry buzz when Joel Silver took it on, with Tom Hardy set to star and Miike directing. Hardy then dropped out at the beginning of the year and the project is on hold.
Arguably the hardest-working director in Japan, Miike immediately set about finding another project to fill the gap. "We got together and brainstormed ideas. So, thanks to Tom Hardy for making Yakuza Apocalypse happen," he says, without a hint of irony.
When questioned about his legendary pace, 53-year-old Miike answers without hesitation: "I have no reason to slow down. I still have a lot of new ideas."
Production on Yakuza Apocalypse wrapped just before Nikkatsu launched sales in Cannes. The film is slated for a 2015 release.
Yakuza Apocalypse
Director Takashi Miike
Writer Yoshitaka Yamaguchi
Producers Shinjiro Nishimura (Nikkatsu), Shinichiro Masuda (Nikkatsu), Misako Saka (OLM)
Cast Hayato Ichihara, Yayan Ruhian
Status In post for a 2015 delivery
International sales and local distribution Nikkatsu