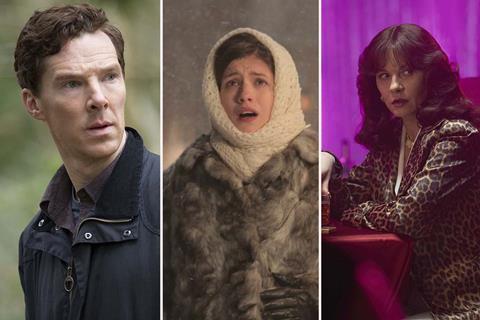 Global content market MIPCOM will showcase some of the buzziest TV projects when it kicks off on October 16 in France.
Bad Banks
Paula Beer, best known for her role in Francois Ozon's Frantz, stars in this high-finance thriller as an ambitious young investment banker who unwittingly becomes embroiled in a web of international corruption.
The Child In Time
Benedict Cumberbatch stars in this 90-minute adaptation of Ian McEwan's award-winning novel as a children's writer coming to terms with the disappearance of his four-year-old daughter. It marks the first television commission for Cumberbatch's SunnyMarch TV and Pinewood Television. It premiered in the UK on 24 September.
Cocaine Godmother
Catherine Zeta-Jones will hit Cannes to promote this TV movie in which she stars as Miami drug kingpin Griselda Blanco, who ran a cocaine trafficking network between her native Colombia and the US in the 1970s and 1980s, ordering 200 murders during her reign. Oscar-winning cinematographer and director Guillermo Navarro directed the film, which premieres on Lifetime in November.
The Restaurant
This family saga revolves around a high-end restaurant in the heart of Stockholm at the end of the Second World War, capturing Sweden in an era of rapid change. It is the latest production from Swedish production company Jarowskij, in collaboration with SVT, Viaplat and Film i Vast.
The Road To Calvary
Russian actresses Yuliya Snigir, best known internationally for her role in franchise picture A Good Day To Die Hard, and Anya Chipovskaya co-star as two high-society sisters and members of the Russian intelligentsia living in St Petersburg at the time of the Russian Revolution. They will both be at MIPCOM to promote the series.
Romper Stomper
Geoffrey Wright has created this spin-off from his cult 1992 Russell Crowe-starring film of the same name about Australian skinheads who menace Vietnamese immigrants. Revisiting the subject matter, this six-part series follows a new generation of skinheads who now terrorise Muslims.
La Zona
Eduard Fernandez and Emma Suarez lead the cast in this Spanish post-nuclear catastrophe thriller directed by fraternal duo Jorge and Alberto Sanchez-Cabezudo. The series follows a handful of survivors trying to cope with personal and collective tragedy in a broken society. It is the first original production from Spanish telecom giant Telefonica.