Spencer presents a regular young woman being thrown into an extraordinary situation, and dealing with the fallout. Screen talks to screenwriter Steven Knight about finding the human beneath the icon.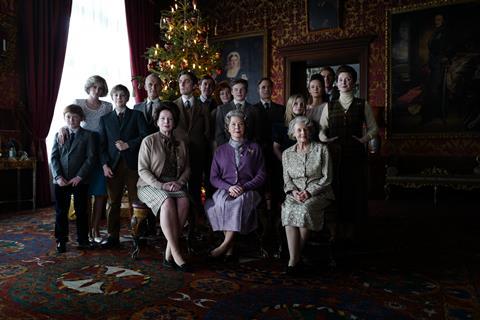 "I didn't want it to be unsympathetic to the royal family," says Spencer screenwriter Steven Knight. "I'm not anti-royal. I'm very sympathetic to them. This was a really interesting situation for a human being to be in. Usually, you get an ordinary situation and throw an extraordinary person into it. This is an extraordinary situation, and you throw a very ordinary person into it and see what happens."
An audacious, nightmarish look at three agonising days in the life of the late Princess Diana as she battles bulimia, her disintegrating marriage and the shackles of royal tradition, Spencer was the idea of Chilean director Pablo Larrain (Jackie) whom Knight was introduced to by UK producer Paul Webster. "Paul called me up and said Pablo wanted to meet. I knew his work, and he knew mine. We had breakfast and he said he wanted to do something about Diana. That was the brief."
Not that the subject matter was one Knight had spent much time thinking about prior to the meeting. "It wasn't something that preoccupied me," he admits. "But I'd always been curious about the effect she had on people. The thing that stuck with me was the funeral. The gates of the palace opened and out came the cortege and English people started making this noise that English people don't normally make — they were wailing and sobbing. I thought, 'What is going on?' Then I thought, 'Why am I getting emotional about this as well?' Because it's not my thing." Nor was writing a biopic. "That's just so difficult and thankless. I wanted to take a picture of her at a particular moment when she was at her most under pressure and see if you could find the human being behind the icon."
That moment turned out to be the Christmas holidays in 1991, when the royal family gathered at Sandringham in Norfolk, a period when Diana, supposedly, decided to leave Prince Charles. "Those three days — Christmas Eve, Christmas Day, Boxing Day — are your three acts."
Behind the door
Originally, Knight planned to set the story at Balmoral Castle in Scotland, because he liked "the idea of that fairy-tale castle", but moved it since that's not where the royal family spends Christmas. He also did his due diligence before writing, speaking to several people who were there at the time.
"I spoke to everybody on condition of absolute anonymity," he says. "It's people who worked there who told me things that happened. And using those odd things that happened as stepping stones and then weaving the fable in between them."
Among the truth-is-stranger-than-fiction details that Knight gleaned during his research is the fact the royal family weighs its members on arrival at Sandringham, and again when they leave, to ascertain quite how much they enjoyed themselves.
"I would say every family is very weird at Christmas," says Knight. "If I do research, I try not to read books or watch the documentaries, because they have an agenda. Whereas anything true will be weird, unbelievable and fantastic. When I found out they weighed people when they arrived, and there's Diana with her [eating] condition, you just think, you couldn't make it up."
Indeed, Spencer does not shy away from showing Diana's battles with bulimia. "She spent a lot of time late at night in the kitchen, because the meals [that] had been consumed had gone. So, she spent time with staff because it was almost like, 'I've got to hide out here for a bit.' Consequently, you get the conversations she had."
Knight also discovered that Park House, where Diana grew up, is situated on the Sandringham estate. "It was boarded up for building work at the time. But there it is, and it's walkable from where you're trapped in this castle. So, as ever, reality gallops to the rescue for anything you're writing." Ultimately, the portrait of Diana he gathered was that of "an ordinary, middle-of-the-road person. Mike And The Mechanics [on the soundtrack] is there for a reason. That's who she is. She loved Cats. She was just a nice, ordinary person."
Creative flow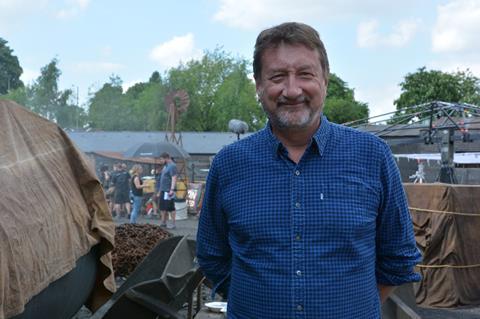 Kristen Stewart, Spencer's Princess Diana, has described the film — which premiered at Venice Film Festival and was released by Neon in the US and STXfilms in the UK, grossing $14.1m at press time — as a survival story. In many ways, it is also a horror film. "I wanted it to be a fairy tale, and fairy tales are always horror stories with a happy ending," says Knight. "I wanted a happy ending. We all know the ending wasn't happy, ultimately. But this film, because it's a fairy tale, needed to end with escape and happiness."
Knight wrote the first draft in five weeks. "Anything that turns out all right is quick, in my experience. There was no pressure on this. There wasn't that endless going back, trying to make the first act this and the second act that.
"For me this was the perfect project," he continues. "You go off and write, and hopefully, the thing you deliver is something the director wants to shoot. When the rushes came back, it was all intact, it was what I'd written. You get spoilt writing television because that happens routinely. It's less common in movies."
Since penning 2002's Dirty Pretty Things, which earned him Bafta and Oscar nominations, 16 of Knight's scripts have been made into films, three of which he directed (Locke, Hummingbird and Serenity). He has also created several TV shows, including Apple TV+'s See, and Taboo and the successful Peaky Blinders series for the BBC.
"I do write a lot," he says. "I love it. I can't stop. This sounds like bollocks, but it's almost like dreaming. It's more like dreaming than anything else, where you just sit and whichever part of your brain is responsible for dreams, you let that go, then read it back. And maybe it makes sense, maybe it doesn't.
"I don't do commissions anymore that are going to be hard work because there's going to be so many people involved. I try, where possible, to do things where you get control and, increasingly, that's television."
Last year, in the middle of lockdown, Knight and Doug Liman made the appropriately titled Locked Down in 18 days, with Dirty Pretty Things star Chiwetel Ejiofor and Anne Hathaway as a couple who execute a jewel heist during the Covid‑19 pandemic. "I love that film," he says. "You do stuff sometimes and get terrible reviews and you shrug. I hope it's going to be one of those films that in five, 10 years, when all this madness is over, that people will watch."
Next up is the sixth series of Peaky Blinders, as well as SAS: Rogue Heroes, a six-part BBC miniseries about the formation of the Special Air Service in north Africa in 1941. "My dad was in the Eighth Army in the Second World War and never told me anything about it. But I knew he had been fighting in north Africa, in the desert," says Knight. "Again, the truth is much more bonkers than fiction. The things these blokes did, in their early 20s, that changed the course of the war."
For the past few years, Knight has been spearheading the development of a new film and TV studio in his home city of Birmingham, situated on an 18-acre site, and he is working on ways to train up local people to serve as crews for facilities that will also include post-production.
"I am going to shoot my stuff there," he says. "And I hope lots of other people will come and see it not just as a factory in the middle of a field making movies, but a creative hub for all different forms of creativity."
Phase one of the project sees the repurposing of existing buildings to be used as studios. Phase two will involve building new studios across a nearby canal, on a different piece of land. Among the projects Knight hopes to shoot there is the long-mooted Peaky Blinders feature.
"I haven't written it yet, it's in my head, and I'm hoping to start shooting that in 18 months, two years. I want the two processes to come along in parallel. So when the studios are ready, we'll go in and shoot it."