With Disney's Strange World, animators looked to the past for creative inspiration. But the film gains relevance by also reflecting the diverse world we live in today, as the filmmaking team tells John Hazelton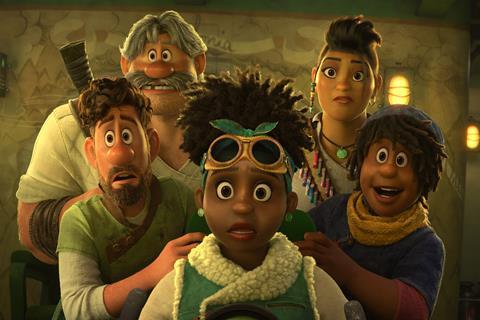 Strange World may be set in a weird land populated by bizarre creatures, but the Walt Disney Animation Studios comedy adventure has its roots firmly planted in the real world.
When he was first toying with ideas for his next project, director Don Hall was, he recalls, "thinking about what kind of world my kids are going to inherit environmentally, and what kind of world I inherited from my dad, who's a farmer in Iowa".
Hall, a Disney veteran whose previous projects include Oscar winner Big Hero 6, which he directed with Chris Williams, adds: "I wanted to tell an environmental story, but because it was inspired by my kids and my dad, the father-son element was already baked in. And it felt like a good emotional lens to tell this story, about the environment but also about fathers and sons, without it being preachy."
To bring the themes together, Hall and writer/co-director Qui Nguyen came up with the story of a family of explorers from the isolated country of Avalonia, whose universal source of power — a plant called 'pando' — is under threat.
To save pando, explorer-turned-farmer Searcher Clade (voiced for the film by Jake Gyllenhaal), his teen son (Jaboukie Young-White) and his life partner (Gabrielle Union) set off by airship into an uncharted subterranean region — where they encounter treacherous creatures as well as Searcher's long-lost adventurer dad (Dennis Quaid).
Hall and Nguyen found inspiration for the story in the vintage sci-fi of Jules Verne and HG Wells, adventure classics such as King Kong, French and Belgian comics, and pulp adventure magazines from the 1930s and 1940s.
But they also gave the story a contemporary diversity, making Searcher and his partner an inter­racial couple and creating, in Searcher's son Ethan, what is believed to be the first openly gay teen character in a Disney animation feature.
Though the film was never intended, in Hall's words, "to be a coming out story", the diversity plays a significant role, according to Nguyen, a Vietnamese-American playwright whose first feature experience was as writer of Disney Animation's Raya And The Last Dragon.
"The environment affects us all, it doesn't matter what race we are, our sexuality, or anything like that," Nguyen points out. "It was important that the world of Avalonia reflected the world we actually live in. The story wasn't about diversity and inclusion, but the diversity and inclusion were integral to the metaphor that it is our world that is in danger, not just this made-up one."
And while Disney was last year charged — by employees of its sister studio Pixar — with censoring gay content in features, the makers of Strange World insist they got no pushback from the studio about the Ethan character. "We had amazing support from Disney and the distribution team," insists producer Roy Conli, who also produced Hall's Big Hero 6. "We made the film that we wanted to make and there was a discussion about how we weren't going to cut it for anyone."
World in motion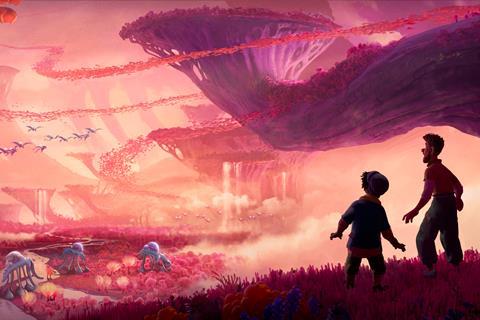 As the film's title suggests, the setting of Strange World is almost a character in itself. Influenced in part by the work of Oscar-winning Japanese animation master Hayao Miyazaki, the multi-hued domain through which the Clade family travels takes in an acid lake, a forest of blue trees, an amber desert and a teeming variety of flora and fauna.
The design of the world was — to an extent that is only revealed with the film's third-act reveal — modelled on the human immune system, though Hall had to call on a doctor friend to visit the production to "dumb some of this stuff down, because the immune system is incredibly complex".
After doing the "fairly robust" medical and visual research, however, Hall encouraged the project's team of artists "not to throw it out, but to do their version of it. I wanted to give them as much of a blank canvas as I could, because they're incredibly talented and I relished the idea that we could turn them loose to go to the limits of their imaginations."
The scope of the design work — and the need to ensure that it never distracted the audience from important moments with the characters — resulted in the film being the first Disney animation project to employ an animated environments supervisor, in the person of Ben Fiske, an effects artist and animator with credits on a number of the studio's features.
Says Hall: "The idea of a specific person who's dedicated to shaping the animation in the environment came from the desire of our team to really make this world alive. It necessitated a specific individual to keep an eye on all that, because it could get out of control. A lot of times we had to dial it back because it would get distracting."
While its setting is complex, Strange World's production history likewise at times got complicated. After having worked on the project for a year, Hall was drafted in (together with Carlos Lopez Estrada) to take over from the original directors of Raya And The Last Dragon. And he took Nguyen with him to become a co-writer on that project, which was released by Disney in the spring of 2021.
Director and writer focused all their efforts on Raya for around 18 months, most of them occurring during the first year of the pandemic. When they returned to Strange World, they were still forced to do most of the work remotely, but at least by then Disney animators were familiar with the process.
"Because of Raya and Encanto [the studio's 2022 best animated feature Oscar winner], we had already figured out the structures," Conli explains: "How to hold a Zoom meeting, how to communicate, how to stream editorial rushes live. Though whenever we wanted to see something on the big screen, we had to come in to ensure that what we were creating was what we thought it was. Because there's a big difference between a 12-inch frame and a 20-foot by 40-foot frame."
Strange World opened around most of the world in late November, though it was not released theatrically in around 20 markets — including the Middle East, China and parts of Africa — where the story's gay character would have had to be cut to meet local content rules.
The opening weekend worldwide gross of around $23m was a long way short of expectations (by mid-­December the global tally had climbed to $60.3m) and it has been estimated that the film, whose budget is thought to be around $150m, could prove a big loss-maker.
But Conli — whose producing credits include Disney's famous 2002 box-office misfire Treasure Planet, now a cult favourite much admired by animators — is confident that Strange World will stand the test of time.
Pointing out that Disney classics including Pinocchio, Fantasia and Sleeping Beauty all had rocky box office starts, Conli says: "I've been through high box office and low box office and I don't think that box office necessarily indicates anything other than box office. These films, whether they hit or don't hit in terms of box office, live on. And I look at this one and think it will mean a lot to a lot of people in the future."
Animal magic: creating the fantastical creatures of 'Strange World'
The creatures of Strange World posed an unusual — though not unique — challenge for the project's artistic team. Citing other faceless and voiceless Disney characters such as the magic carpet in Aladdin and the brooms in Fantasia, Qui Nguyen says the creatures in this world had to appeal "through their movements and how they're animated. It was a real opportunity for our animators to lean in on their classic animation abilities."
The decision to go minimal stemmed from Don Hall's early experiments drawing Splat, the blobby comic character that befriends the story's human explorers. In his initial sketches of the character, says Hall, "I would try some with normal Disney eyes and some with dot eyes, but I kept gravitating towards no eyes. Then our head of character design Jin Kim did a whole page of Splats with no eyes and was able in just a few drawings to get the full gamut of personality and emotion. So I knew we were in good shape."
As well as seven-limbed Splat (based on an immune system dendritic cell), the population includes the aggressive squid-like 'reapers' (based on macrophages), abstract creatures reminiscent of dolphins, the airborne 'terror-dactyls' and the brontosaurus-like 'transportasaurses'.
Each creature was based on research into elements of the immune system, and while Hall concedes that "we did wander away from it a little bit, for the most part they all have a function".
The creatures also gave animators some of their most rewarding work. The elk-like 'filterlopes', for example, were characters "we put everywhere, because we loved them so much", laughs Hall. And the terror-dactyls gave the artists a chance to make their own version of the pterodactyls often featured in lost-world adventure yarns. There was, says Nguyen, "a lot of joy as a team in making that happen".